What's to gain from pain?
Untapped is published by the design company
Henrybuilt
.
PERSPECTIVE
03.13.2023
Rules and Roles in Life, Love, and Architecture
Architect Eero Saarinen and his wife and publicist, Aline B. Saarinen, developed a protocol for separating personal and professional discussions. In my relationships, here are some rules that work for me.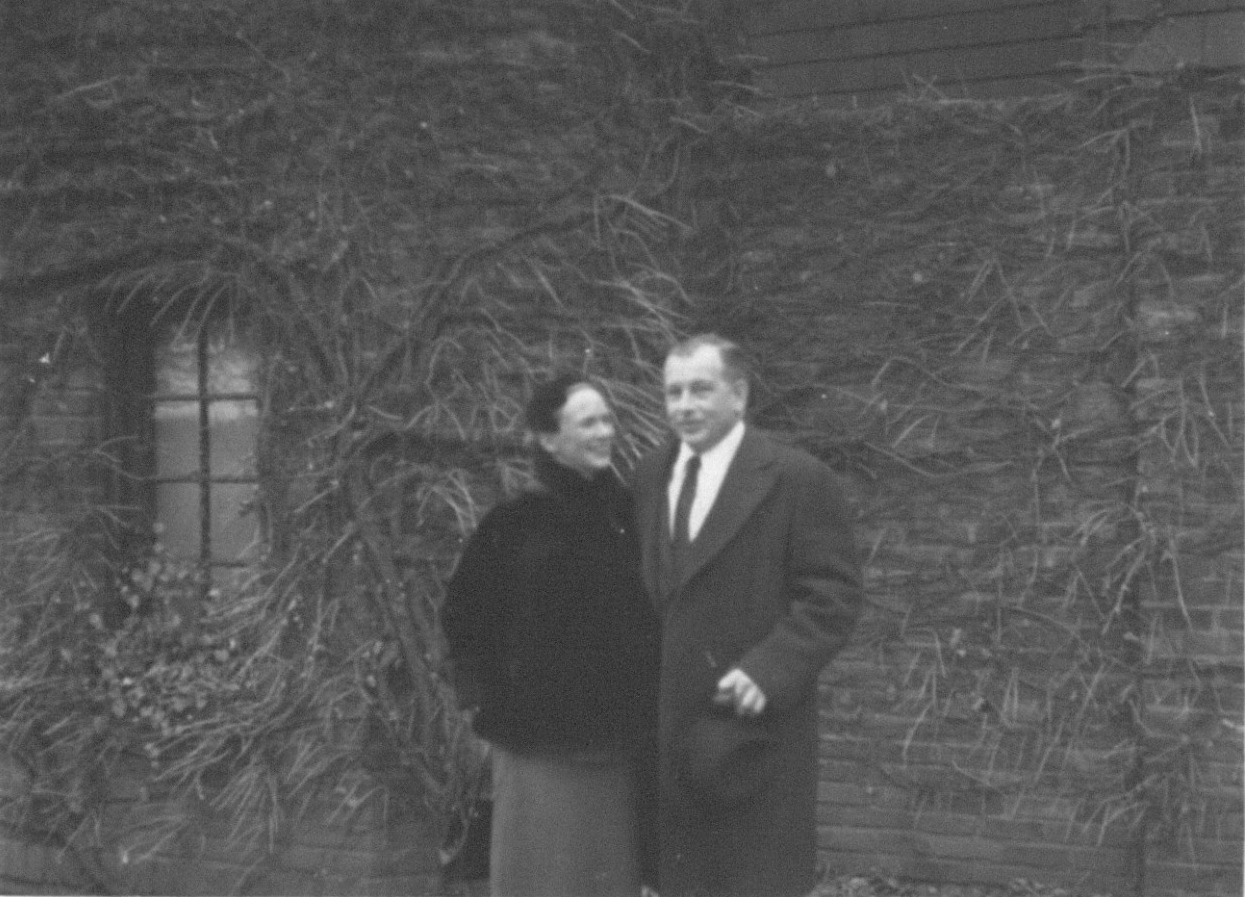 I have this rule for myself, or maybe it's a rule that someone else made for me, to never bring anything up after 9 p.m. I was given this rule, or maybe I gave myself this rule, because of a tendency towards the occasionally dramatic, or maybe an occasional tendency towards the dramatic, which I think comes from my other rule of never saying anything about anything to anyone until I feel like I'm really completely ready: until I really know what I want to say and what I'm asking for, which sometimes means that I just suppress, and suppress, and suppress, until it all comes out, usually after 9 p.m., because that seems to be the dividing line between when I can control what I say and when I can't. It's a good rule. I like it. 

A few years ago, my boyfriend, the designer Paul Loebach, and I decided to work together for a living. He's an industrial designer and I'm a writer/editorial consultant/PR-person-for-hire/emailer for a living. We decided to do this partially because it made sense—I love his work; he respects mine—and partially because I'd been influenced to think that working with the person you love is a really superb idea (unless, of course, it goes wrong). I'd been influenced to think that because of the 10 years I spent living with the words and letters of the midcentury Finnish American architect Eero Saarinen and his wife/publicist, the architecture and art critic Aline B. Saarinen. I wrote a book about their relationship, and while writing the book I was in relationships with three different people, the most recent one the last one (we always hope), and in writing that book, I saw how they had rules about love, and life, and work, and it made me want to make some (more) rules of my own. 

In 1953, Aline B. Louchheim, a spectacularly sharp journalist, was on assignment for The New York Times and was sent to Bloomfield Hills, Michigan, to write about an up-and-coming architect, the son of the renowned architect Eliel Saarinen, who had recently won a competition for the St. Louis Arch and was doing some very interesting formalist work. At first, as seen in letters she wrote to him shortly after returning home, she put on her professional hat, performing as an interested journalist on the job, asking for clarification about his chapel for MIT and his thinking about what kinds of architects he might like to be considered next to. But almost immediately, and in the same letters, she put on a personal hat, switching roles to that of personal supplicant, referencing their spectacular personal interactions and the fact that they could, clearly, be so much more to each other. 

Over the next year, as a trove of letters now held by the Smithsonian Archives of American Art show, she convinced Eero to divorce his wife, leave his family, move her to Bloomfield Hills permanently, and hire her as his Head of Information Services, a title she came up with and that offered maximum disavowal of just how controlling she would be of that information. For the next eight years, until Eero's fast and early death, she worked for him, representing his interests to the media, managing the exclusive publications of some of his projects, and translating his work into narrative form. It seemed like a great gig. It was one that, 70 years later, I wanted. 

Sometimes, Paul and I talk about work when we're on vacation. We actually mostly talk about work when we're on vacation. When we're home, we have all the usual trappings of domestic life to discuss: what groceries to order, where to go to dinner, whether we feel like brunch. We had a baby recently, and now we talk about the baby: how well she slept, how cute she is, whether she's hungry or tired or needs to be changed. We marvel at her, how lovely she is. We trade her back and forth and we try to set up rules around who gets her when, who's responsible for what. Sometimes, neither and both of us are responsible, and then while we're talking about whether she's tired or not tired, or while we're dressing her for a night out, we'll talk about work, about a recent sale, a collaboration gone sideways, or the 85 holiday cards I wrote on our behalf, reaching our work into the world, creating connections. It might seem, to some, like we don't have rules, but I think we do. They're similar to the rules Aline and Eero had for themselves—something they codified as a game they called "brackets." 

It went like this: "If we may take the brackets off," Aline wrote to Eero early in their courtship. It was her way of signifying that now she would be communicating freely about their future, unbounded by the fact that he was married and she lived in New York. With "brackets on," they limited their conversations about the future and remained sensitive to their various realities. With "brackets off," they went for it. 

It reminded me of a relationship I was in many years ago, with someone who was married when we met but not once we got together, who was nervous, justifiably, about a commitment with me, and yet we were in love, and so we wanted to commit, but also didn't want to. So every week, on Wednesdays, we had a meeting about re-upping our relationship for another week, and sometimes we slipped under my covers and held them over our heads, just the two of us together on my mattress in the East Village that stood for a bed (I was 22; I had no real furniture).

Within that we were in what we started to call the "Yurt of Silence," and within the Yurt of Silence, which worked for us the way brackets worked for Aline and Eero, we talked about a longer future. A future with houses that we would own and children that we would have. We had "outside the yurt," where we pretended to be free, and "inside the yurt," where we knew what we wanted from each other. Two years later, we broke up. "You know what the real problem was?" he said to me. "We stopped having Wednesdays." 

I wanted to learn from that relationship, as I've tried to learn from all of mine, and so now, with what I hope is my last, I want to not ever stop doing the things that work. I want to not have difficult conversations after 9 p.m., and I want to schedule the ones that are going to be difficult.

I think of the different roles that we play, and I borrow heavily from Erving Goffman's The Presentation of Self in Everyday Life, in which the sociologist argues that all behavior is a rule-bound performance. Sometimes, we need to schedule a work meeting, where I advise Paul on the kinds of things I advise my other clients on—what kind of a card we should send from the studio, which journalists we should be befriending, what parties to go to—and there, I am not his girlfriend, the mother of our baby. There I am the hired gun. I am direct, I am forceful, and I say where I think I'm right, which is what I do with all my clients, and sometimes it works for them and sometimes it doesn't, but I am the same. I am consistent. Here is where the rules I have set for myself help me.

Just now, writing an earlier draft of this essay, I hit a thousand words and stopped. I texted my friend Marianela. "No one should ever go above a thousand words in one sitting," I wrote to her. That's another rule I have. And yet another rule I have is that if I decide to use myself and my own experiences in a piece to help make an argument or advance an idea, I can't be precious about it. I have to disregard how I want you to see me, in service of something greater. This has its benefits, and its costs. I wish I hadn't had to tell you that story about the yurt. 


One rule I have is that if I decide to use myself and my own experiences in a piece to help make an argument or advance an idea, I can't be precious about it. I have to disregard how I want you to see me, in service of something greater. This has its benefits, and its costs.

The first time I ran a PR consulting business, I didn't have any rules. That's part of what I thought I had to sell people. "You can text me anytime, about anything," I said to my clients. "I'll take care of it." But then I found myself writing wedding speeches, reassuring them about their relationships, fielding concerns that I myself didn't share. But once I'd let everyone do whatever they wanted, there was no way to change the dynamic. You can't change boundaries halfway into a relationship. That's another rule. Aline tried to change her dynamic halfway into her relationship with Eero. Toward the end of his life, though of course they didn't know it, she was asked by a publisher to write a book about him. She refused. "I would like to confine my life to interests outside the office," she responded. I've thought hard about her use of the word "confine" when it seems to me what she's reaching for is freedom. She wanted to carve out space for herself, and confine herself to that space, which may have been limitless. But then he died, and she did write that book about him, called Eero Saarinen on His Work. 

The thing about collaborating is that there's always going to be another person, and other people are the one thing that is completely uncontrollable. That's where rules and roles are helpful, where we can say, "I am speaking to you now as your PR consultant," or "I am speaking to you now as your boss," or "I am speaking to you now as your girlfriend," or "I am speaking to you now as the mother of our shared child." Each sentence will have a different tack and a different tone. It makes me grateful for what language, which I've learned to see as another medium, can do, and for the particular grammar that comes from time, and more time, and more time. Language is the ultimate place for rules. Those I try to never break.