What's to gain from pain?
Untapped is published by the design company
Henrybuilt
.
BOOK REVIEW
05.01.2023
Moving Beyond the "Fetishisation of the Forest"
Essays in the new book Touch Wood recognize the need for a shift in how we think about trees, and inadvertently show why it has yet to happen.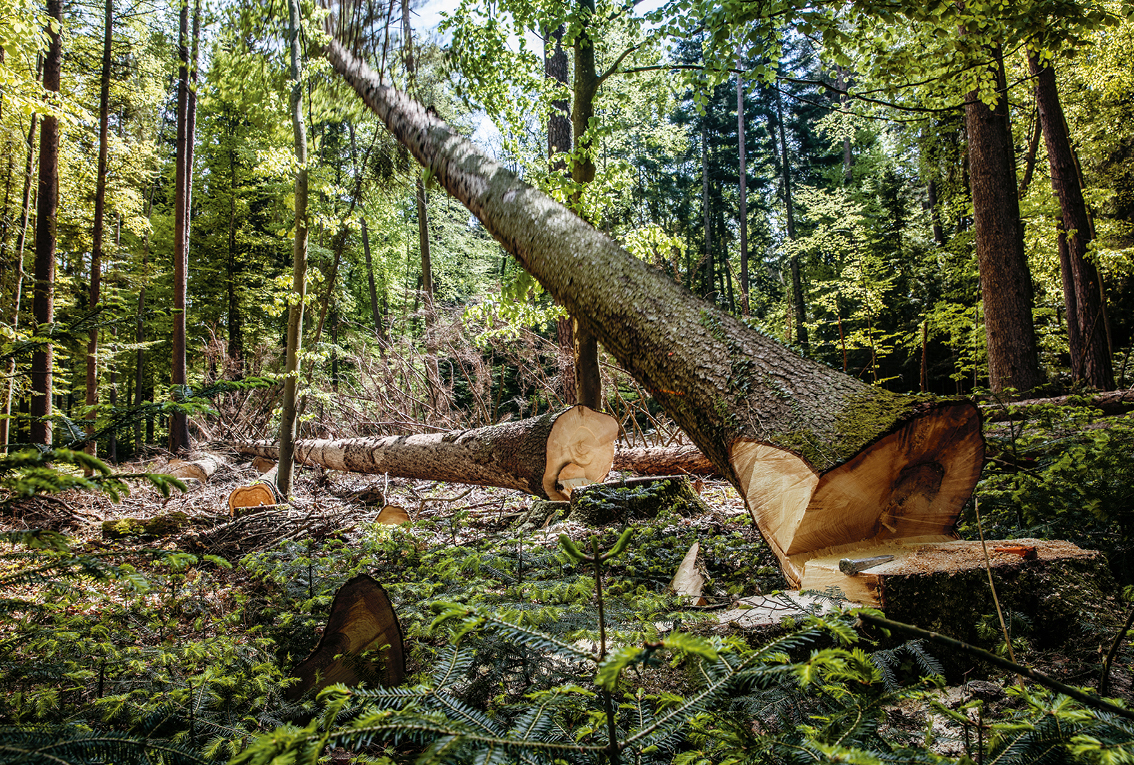 Ever since we started chopping down trees, wood has been asked to carry a lot of weight. From buildings and boats to books and bacon, without wood, there seems to be almost nothing left.  

In the age of concrete and plastic, you might have thought that trees would have got a little respite. They have not. Instead, jungles and forest were torn down to make way for beef cattle, pig feed, and palm oil. But now trees are really up against it—because architects have rediscovered them.

So much so that timber, once the dim country cousin of concrete, long relegated to unseen structure in cheap houses and pallets, and as a sawdust substrate in glue-heavy flatpacks, is now the future.

The shift has been astonishing. After decades of the construction industry, developers, and regulators resisting calls for the increased use of sustainable timber, citing all kinds of excuses from fire risk to intermittent supply and lack of precedents, wood is being adopted once more as a material for mass construction. There are plans for wooden skyscrapers, wooden office blocks—even the Olympic village in Paris is being built in timber. There are wooden modular houses, and cross-laminated timber (CLT) is emerging as the new concrete: a wonder material for the age of climate catastrophe, it's a curiously blank substrate suitable for molding and forming, punching and robot-carving. An emergent material, its language has yet to be fully determined and exists somewhere between nature and artifice, the digital and the archaic. 

At the same time, trees are bearing the brunt of a new focus, media attention, and a shifting understanding of their status as sentient beings. From Richard Powers's The Overstory to books exploring the hidden lives, secret stories, and fungus-wired communications of root systems, we appear to be developing a new sense of awe of these stationary analogues of our own bodies, families, and communities. A gradual realization that our own future is intimately entangled with that of trees, and that their loss and suffering is also our own, is emerging.


"In the face of mass apathy about the impending climate crisis, a flow of magical thinking has seemed to congeal around the speciously desperate idea that somehow the forests can save us."

In the face of mass apathy about the impending climate crisis, a flow of magical thinking has seemed to congeal around the speciously desperate idea that somehow the forests can save us. The notion that we can take a flight and then atone for the damage by planting trees has taken root. (But what trees? And where?) Likewise, the idea that we can justify building concrete skyscrapers by simply clothing them in shrubbery is merely a veneer of green fuzz meant to alleviate our guilt.

And then there is the even bigger question, the one about nature. Are we destroying nature to satisfy our greed, or are we part of it? Is our nature (the human nature that extracts and destroys) in fact nature itself? A part or apart?

One significant branch of philosophy has begun to veer toward correcting the Enlightenment idea that we are somehow above nature, replacing it with a more holistic notion of the earth as organism, a post-Gaia thinking more in line with Indigenous understandings that attribute spirits and consciousness to all apparently inanimate objects, to trees and animals and to rocks and rivers. From the musings of the late philosopher Bruno Latour to object-oriented ontology, these ideas were planted in the academy from origins on its more eccentric fringes. As the title of the new book Touch Wood: Material, Architecture, Future (Lars Müller Publishers) suggests, we are getting back in touch, tentatively at least, with trees.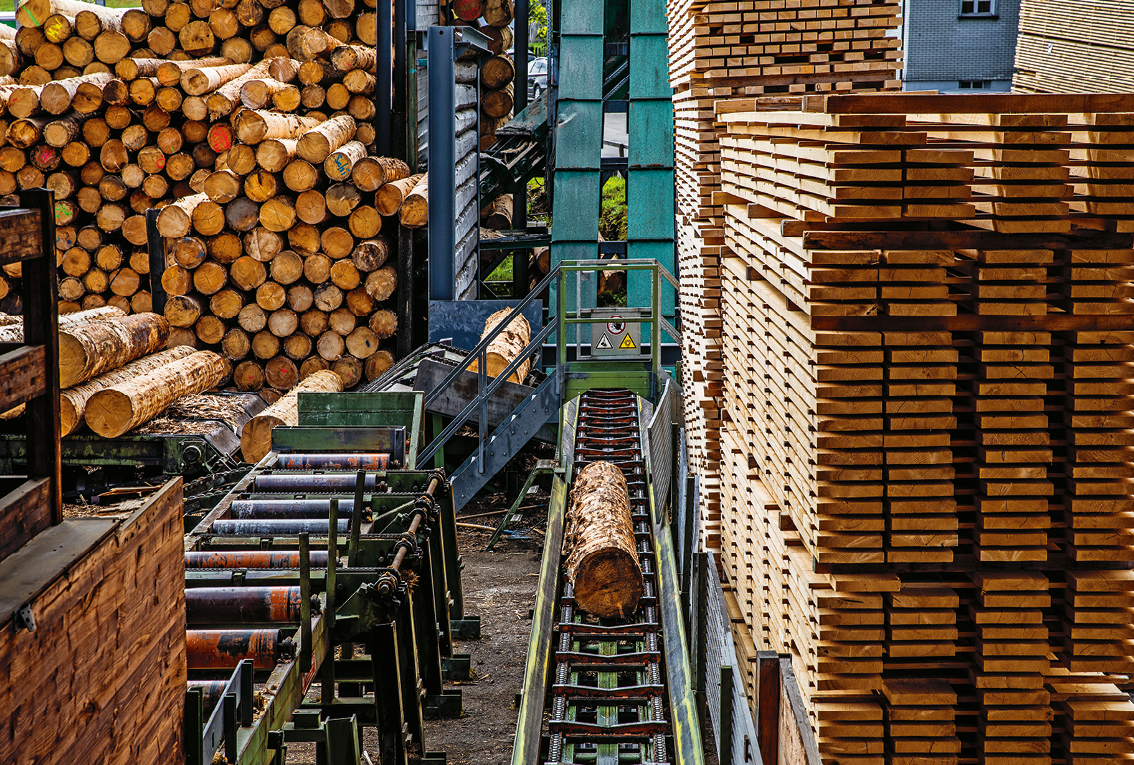 If one country never really lost touch with timber, it is Switzerland, where, despite its impeccable modernist credentials (and some of the best concrete buildings), wood has retained a foothold in a nation in which a third of the land is still covered in forest.

Touch Wood, edited by Zürich-based architects Thomas Hildebrand and Celina Martinez-Cañavate, and Milan-based architect Carla Ferrer, is the latest addition to the rapidly proliferating literature pointing to architecture's wooden future. Including short, slightly unengaged essays from big names—Herzog & de Meuron, Kengo Kuma, and Grafton Architects among them—the best bits are actually the more eccentric pieces, which examine what we might call the cultural, rather than the architectural, history of wood.

Architect and curator Dan Handel's fascinating essay, for instance, resurrects the indelible image of Abbé Marc-Antoine Laugier's Primitive Hut (from his 1775 Essay on Architecture, yet still so much a fixture of my architectural education more than two centuries later) showing the roots of building in the entwining branches of still-growing trees. The implication in the Charles Eisen engraving that accompanies the essay is that architecture is a part of the living forest, that building is entangled in living nature. We might remember this.

He also reflects on theorist and curator Sylvia Lavin's observation on the symbiotic relationship between the words plant and plan, both being things that grow from the ground. Trees and buildings grow upward—and downward—in similar ways; the plan is a building that has been felled.

Environmental historian Stephen J. Pyne's essay on wood's role in fire, our Promethean element, is wonderful, noting that a house is, in fact, the creation of shelter for a fire. We build to conserve its heat, and its occasional escape has spurred architecture on to new incarnations. He cites the Chicago fire of 1871, for instance, as the spark that ignited the invention of the skyscraper.

In a rather different vein, I enjoyed the elevational illustrations of the "sixteen most widespread trees in Switzerland": beautiful renderings brutally broken up by captions that tell you what these amazing organisms are most commonly used for ("Larch, Larix decidua, 25 m, woodwork, structural timber"). The drawings bring to mind Cesare Leonardi and Franca Stagi's epic 2019 The Architecture of Trees, a book that treats trees almost as historical buildings, typologies rather than species, a gazetteer of the form language that allows an appreciation of the beauty of their structure and their shape and which, in its confusion of building and material, illuminates wood beyond a medium.

Other essays examine, with varying degrees of success and readability, the forestry industry (mostly in Switzerland, a little in Japan), its technology, the potential role of trees in mitigating (or not) climate change, resource management, and wood in Swiss vernacular construction. There is much here to enjoy but the book is also, as these kinds of ventures so often are, a mess. With one large section dedicated to timber buildings of recent years and short essays that read like introductions that don't really go anywhere, it tantalizes but does not satisfy.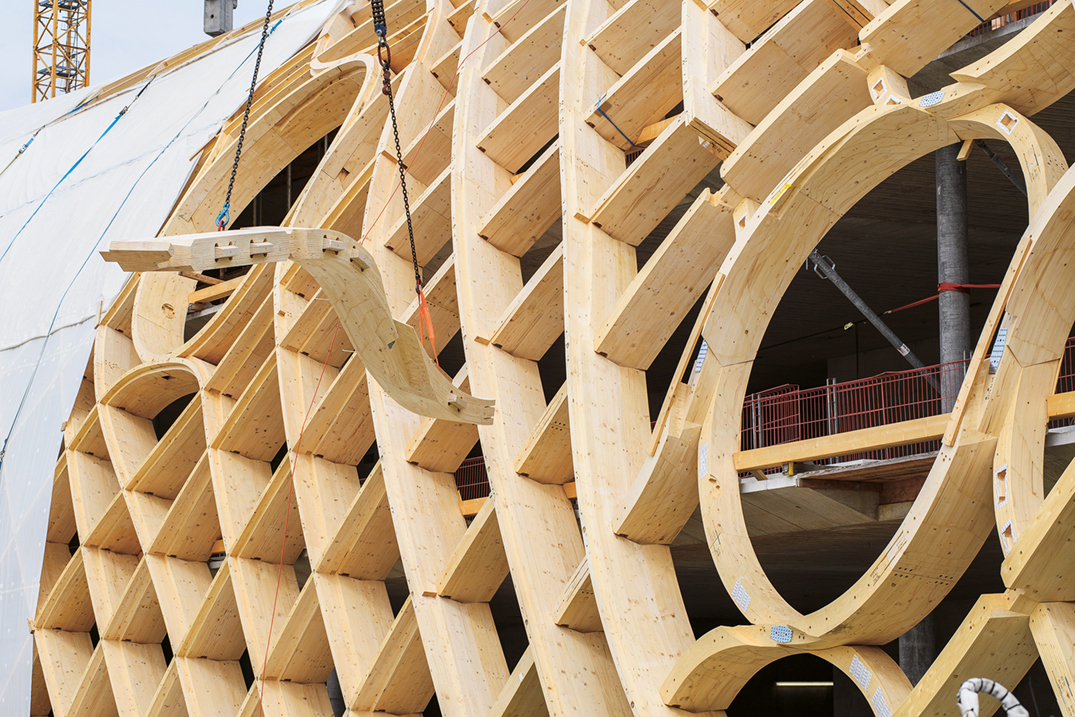 For all its faults, however, it does begin to broach the bigger issue: the necessity of understanding trees and timber not as material or product, or even as organism, but in the wider sense of culture. One question, for instance, is asked of the Swiss foresters, the villagers and mountain-dwellers who have been maintaining and living off the forests for centuries and who have developed a symbiotic relationship with the trees, taking only what they need and nurturing them so that the forest continues to be both healthy and productive and its ecosystem remains intact. Are the foresters, who have historically carefully and sensitively developed this relationship and still live in or close to it and off it, themselves a part of the forest?

This is something very different to what we might call the "fetishisation of the forest" in contemporary culture. From forest bathing to forest schools, to foraging as haute cuisine to the kinds of picturesque Covid retreats in the woods that allow the wealthy the space and air to continue living in the city, we have reconceived the woods as a luxury commodity. What was once the setting for dark fairy tales is now the site of real estate fantasy.

There is a danger that, in this reverence and commodification, we again distort our relationship with trees. There is much in this book, perhaps inevitably, about Peter Zumthor. Trained as a cabinetmaker, Zumthor introduced a very different relationship with wood to the practice of architecture. His Swiss sound pavilion at the Hannover Expo in 2000 was a brilliant statement, a kind of evocation of a lumber yard in which the presence, the tactility, and, most of all, the smell of the sawn timber was the event in itself.

There was an acknowledgement here that timber is a remarkable material that is simultaneously dead and alive, one that continues to change, shift, grow, crack, and shrink after it has been felled and sawn, and that rebounds to use and wear by becoming more beautiful. It bears the traces of use in its surface and in its pores and its scent. Unlike almost all other materials, it improves with age. 500-year-old oak beams become like iron (huge, heavy, almost indestructible); a wooden handrail polished by the grip of thousands of people is worn exquisitely smooth.

Yet even Zumthor is guilty of that fetishisation, the commodification of timber into a luxury product. He is a picky architect and only the wealthiest of institutions can afford his services.

The question is, How serious are we about wood? Already its use is exploding and CLT, that strangely formless material with cartoon qualities that can be everything from structure to internal finish, is proliferating to take the place of concrete as the default material. Whereas architects used to look at a structure and think concrete, they now think CLT, because the properties and potential are similar.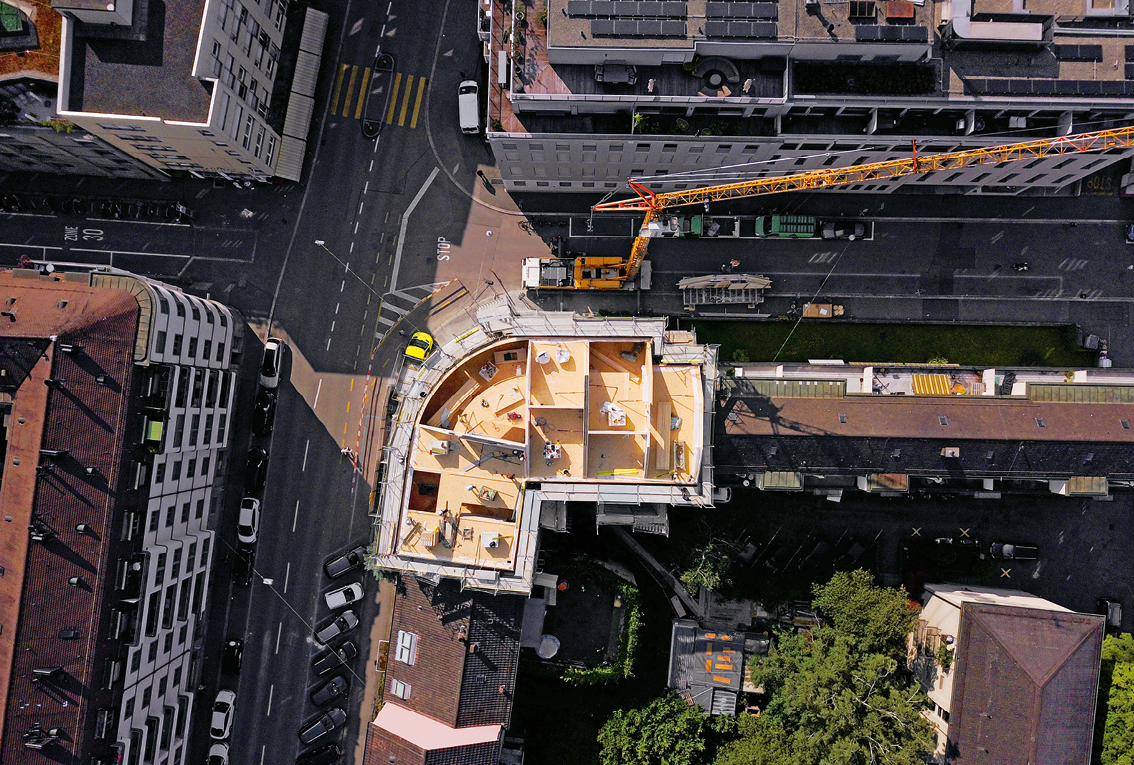 But what about the future? What about the forests? Timber is renewable, but pine plantations are not forests. They are timber farms, which is something else, more akin to battery farms for hens. They will not save the world or its ecosystems. In fact they are often dead, monocultures of single tree types, devoid of other flora and fauna. The forest, by contrast, is as much about the soil as it is the trees. It is about the rich hummus that lies at its base, mulched over the millennia—this is where the real wealth is.

Architects from Stefano Boeri to Thomas Heatherwick are using the image of urban forests, of verdant facades and tumbling greenery, to sell us the same architectures, the same concrete buildings—they're just wrapped in shrubs that will struggle to survive and that have no soil in which to spread their roots beyond the concrete pots embedded into the elevations—essentially, prison cells for plants. They cannot communicate through mycorrhizal networks, through the wood wide web. They remain in solitary.

In his book Ways of Being, artist James Bridle asks questions about how we are building artificial intelligence, modeling it on our own processes, after the human brain. What, he wonders, would happen if instead we looked to trees? Now that we are beginning to understand how they communicate with one another in the forests, and with the birds and insects that live among them, we have to see them differently. Trees nurture each other, sacrificing their own nourishment and water for their neighbors and offspring when they are struggling. They feel changes; they appear to know when we are near.

Is this not, perhaps, a richer territory for how a less aggressive AI might emerge? Philosopher Emanuele Coccia suggests that trees are the most perfectly adapted inhabitants on earth—that we are just an aberration. We are, in effect, their guests. They produce our oxygen and our food, and the careless exploitation of their remains, in the form of coal and oil, will make our world less hospitable to us all. We are killing the forests through the burning of their ancestors.

Touch Wood contains plenty of signs of recognition of the necessary shift in understanding but it remains bitty, reflecting only a sliver of architects and researchers, working in their own specialized fields. Somewhere in here is the future of architecture, but it has not quite emerged. It is not quite that we are unable to see the wood for the trees, but rather that we are unable to understand that we are the wood.



The book Touch Wood: Material, Architecture, Future will be the focus of the May 6 meeting of the New York Architecture + Design Book Club, a quarterly book subscription and event series co-organized by Untapped and the Brooklyn bookshop Head Hi. The book's editors, along with forest ecologist Neil Pederson, will lead the program's interactive discussion, which will take place in person and broadcast over Zoom. Find out more and RSVP on the book club's website.