What's to gain from pain?
Untapped is published by the design company
Henrybuilt
.
THE BUILT ENVIRONMENT
06.19.2023
How Time Shapes Amin Taha's Unconventionally Handsome Buildings
With his London firm Groupwork, the architect's output honors the past, present, and future.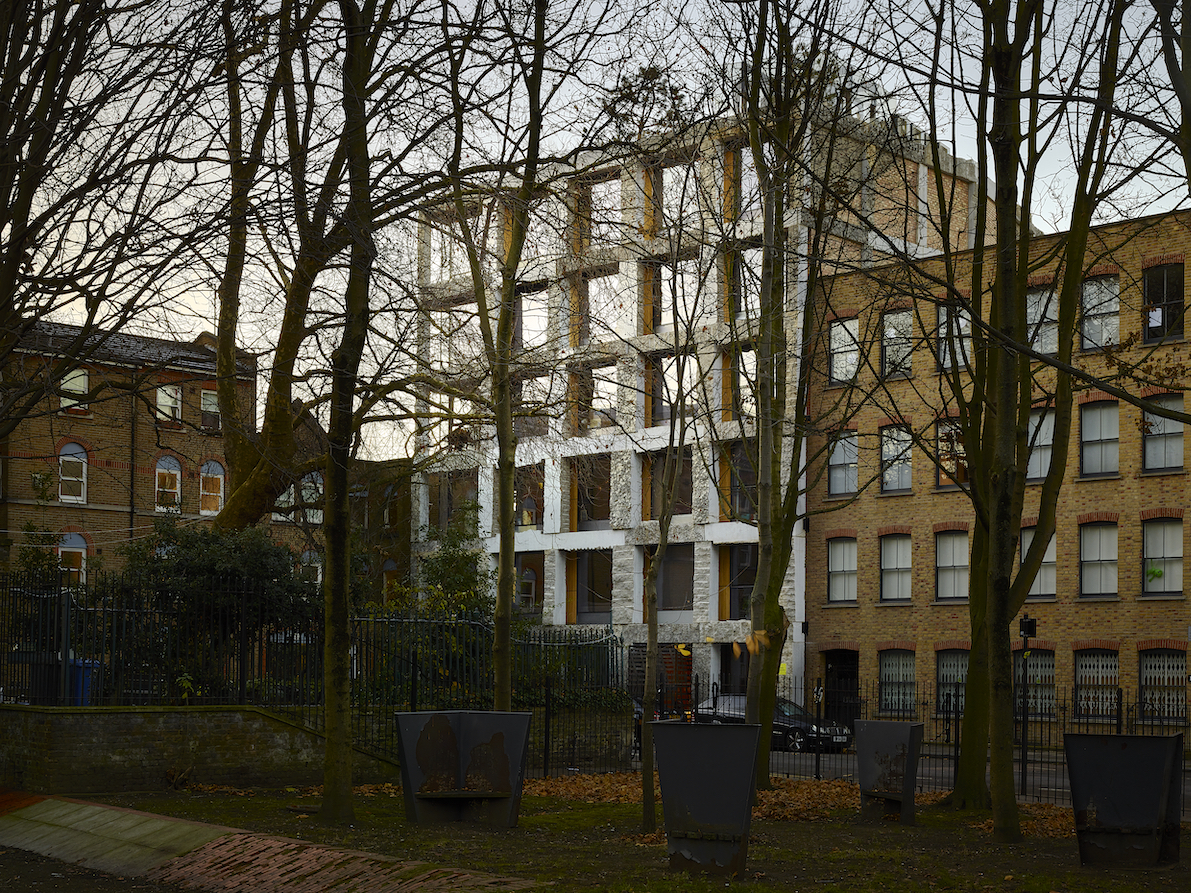 Like his buildings, Amin Taha has a lot to say. Conversation with the architect moves quickly and freely from the inner workings of the British planning system, to nostalgia in postwar Warsaw, to the carbon emissions of construction materials, to mythical characters of the Roman underworld.

Taha, 49, runs Groupwork, a studio founded under his own name in 2003 that today has a reputation for designing buildings that combine contemporary construction techniques with incisive cultural critique and for challenging mainstream ideas—British ones, in particular—around beauty and history. The office is not prolific and its projects tend to be private residential buildings for wealthy clients, but its contribution to public discourse on architecture and urbanism is significant if, at times, stormy.

Groupwork buildings can be read as arguments as much as homes or offices, and inspire both standing ovations and bitter demolition battles. "We're not fall-in-line conformists, lazy and uncritical. We're not here to be expedient," Taha says from the ground floor mezzanine of 15 Clerkenwell Close, the five-story mixed-use project that houses the Groupwork office and his home, among other units. "We're here to put up buildings that are going to be around for a very long time, and which are flexible to allow whatever occurs in the future to occur without them being demolished. And that, in the meantime, give pleasure to people who live or work inside them."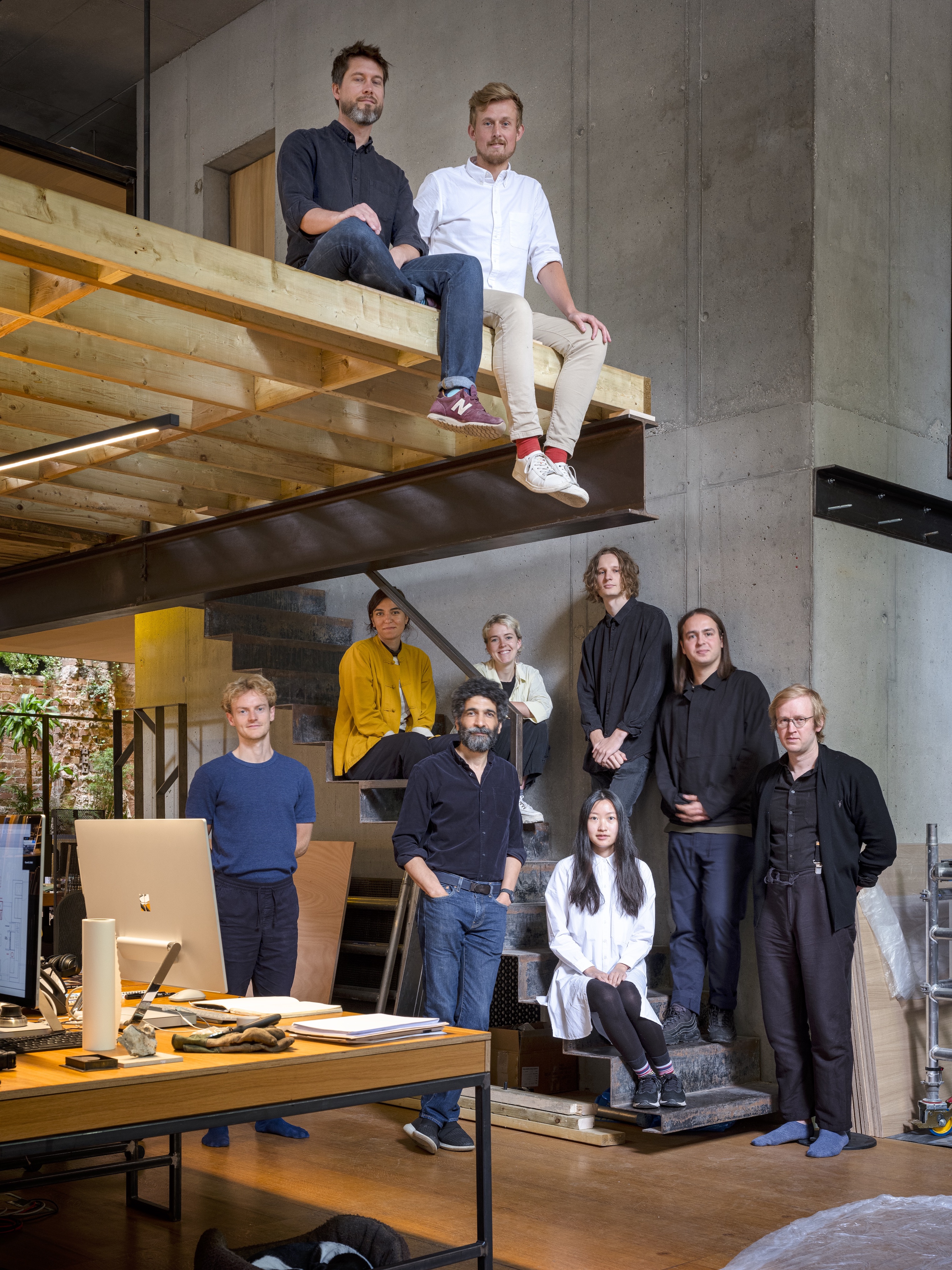 Born in East Germany and raised between Berlin, Baghdad, and, from the age of 8, London, the young Taha regularly wandered around building sites, surveying the rapidly evolving cityscapes around him. After studying architecture in Edinburgh, he worked in-house at large firms including Lifschutz Davidson, WilkinsonEyre, and Zaha Hadid Architects. "He was always quite un-corporate in his approach," says Vanessa Norwood, a curator and cultural strategist who worked alongside Taha at Lifschutz Davidson, and who was later the creative director at London's Building Centre, at which Taha co-curated "The New Stone Age," an exhibition on structural stone, in 2020. "He could give you a detailed history lesson about the use of stone in London's architecture and in other cities," Norwood says. "His knowledge of the past makes him quite exacting. He knows what he wants to achieve."

Taha's time in the larger offices sharpened his critical sensibilities around how architecture should, and should not, be designed, in a way that is at the forefront of his practice today. Rather than assigning any material or formal signature in the vein of a Richard Rogers or Zaha Hadid, Taha and Groupwork's architecture is in part recognizable for a commitment to structural authenticity and a considered relationship between façade and interior. Their often provocative designs, made not to irk but to expound upon and to honor a broad spectrum of time, demonstrate what Taha sees as the future of architecture: buildings that redefine beauty as something more, or at least other, than skin-deep.

He is not alone in bemoaning a beleaguered British culture of architecture that prioritizes nostalgic and superficial façades over progression or experimentation, but Taha is one of its most eloquent critics. "Are most practices interested in a veneer, an image, of an architectural language, or is it born tectonically from structure and then an expression of the articulated structure and detail?" he asks. "What you find is that pretty much all of them are a veneer. So inevitably, when you start working on your own, you're determined not to be that. You're determined to have things that are born irreducible as structure and architecture as one."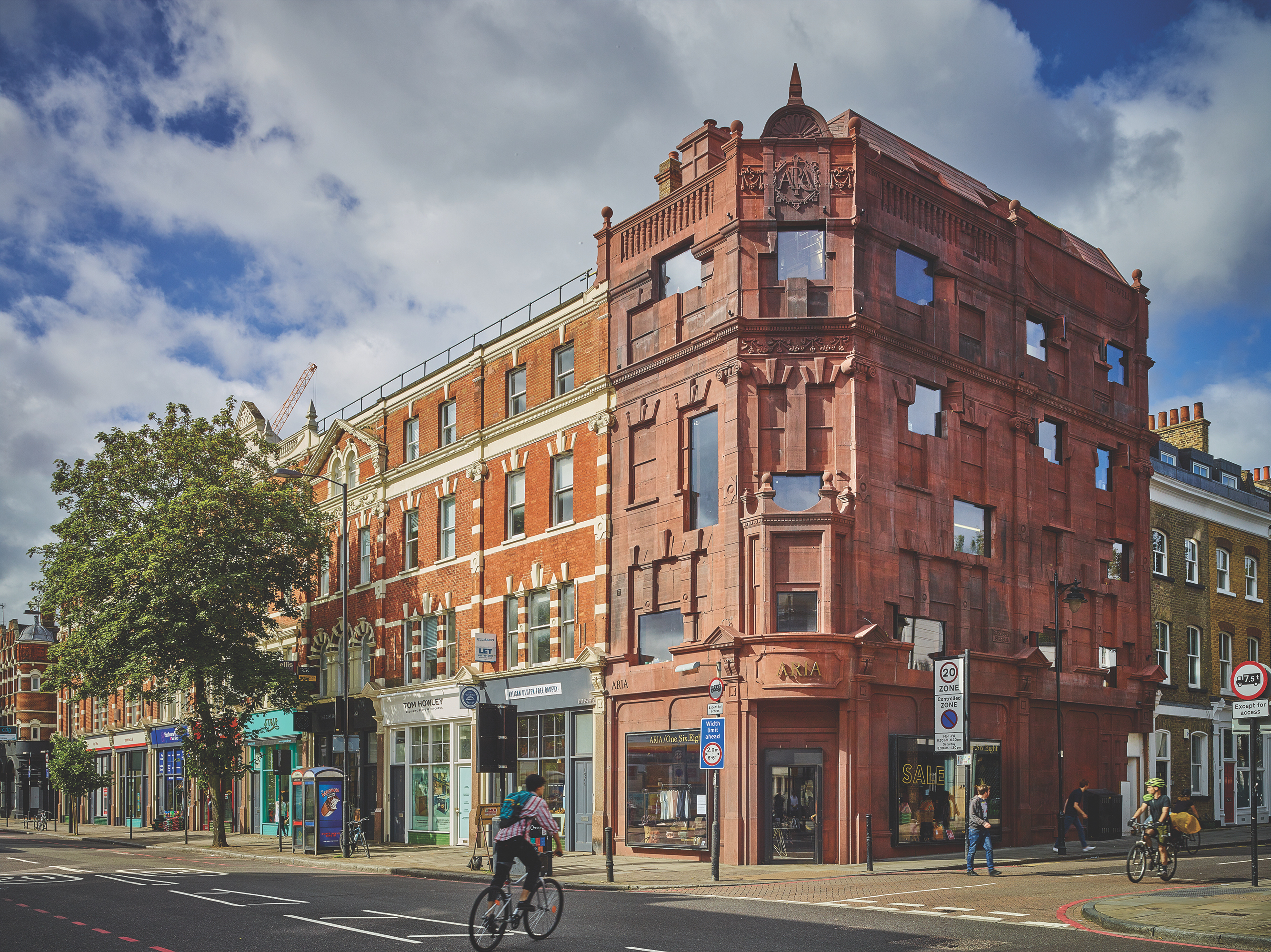 These ideas are explored at 159–168 Upper Street, a residential and commercial project completed in 2017 on a high street in a well-heeled North London neighborhood. Occupying the "missing tooth" at the end of an otherwise complete block of late–19th-century Victorian row houses, Groupwork was commissioned by a design and furniture retailer that owned the vacant corner space for a new street-facing retail space with apartments above. The result is a beguiling monument to the imperfections of nostalgia and cultural memory.

At first glance, the building seems to neatly match the adjoining terrace in scale and detailing. A closer look quickly outs the project as a more peculiar piece of architecture. The neoclassical cornicing, columns, and pediments are all cast-in-place concrete: The detailing of window frames wrap around blank walls while the real windows punch rudely through the pattern of the Upper Street façade. The exterior skin is a hollow structural shell, whose precast terra-cotta parts suggest the completion of the Victorian block. It features details—moldings, window surrounds, cornices, and more—that were procured from the building on the opposite end of the street using a point-cloud survey, which uses lasers to produce exacting scans of a structure, and archival photographs.

Taha's team digitally modeled the details then altered the CAD file to shuffle the elements, and used that version as the mold for the building's façade. Small imperfections are left visible and a few details seem to be in the wrong place; a section of balustrade meant for the roof sits near street level like a rogue pixel in the wrong part of a screen. Like the work of artists Do Ho Suh and Rachel Whiteread, the intentionally defective replica references how memory can be flawed, selective, fluid, or even rewritten to suit our current needs.

"All monuments are imperfect. They're stripped-down versions of what the reality was," says Taha, reflecting on the symbolism cast into the façade. It's a characteristically wry design move, which simultaneously mocks and adheres to the policies of local conservation officers, which requires any new building to be in-keeping with the massing, materiality, and detailing of the rest of the row. The hollow structure and its surface detailing turns the Victorian façade into a commemorative object—almost a statue of a building.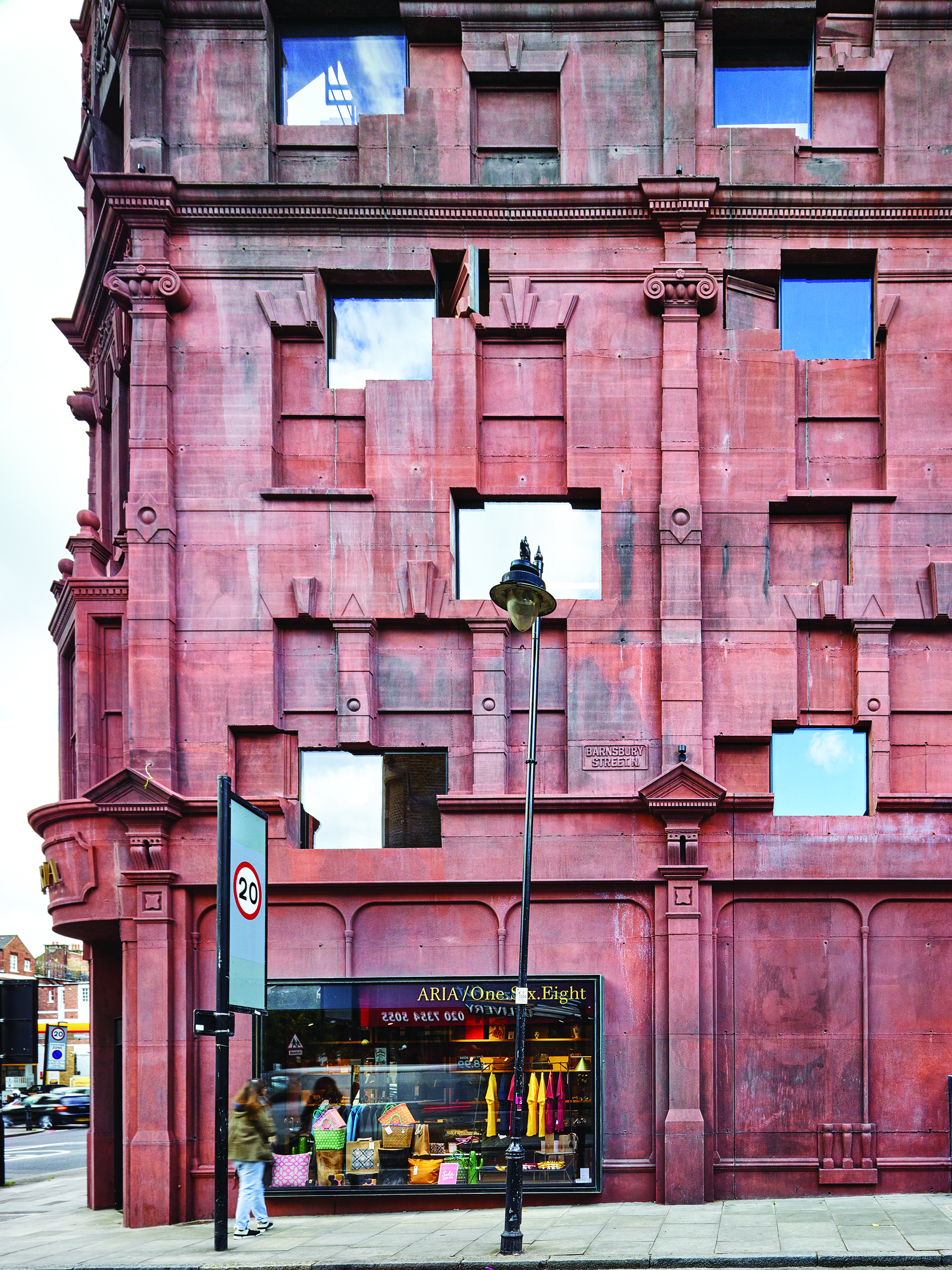 "When councillors become sensitive to the idea that the public wants a Georgian- or Victorian-style design, they obviously talk about a façade," Taha continues. "They couldn't care less what's going on behind that." Inventively, the interiors of his building nod to the present, via new cross-laminated timber floor plates—placed to allow for maximum space—and to the future, via open, ambiguous floor plans.

As well as jibing at nostalgic cultural tendencies, the Upper Street project achieves a neat cohesion between structural engineering and architectural expression, a hallmark of Taha's work and the result of decades of productive collaboration with Steve Webb of the English practice Webb Yates Engineers. "He's the only architect I know who has a calculator with more than nine buttons," Webb says. "He's a very logical, scientific, mathematical person. He wants to be solid on that ground."

Webb and Taha are both creative peers and sparring partners: On a recent train journey they passed tracing paper back and forth, finessing the details of a pavilion structure with the real-time improvisatory vibe of jamming musicians. (They have been kicked out of pubs for arguing with each other.) And now, through a series of recently completed and in-process projects, they are banging the drum for a more ecological construction industry.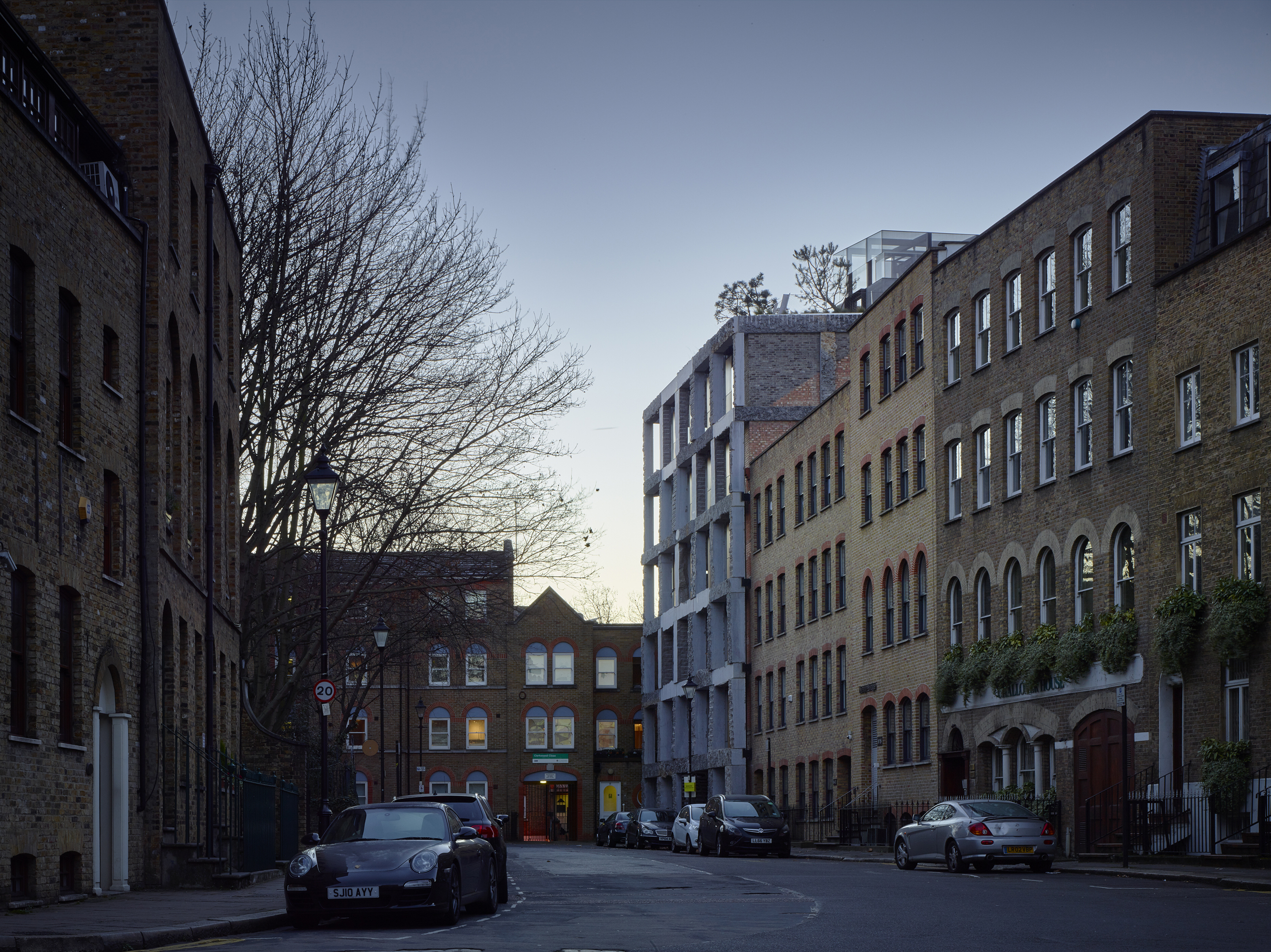 The zenith of Taha's work to date—and perhaps his most striking collaboration with Webb—is 15 Clerkenwell Close. Completed in 2017, the central London project consists of ground and lower-ground floor offices beneath five stories of apartments. Crucially, the rectilinear grid of the façade is formed with large chunks of limestone, a radical material choice and something of a totem for the future of Groupwork.

Building with stone is, of course, an ancient craft. Some of London's most iconic structures, such as St. Paul's Cathedral, the British Museum, and Buckingham Palace, are made of it. But over the last hundred or so years, as steel and concrete have become the norm in construction, stone has been largely repurposed as decorative, rather than structural, matter.

Making structures from stone, however, results in massive savings on carbon emissions compared with human-made building materials, which are very energy-intensive to produce. (Taha estimates that the use of stone in Clerkenwell Close reduces the embodied carbon of the overall structure by 90 percent compared with steel or concrete, and cost about one-fourth of the price.) Webb claims responsibility for nudging Taha towards using stone. "I was always into not having embodied carbon, and I'd be constantly on at Amin about having such a massive carbon footprint," he says. "I think some of that settled in his mind." Originally planned as a steel-framed building, the cost and carbon savings of using stone at Clerkenwell Close persuaded Taha, who is now an informal ambassador for the use of the material in architecture.

For years after its completion, however, the project's materiality was mired in controversy after the local authority issued two demolition orders, claiming it had not received the correct planning approval and that it was not in keeping with the conservation area in which it was located. Taha speaks of his "relief" that his battle with the neighborhood council ended, in 2019, without the building's demolition, but the incident raised ongoing concerns about how ideas of beauty and tradition can get in the way of architectural progress.

Studying the neighborhood in the early design stages of the project, Taha realized that "the majority of the built environment is actually postwar, aping the Victorian pseudo-Georgian stuff and done in contemporary brickwork." Despite centuries of history before the Victorian era—the site was once home to an 11th-century limestone nunnery, and a Georgian church of Portland stone still stands opposite Taha's project—cultural politics had dictated the 19th century as the moment to be preserved in the fabric of the city.

"They take the dial of the past, stop it at a Victorian period, and say, 'Everything must look like this,'" Taha says. "So there's a completely artificial idea of what the history of this area was, a total lack of real appreciation for it, and, in our opinion, a real diminishing of the culture that existed here." He has also noted that recently built structures in the neighborhood—a place of constant physical and demographic change—lack respect for their context and its architectural history more broadly, as evidenced by their cheap materials, boxy design, and dearth of natural light.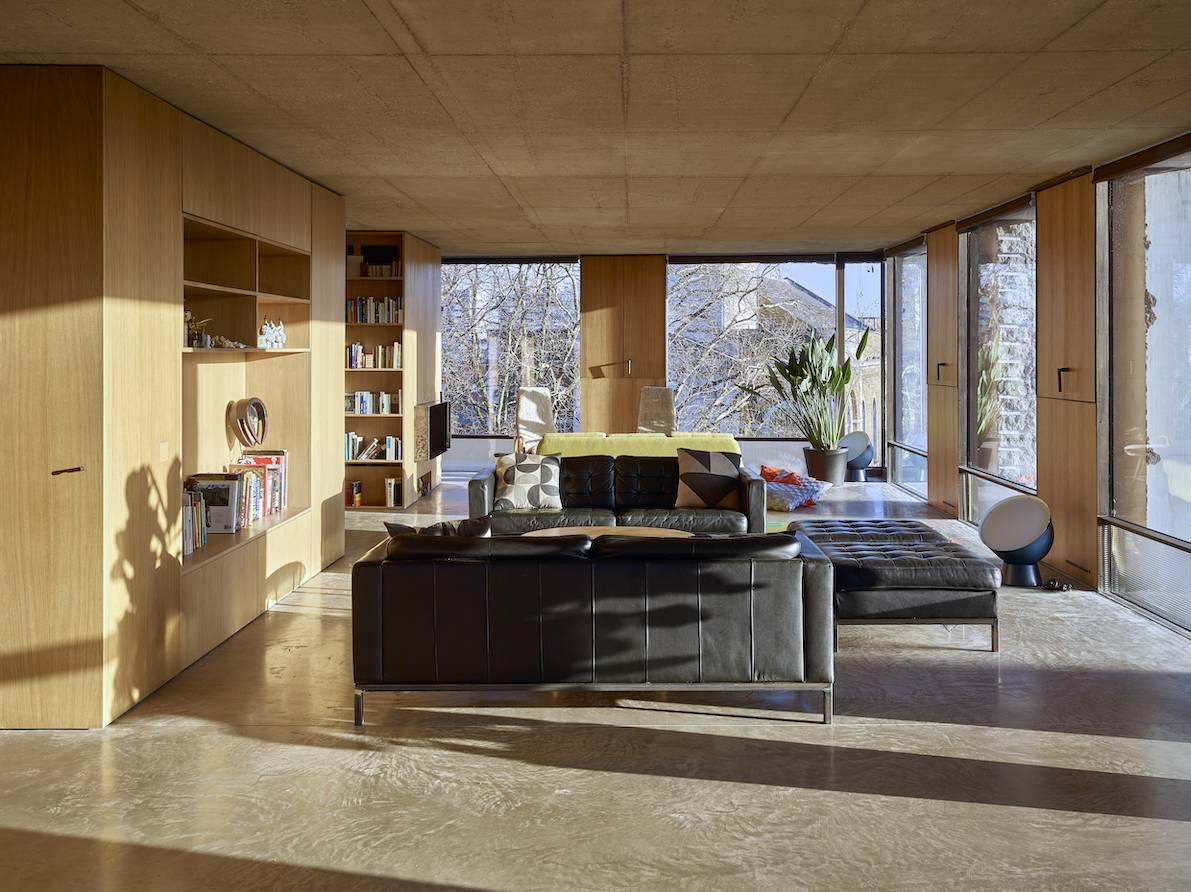 Taha's design reclaims Clerkenwell's actual past, looking beyond a single time period and celebrating it through various elements, some more explicit than others. There are stones, with Gothic carvings, sprinkled about a public garden and pebble-mosaic tiles that reference the abbey, as does a fallen column that sits near the building's entrance. The façade's fossil-encrusted surface, left unfinished so as to reveal the drilling and cutting that was necessary in removing it from the bedrock, evokes the French quarry from which it came. From a distance, one can't tell if the edifice is being excavated from, or submerging into, the ground. 

Archeological allusions aside, the stone exoskeleton, which serves as the building's framework and its decorative finish, considers the future: It allows for flexibility of its internal structures, where a series of moving walls and doors slide across and divide rooms, to accommodate the evolving needs of its occupants well into the future.

"It meant a lot to us to be able to investigate these ideas and see them through—to prove these things do work," Taha said in an interview about the project for the RIBA Stirling Prize, for which it was shortlisted in 2021. "I wouldn't call them innovations. It's rediscovering how to build simpler, quicker, cheaper, greener."

Taha is now working on new projects and engaging in an uphill struggle to persuade clients and contractors to move away from steel and concrete for both environmental and financial reasons. (As he was recently told by one contractor, "I'm here to make money, Amin. My kids can save the planet.")

Part of this effort involves shifting public perceptions of what architecture should look like, challenging conventional definitions of the aesthetically pleasing in the name of honoring a building's past, present, and future. Liveras, a stepped residential building with 22 apartments plus retail space is currently under construction in Finchley Road, North London, and will employ a red load-bearing stone as part of its structural and façade material, furthering the case for an emerging language of ecological architecture that is at once formally contemporary and materially familiar.

In the years to come, architecture will evolve in response to the current climate emergency—materials with lower embodied carbon will become more prevalent, buildings will be shaped to perform using less energy, retrofit will be more common than demolition—and public perceptions of beauty in the built environment will evolve with those shifts. The brouhaha around Taha's existing projects may be subsiding, but amidst the quiet, he and Groupwork are laying the groundwork to triumph in plenty more arguments to come.