What's to gain from pain?
Untapped is published by the design company
Henrybuilt
.
ROUNDTABLE
08.28.2023
How Joan Jonas and Eiko Otake Navigate Transition
The artists, who started collaborating long after establishing their respective careers, talk about continuity and evolution.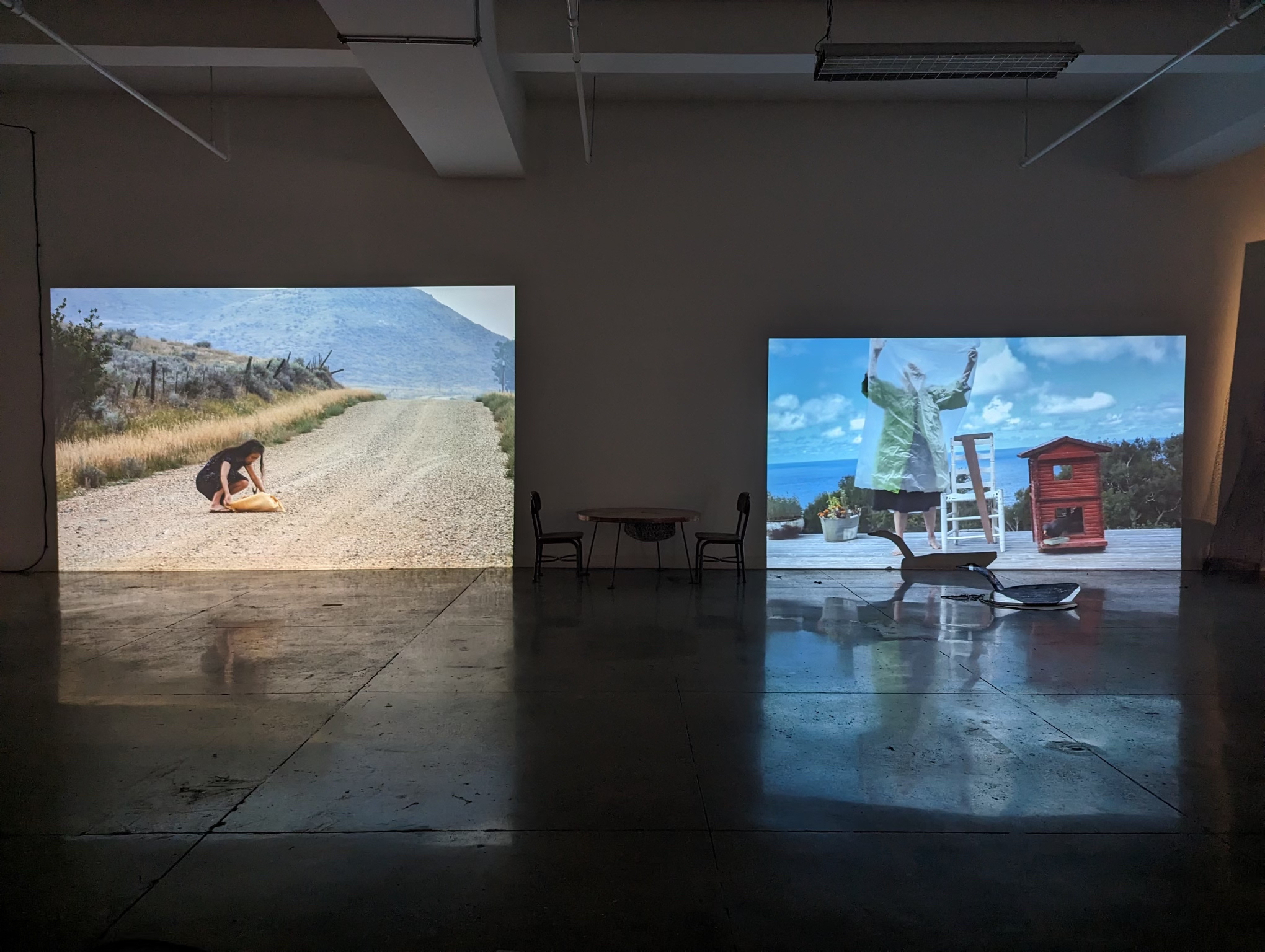 A heap of black feathers, two small wooden chairs, a chalkboard etched with a crescent moon: These are a few of the objects that dotted the Castelli Gallery after a performance by Eiko Otake and Joan Jonas one afternoon in March, remnants of the mysterious encounter they had just shared. The midtown Manhattan gallery had been packed to the brim for "Drawing in Circles," an installation featuring two video works and a live duet by the veteran artists, each of whom has an ardent following. Tickets had sold out well in advance.

The show, co-presented with the East Village organization Danspace Project, was the latest chapter in an ongoing collaboration—and friendship—between Otake, 71, and Jonas, 87. Though they didn't formally meet until 2018, both have been based in New York City for decades, traveling in similar avant-garde circles: Jonas as a pioneer of video and performance art (the Museum of Modern Art will present a retrospective of her work next spring); Otake as half of the choreographic duo Eiko and Koma, and as a solo artist since 2014. Jonas was born and raised in New York; Otake moved to the city in 1976 from her native Japan, where she had studied with Kazuo Ohno, a founder of the Japanese dance-theater form Butoh. (While she does not characterize her work as Butoh, she acknowledges Ohno as a mentor.)

The story of their meeting is one of uncanny timing. In 2016, the late art historian Douglas Crimp took Jonas to see Otake perform at St. Mark's Church, home to Danspace. Jonas, who had long been inspired by Japanese performance traditions, was intrigued. As she recalls of that evening, her first live experience of Otake's work, "I saw her dance, and I thought it was beautiful." About two years later, Otake was embarking on a new series of creative exchanges with accomplished artists called "The Duet Project." Her dramaturge, Iris McCloughan, encouraged her to reach out to Jonas, sensing that they might have some common interests. It turned out they were on each other's minds: Within the same few days, each contacted Judy Hussie-Taylor, Danspace's chief curator, asking for the other's contact information.

Thus began a series of tête-à-têtes, first over dinner at Otake's apartment, and soon after at Jonas's summer home in Nova Scotia, where they experimented with Jonas filming Otake. When the pandemic struck, Hussie-Taylor invited them to take part in a public conversation over Zoom. That led to their first project, With the Earth at My Waistline, a film directed by Jonas and presented online in 2021. The Castelli installation included this collaboration and a second visual work, composed of side-by-side videos, one by each artist. Otake is seen drifting along a desolate country road, Jonas rummaging amid lush forest foliage. At once spectral and stubborn, Otake periodically appears in Jonas's frame, as if wandering into her world. Their live performances in the gallery played with a similar layering and blurring of two dimensions.

Hussie-Taylor describes the show at Castelli as "a really risky artistic endeavor for each of them," both in spite and because of their long-established methods of working. "I perceive that they challenged each other in every way," she says.

Reflecting on their respective approaches, McCloughan, who directed the Castelli performances, says that Otake "loves to betray her own choreography. Often she will work out a sequence or structure, and then in the moment, responding to the present conditions of the performance, she'll alter that." Jonas, in contrast, "thinks about a performance as a kind of tightly controlled sequence," McCloughan observes. "It's important to her that objects are in a specific place, and she wants to understand how those objects move and the images they are creating, which is quite a different lens."

The duet that emerged bristled with a spirit of adventure. "Having the courage to step out of your comfort zone, at any age really, but in your seventies or eighties, is quite inspiring," Hussie-Taylor says, adding that Jonas and Otake's work together "is not just looking back, not nostalgic. It's really engaged in, 'What are we making now? What are you interested in? Why?' Provoking one another. To me they're just brilliant."

The relationship they have developed extends beyond the studio, revolving as much around dinners, drinks, and outings to movies and shows as it does to making art. Recently I spotted them in the audience at the Bushwick performance space PAGEANT, where McCloughan was dancing. And when we met for an interview at the SoHo loft where Jonas has lived since 1974, they were discussing which film to see together next.

Over a lunchtime snack of onigiri (Japanese rice balls) prepared by Otake, and in a follow-up video conversation, we spoke about their collaborative process, navigating transition, and the tensions between change and continuity. Although new facets of the self might reveal themselves over a lifetime, Otake says, "It's important we attend to our core."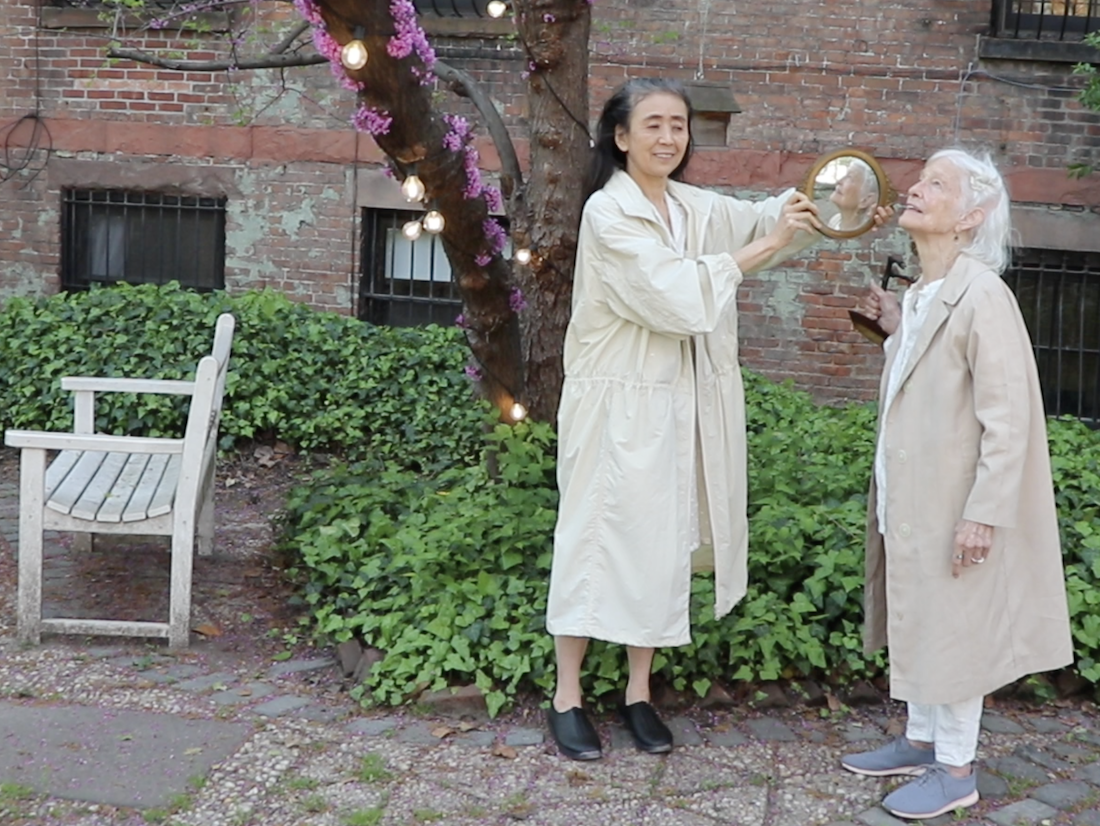 Early on in your collaboration, you got together at Joan's home in Nova Scotia. How did you approach this first phase of working together?

JOAN JONAS: Usually, if I bring somebody into my work, I don't just put them in and trust them. But with Eiko, I knew that I could. So I set things up, and Eiko stepped in and did movements in relation to my setup. I thought of her playing roles. There's one scene [in With the Earth at My Waistline], with a crystal ball, where I imagined Eiko as a fortune teller.

EIKO OTAKE: It allowed me to be more liberated, because it's not my piece. I would not normally pick up this particular crystal, but it's very Joan Jonas, so I could interact with it. She never came into the picture—she didn't want to. So it was like the next best thing—instead of working with her body, I was working with her environment.

You're both very clear that in that project, Joan was the director. Eiko, what was it like for you to be directed?

EO: Joan is the only person who ever directed me, whether she succeeded or not. It was a new experience. She would say, "Could you do it again, a little differently?" If I felt very strongly that it wasn't a good idea, I could say that to her. But I only said something if I really felt strongly. At one point she said, "Eiko, don't use this red cloth anymore. You always have a red cloth." And I said, "Okay." I didn't disagree, but at one point I came in with it anyway. That's simpler than trying to persuade each other. Sometimes I think this way tactically. Like, stop arguing, let's just go with the flow, and if I really feel I want to try it, I just do it.

How are you both thinking about transition right now, in work and in life?

JJ: I think as you get older, it gets harder, change and transition. Because when you're young, you're very flexible and totally open. And as you get older—

EO: You have a certain style.

JJ: A style, and you're tired. Your brain doesn't work the same way. But ideally speaking, we're all interested in transition. I'm not interested in showing the same thing over and over and over again. So I'm always trying to think: What could I do next that's different?

Before doing this, I was interested in breaking open my structures, of this linear narrative going forward. I thought, I should have something more open that's slightly messy, actually, and not always trying to be so perfect. So for me this was a chance to go into another structure.

How did you break open your usual structures?

JJ: You plunge into the situation like we did. That's how it happens. I can think about it, but I can't know how in my head. The situation we set up, the way we worked, was a breaking of the form.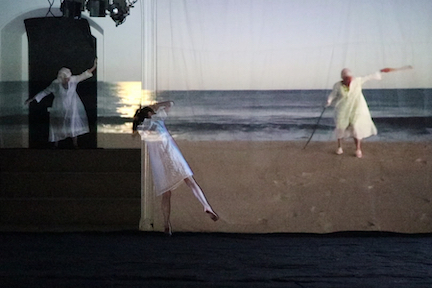 Looking back over your careers, what are the most significant ways you've changed since starting out? And is there anything you've worked not to change, to hold on to?

JJ: It's too complex to really examine in a question. I think in my case, I haven't changed, but I've been affected by the changes in video and technology, and my work has been affected by that. But not ultimately changed. The one thing I have kept really close to is drawing. I draw. And I move. So does Eiko. We perform. One of the things we do to develop our work is to keep working—working with old ideas, with new ideas, but there's no way to pinpoint it.

EO: For me, there are three quick things. As I grew up, I began to be a so-called dancer. That was completely unexpected of me, because I was a book person, so that was a big change from childhood to [becoming] a young person. Once I was in the dance community, the biggest change objectively was from "Eiko and Koma" to "Eiko Otake." I made that decision when I was already quite old, and with it came certain change that's related. I work much more one-to-one now with other artists, such as Joan Jonas. If I had stayed as Eiko and Koma, that would not have happened.

JJ: I also think "change" is not quite the right word, because you don't change. You develop and you alter and you expand, but you do not change.

So, do you think you stay the same as a person?

JJ: Nobody said that.

EO: Nobody stays the same, and nobody changes, like one day with one decision. I think we develop other sections of us. There are certain periods of time where I've worked much harder on video, learning new skills. Right now I'm very busy making exhibitions. That is new to me to a degree, but I've done that before, too. So it's very hard to give a clear answer of A to B.

Is there a way in which a collaborator has opened something up for you, some kind of discovery, whether it's each other or someone else you've worked with in the past?

JJ: Of course. Every time you work with other people, something is opened up. It brings you into another area, but it doesn't change you. The coming together is like chemistry, or like cooking. The ingredients of two different people working together produces something else.

EO: We are not 23 years old, right? We haven't just gone to Europe for the first time and drank some wine that wasn't available in America and our life changed. No, we are not there. We've both traveled and experienced a lot. What we are discovering is not life-changing. It's more like we just had a new meal for that day. It doesn't alter life, but it makes more of the positiveness of art-making, the enjoyment. It just becomes more full. This is the same reason we read books.

What have you learned about change—or transformation or adaptation—from working with each other, or with other people at other times in your careers?

JJ: I think what we found out when we worked together—it led not to new ideas, I have to say. There was nothing new about what we did together for each of us. But it led to a way to come together, and to do a kind of call and response with each other. That's what I think our work was. A little bit of: One would say one thing, and the other would respond to it. You never know when you begin a project what it's going to be exactly; you find out as you go along.

We found a way to work together, and we might do it again. But we don't change. We are coming together as two developed human beings, and we are sharing.

EO: I completely agree. We receive and then we grapple with. Not every day that Joan and I worked together was rosy. Sometimes we had to deal with certain difficulties. The fact that's important is Joan remains Joan, and Eiko remains Eiko, and we remain wanting to work together again.


This interview has been edited and condensed for clarity.