How little can you get away with?
Untapped is published by the design company
Henrybuilt
.
OBJECTS AND THINGS
02.07.2023
Using a Fungi-Infused Paste, Blast Studio Turns Trash Into Treasure
The London firm's commitment to experimentation yields fast progress in its quest to recycle urban waste into everyday objects.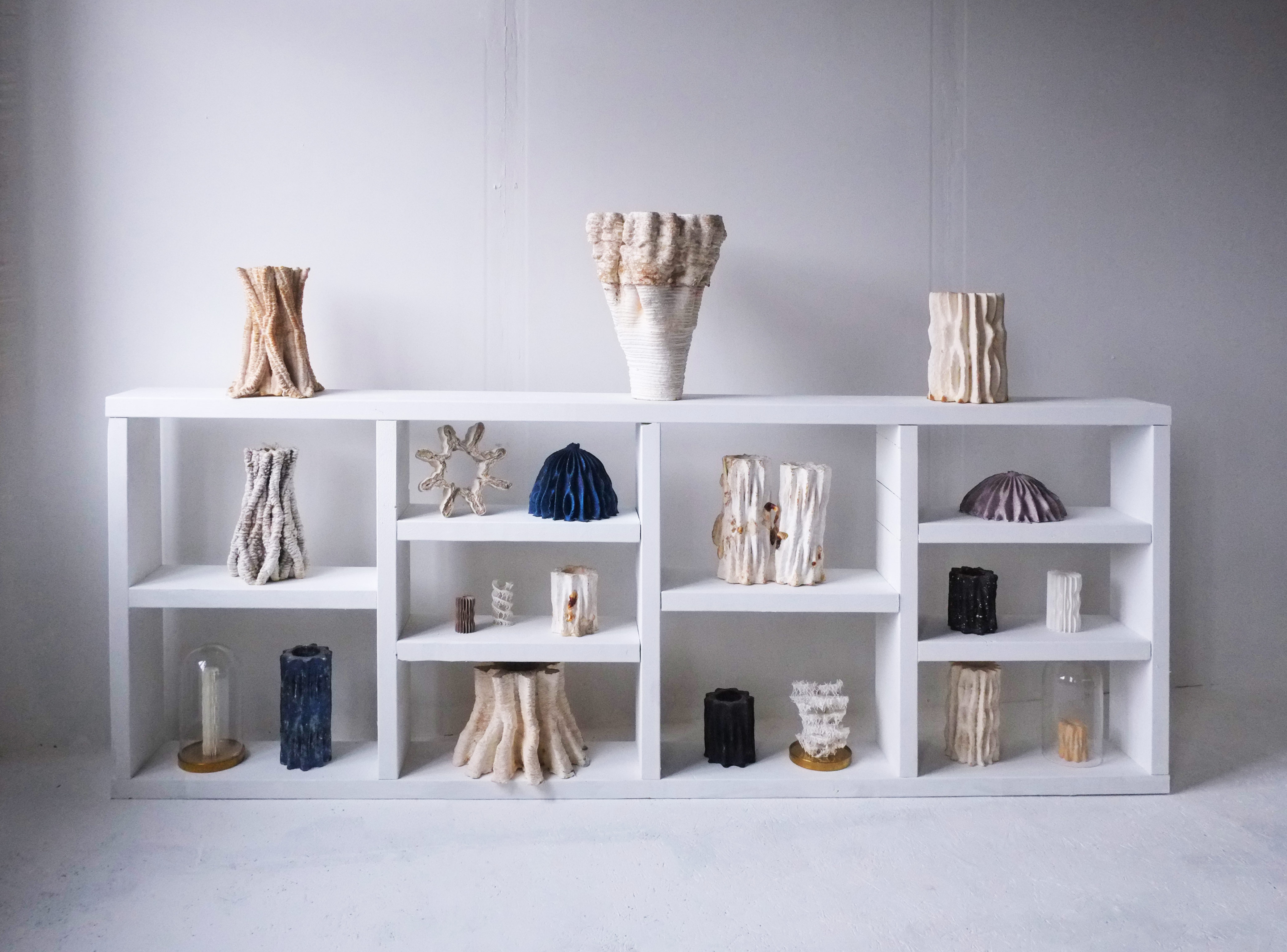 The idea for Blast Studio—an acronym for Biological Laboratory of Architecture and Sensitive Technologies—took form in a quiet corner of a dimly lit Parisian bar, over beer. There sat Paola Garnousset, Martin Detoeuf, and Pierre de Pingon—trained architects who met while studying at Paris's École Spéciale d'Architecture—who had graduated and were each working at different firms. But, as revealed at the bar, they were frustrated by the way architecture was being practiced. "We wanted to return to the research that had been foundational to our studies," de Pingon says. "And we wanted to be more radical about how we thought about architecture." 

Five years later, Blast Studio is now based in London and an inventive, young (Garnousset is 29,  Detoeuf, 31, and de Pingon, 30) player in the rapidly growing segment of the design industry that is working to find scalable solutions that build toward a more circular economy—one desperately needed if we ever hope to ameliorate the climate crisis. Its work involves a curious combination of art, science, and nature that transforms urban waste into sculptural, often functional 3D-printed items. A commitment to constant reassessment lies at the studio's core. "Our studies made us very willing to experiment," Garnousset says, "and to understand that if something doesn't work, or could work better, you go back and try once more."

Joe Iles, a program lead at the Ellen MacArthur Foundation, which develops and promotes the idea of a circular economy—a framework based on the reuse and regeneration of materials or products—is an ardent supporter of the type of research the nimble practice undertakes. "We need people to test materials and new ways of building, and who are willing to get their hands dirty," says Iles, who was part of the advisory panel for the London Design Museum's 2021–22 exhibition "Waste Age: What can design do?," which featured Blast Studio's output. He believes most of the innovation required for a truly circular economy has yet to be done. To get there, he says, "We're going to have to get it wrong a lot—but we don't have the luxury of getting these experiments wrong at scale. We need firms like Blast Studio to do this very important work: to drive things in the right direction, lay the groundwork, and prove that the technology is there to give way to wider system changes." 

The studio came into its own following its move across the Channel, in 2019, upon receiving a six-month residency at OpenCell, an incubator-cum-co-working space for biotech start-ups. (Alongside mentorship, the company offers participants a host of spaces that provide "hotel services for scientists," with amenities including lab coat laundry, dry ice shipment, and cryogenic freezer storage.) With access to labs, specialized equipment, and myriad experts, the studio refined its raison d'être. "We leveled-up on the scientific and business side," de Pingon says, "and clearly formulated what we want to do: explore how nature and technology can work together to transform cities' discarded materials into objects and architecture."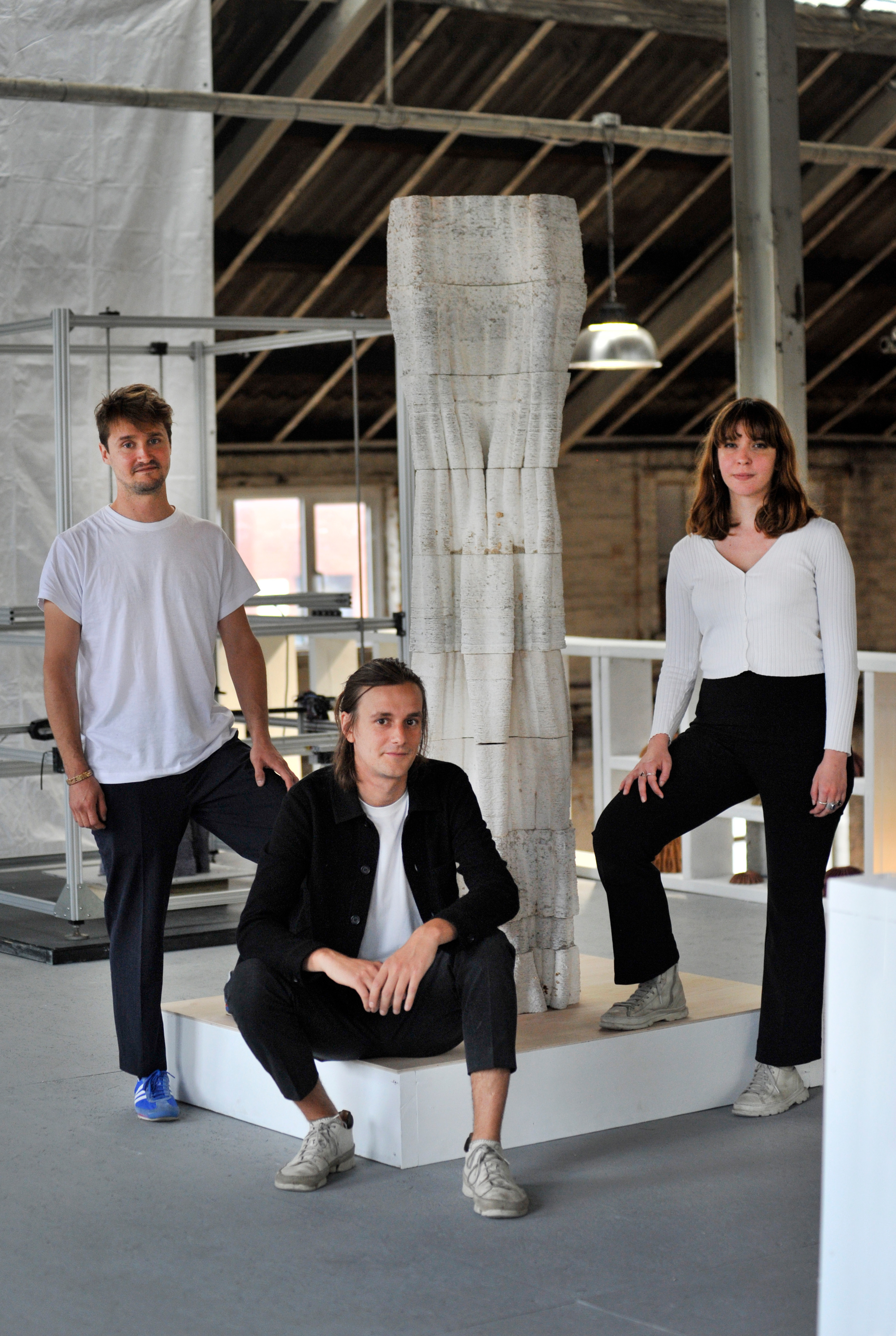 The move to London also sparked a key observation. "Everyone was having to-go coffees in paper cups, something that wasn't very prevalent in Paris," says Garnousset, who currently works primarily on computational design (Detoeuf focuses on robotics, and de Pingon on material development and general strategy). "We realized this was an enormous source of waste, and also a potential resource." They started experimenting with the cups: shredding them, disinfecting them, and creating a paste that they inseminated with mycelium—the weblike, root-shaped system of fungi—which fed on the organic matter of the coffee cups to grow, allowing natural life to form upon whatever structure the biomaterial is used to create. The result: a lightweight, cream-colored material with the texture of velvet. Some of the earliest experiments took the shape of vases, which the designers made by hacking a small 3-D printer and feeding it their material with a syringe. They sold the resulting vessels through a Kickstarter campaign, in 2020, named "Lovely Trash." It raised just over  £10,500 (around $12,500), and provided their business's initial funding. 

As demand for the work grew swiftly, the studio decided to build its own large-scale 3-D printer and a custom paste extruder for the biomaterial, which the co-founders have since adapted to recycle, in addition to coffee cups, pizza boxes, packaging boxes, and other cardboard waste. The machines print the pulpy substance into usable forms using an algorithm that generates shapes that encourage the growth of mycelium: ones that retain moisture, for example, and have plenty of surface area to allow the mycelium to create a thick skin. 

Today, items generated by this patent-pending process form the commercial base of the studio's practice. Among its most recent commissions: an installation of 30 lighting fixtures for the southwest London co-working space HomeWork, and a series of lamps, counters, tables, and installations for the bar and lobby areas of One West Point, a high-rise in the city's North Acton commercial zone; all pieces are made from cardboard waste generated by the building's occupants.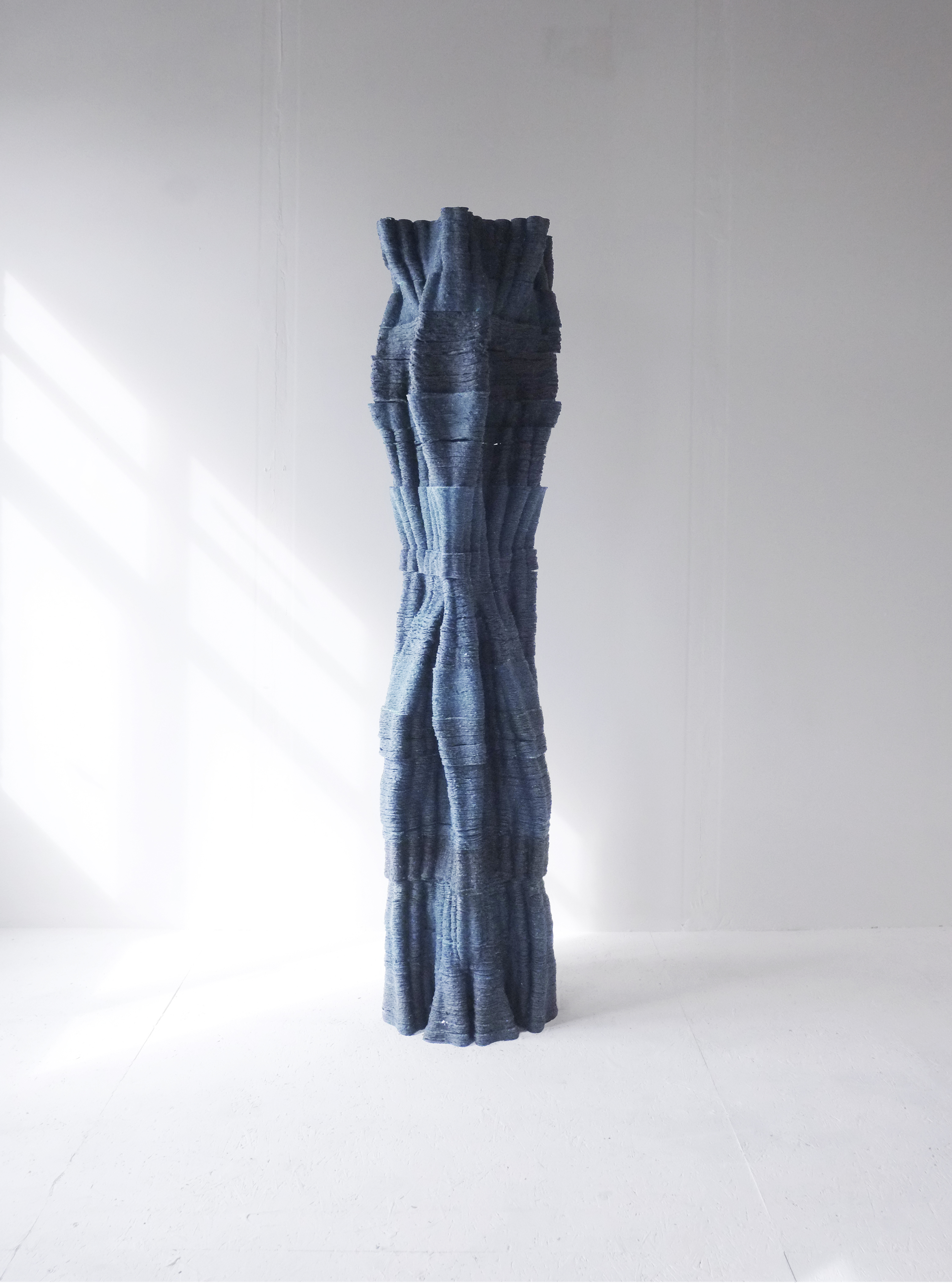 The studio is also tackling physically bigger endeavors. "Blue Tree" (2021), a nearly seven-foot-tall 3D-printed column, features countless crevices that are ideal for plant life and insects to flourish. (Blast Studio's website describes the sculpture as a "new kind of tree" in which "waste becomes natural again.") Last year, the Loewe Foundation's prestigious Loewe Craft Prize selected the piece as a finalist. "'Blue Tree' makes a strong statement on sustainability, combining the use of an unexpected material—disposed coffee cups, which are ubiquitous and symptomatic of our attitude and lack of care toward the natural environment—with indigo blue, a traditional pigment that has been [long] used for dying," says Anatxu Zabalbeascoa, the executive secretary of the initiative's 2022 Expert Panel. "The result is a very pleasing and successfully executed aesthetic form." 

The column has paved the way to Blast Studio's most ambitious project to date: "Tree Pavilion," an outdoor canopy with a 5- to 10-year lifespan that it hopes to complete by this autumn. After the form's prime, it can be repurposed—put back into the printer, and reimagined. "When you look at nature, there is no waste created: everything becomes a resource for other organisms," Garnousset says. "That is the ultimate model." When "Tree Pavilion" is completed, the firm's co-founders say, it will be the first 3D-printed architectural form made entirely from waste.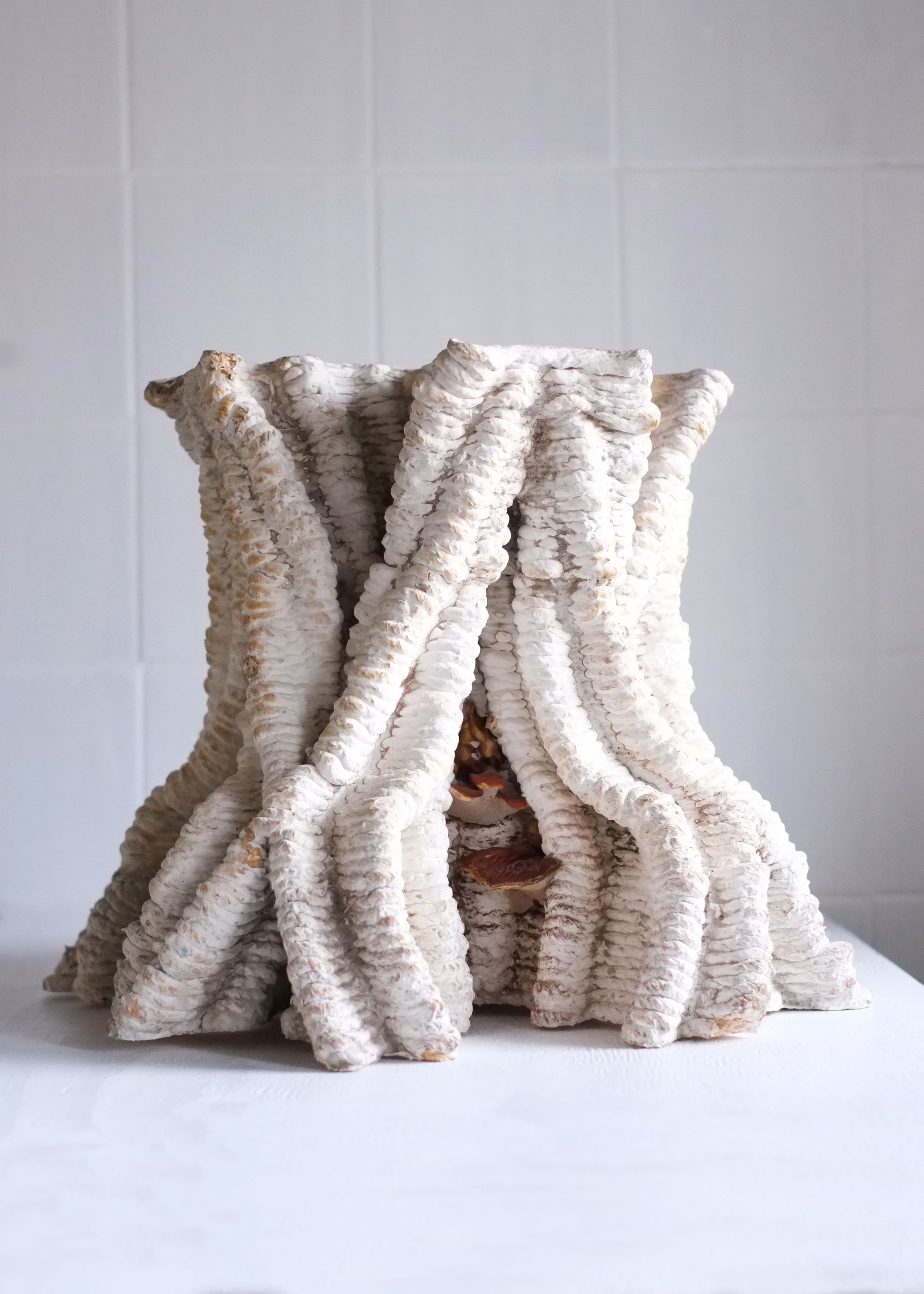 Once the stuff of sci-fi films and high-tech laboratories, 3-D printing has, over the course of the past 20 years, become commonplace, something that can happen in our very own homes; a couple hundred dollars and an Amazon account are often the only remaining barriers to entry. In the design and architecture space, the Dutch designer Joris Laarman and the Danish-born, Sweden-based designer Mathias Bengtsson were among the earliest proponents of the technology, having developed functional and sculptural furniture pieces in the early 2000s. (Their work currently fetches enormous sums at auction.) MX3D, a collaboration between Laarman's lab and the engineering powerhouse Arup, has successfully scaled 3-D printing technology to architecture: Its signature project, a 39-foot-long stainless-steel footbridge, completed in 2021, sits across one of Amsterdam's canals. 

Blast Studio's material choices continually set its work apart from such established practitioners (though there are a growing number of other firms, including Stockholm's Interesting Times Gang and Rotterdam's The New Raw, also experimenting with 3D-printing furniture from waste). Notably, Blast Studio has adapted the material used for its most recent projects to perform without mycelium—even as the fire-retardant material currently enjoys a moment in the limelight, with mainstream applications in insulation and packaging, as well as more high-end uses, with fashion brands such as Hermès and Stella McCartney exploring mycelium-based materials for accessories and clothing. Instead, the latest mixture incorporates wood, sawdust, and London clay (collected near the studio, at the building site for the city's new HS2 high-speed rail) to make the substance more stable, dense, and load-bearing for furniture and architectural interventions.


"We see a sense of urgency in dealing with all of the waste," de Pingon says, "and how we can transform it into something useful, at speed."

The decision to evolve past mycelium came, in part, because the substance comes with plentiful limitations, not least the fact that it's far from weatherproof. "It's a beautiful material, but it's also a living organism, so it's very complex to put it into a manufacturing context," Garnousset says. "It can easily be eaten by other organisms; it is not easily controlled." Time is also a constraint: The studio's mycelium-based designs have to sit in a humid environment for about a month for the fungi to develop and must then be dried to stop further growth. "Mycelium creates something very strong, but [we're also concerned with] efficiency, and think about how much more waste we could transform in the same time span," de Pingon says. "We see a sense of urgency in dealing with all of the waste, and how we can transform it into something useful, at speed." 

With "Tree Pavilion," the studio aims to increase the number of animal, plant, and fungus species its material and structure can support. It's currently taking a layered approach, testing out different ingredients and densities for various parts of the form. "We want to create an entire ecosystem for humans," de Pingon says. It also plans to bring what the designers call their "Urban Stomach"—a small, mobile recycling factory—to diverse destinations around the globe, and to transform the garbage on site into necessary objects or buildings. "You don't have coffee cups everywhere," de Pingon says. "Specific waste is tied to specific locations, and our goal is to adapt any kind of trash to our biomaterial, and to do it quickly."

If the pavilion is the first step on Blast Studio's path toward larger-scale work, what's next? "A cathedral?" quips de Pingon. Detoeuf offers a more measured response: "A pavilion is a very interesting piece of architecture because there is less regulation," he says. "A big part of the job now will be to [develop] a regulated material that we can build architecture to live around, and within. Then perhaps we can look to be part of a residential building, do a façade perhaps, or a space with a specific function on the inside of a structure. That would be a big achievement."