How little can you get away with?
Untapped is published by the design company
Henrybuilt
.
BOOK REVIEW
02.13.2023
How Stephen Burks "Future-Proofs" Craft
The book Shelter in Place considers the possibilities, and the precedents, of the designer's inclusive approach to creating objects for the home.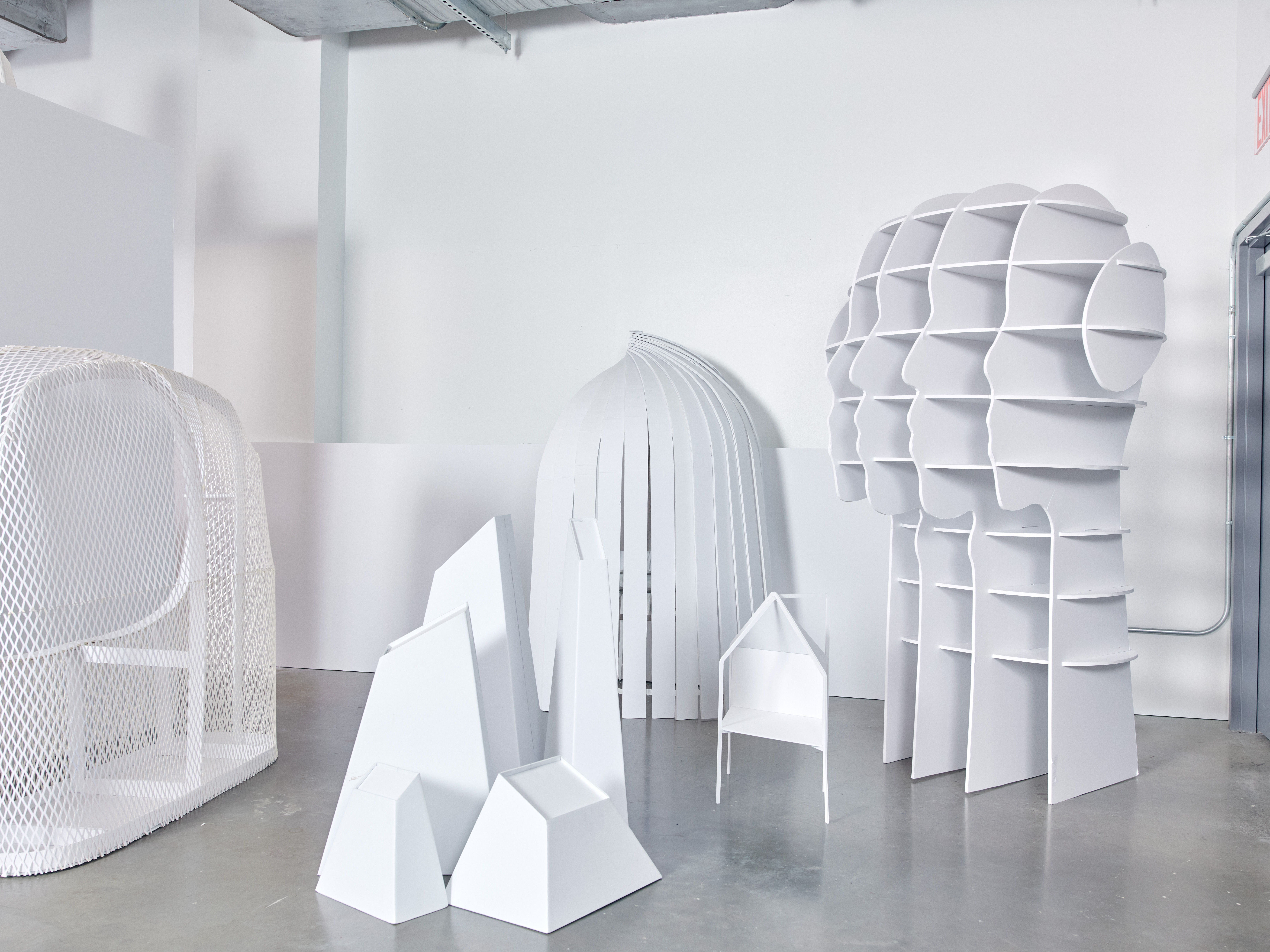 In the spring of 2020, the American industrial designer Stephen Burks was, like many of us, confined to his home amid the Covid-19 lockdowns. But while some people's productivity amounted to a sourdough starter, Burks was inspired to draw, design, and make. With his partner, the cultural strategist Malika Leiper, the Chicago-born, Brooklyn-based designer experimented with hands-on creating, unbounded by practical concerns. Soon, this creativity morphed to respond to the evolving needs and experiences of domestic life. For our homes were in the process of transforming—as places, and as containers of suddenly a lot more life—and these new uses of interior realms called for new kinds of objects.

The body of work that emerged, called Shelter in Place, includes Supports, supersize stands for smartphones and tablets, and Private Seat, a cocoon-like, screened-off chair. The creative process prompted conversations with Monica Obniski, curator of decorative art and design at Atlanta's High Museum of Art, and resulted in the exhibition "Stephen Burks: Shelter in Place" (through March 5), as well as a book of the same title (Yale University Press), out last November. The book speaks to a particular moment in time. But while we might feel a long way from those early experiences of pandemic life, the ramifications are still being felt, and a key site of change has been the home. Can Burks's work point to ways of reshaping our domestic lives and landscapes for the better?

As an accompaniment to the exhibition—which surveys the last decade of the designer's work, as well as his Shelter in Place project—the book is in part a catalog, but goes beyond this scope to critically and comprehensively dig into the context within which Burks's practice is situated and the propositions his work puts forward. It features seven texts, including an in-depth introduction by Obniski, a personal piece from Burks focusing on the creation of Shelter in Place, a short but sweet text from friend and fellow designer Patricia Urquiola, and essays by critics and curators Glenn Adamson and Beatrice Galilee. Immersive images of Burks's work, captured by photographers Caroline Tompkins and Justin Skeens, bring his creations powerfully into focus. 

Of arguably greatest interest, though, are the book's dialogues, presented as Q&As, which in their free-flowing format reflect the creative multiplicity of Burks's work itself. One is between Burks and Michelle Joan Wilkinson, a curator at the National Museum of African American History and Culture, who interviews him about his career. The other is between Burks and the late legendary critic bell hooks, who discusses the designer's work in its broader cultural context. (It's one of hooks's last published conversations before her passing.)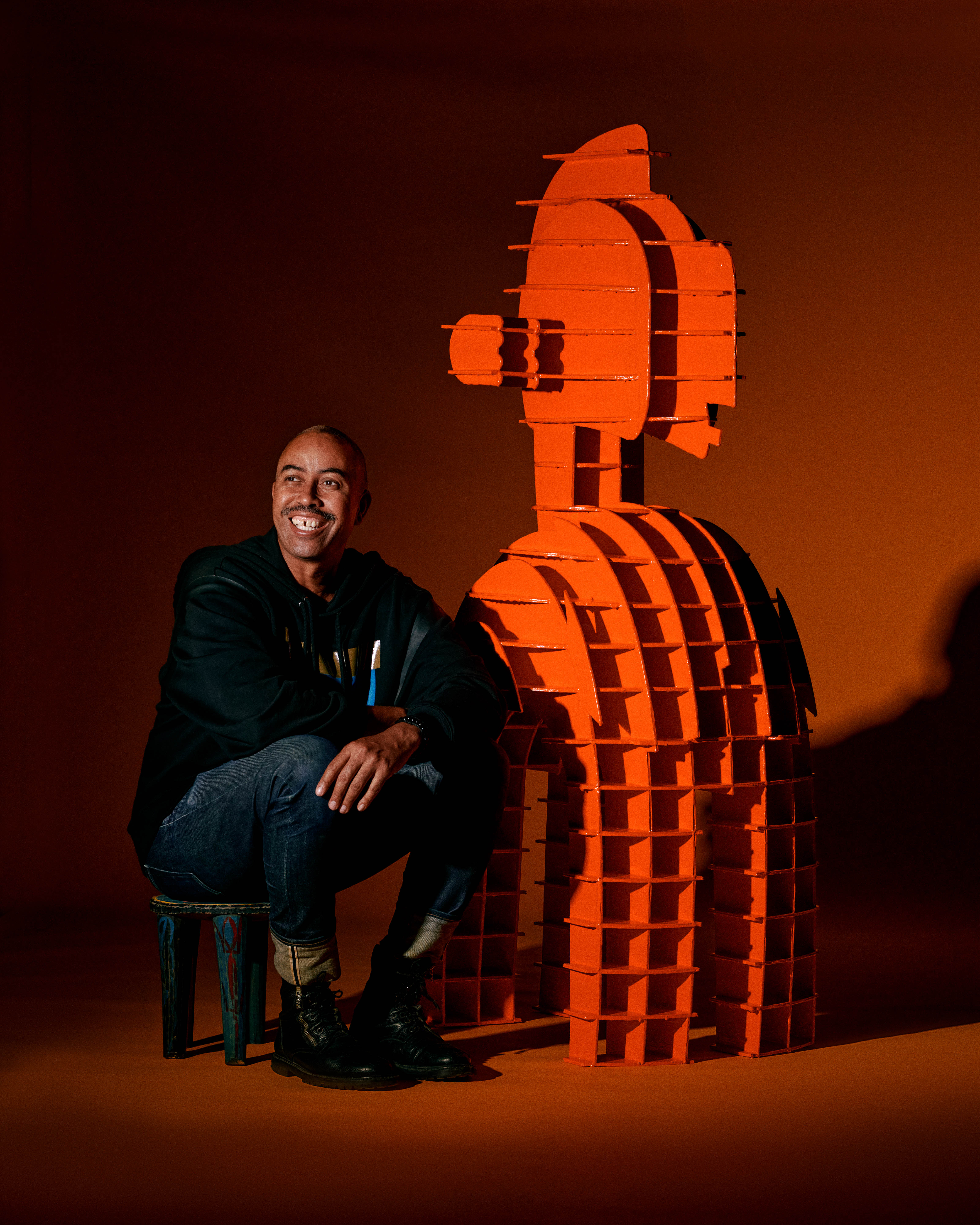 Burks—along with his practice, Stephen Burks Man Made—is known for craft-centric furniture designs, and the most compelling aspect of both the book and Burks's work is what this approach says about the past and future of design. His focus on participatory craft and the value of the hand speaks to an embrace of global diversity, design democracy, and cultural multiplicity, which implicitly and explicitly challenges the European canon of design and its traditional hierarchical division of labor, a subject carefully explored in Adamson's chapter. 

Burks has worked with artisans all over the world, from Senegal to Colombia, seeking to champion these communities and their craft traditions. His core belief, he writes, is that "everyone is capable of design"—a powerful statement. He is careful to avoid the extractive or appropriating behaviors that working with craftspeople risks—behaviors that have historically sought to profit from community labor, fetishize otherness, or both. Obniski tells us that Burks aligns himself as a "collaborator instead of a colonizer," and she positions craft—especially how Burks practices it—as "a way to connect to one another and, perhaps through collaborative endeavors, to create a more inclusive design system."

Burks's focus on collaborative craft emerged from an experience in 2005, when he was invited to South Africa by the nonprofit organization Aid To Artisans and the design brand Artecnica as part of a project pairing designers with artisan communities. Burks worked with local craftspeople to develop commercially viable pieces of contemporary design using their traditional skills in unexpected ways, including chairs wrapped with leftover plastic from parade floats and furniture surfaced with shredded magazines. 

After South Africa, Burks tells hooks, "my work quickly became about creating more space, opening doors, trying to take this kind of monoculture of European design and make it more pluralistic, more hybrid, which I think is the reality of the world." He has since worked extensively across Africa, Asia, and Latin America, as well as the United States, Europe, and Australia, on projects that center community craft traditions. His Dala (2012–14), Kida (2020), and The Others (2017) ranges for the German furniture brand Dedon, for example, involved working closely with master weavers in the Philippines. Through his work he hopes to embed this global cultural representation and diversification of design in our homes, creating functional objects as vehicles that propose a more inclusive future. 

Nevertheless, as Burks's commissions come primarily from luxury brands, his furniture is often only affordable to those with wealth, so while inclusivity underpins his practice, it does not define his audience. These high-end consumers may be precisely the people that Burks wishes to influence—shifting perceptions of craft and elevating overlooked and diverse creativity—but it's challenging to see just how much they would look beyond a beautiful product to learn about and be influenced by the way it was made.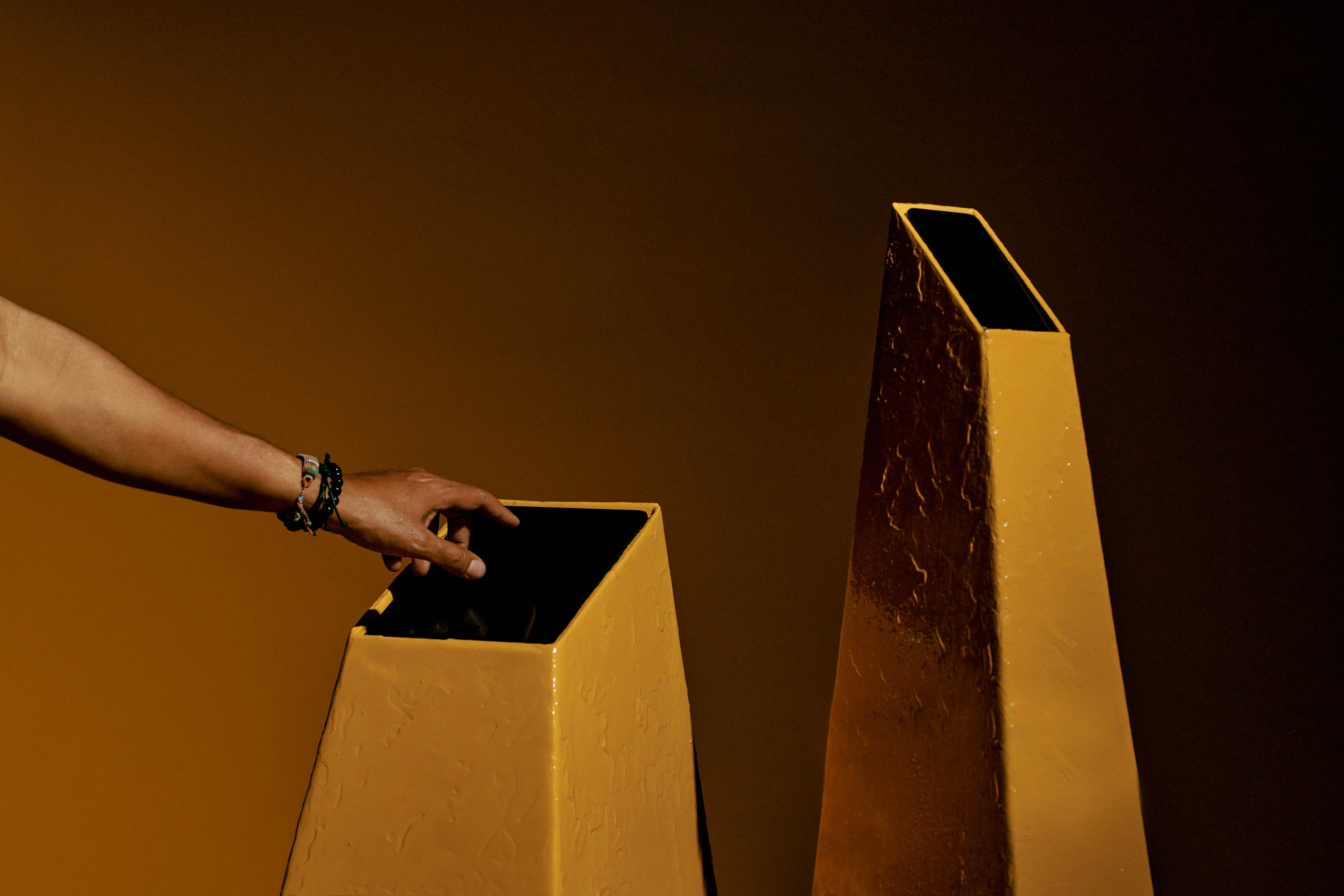 Of course, not all Burks's works are commercial pieces, and the very act of experimenting and prototyping is crucial for him. As part of his collaboration with the Student Craft initiative at Berea College in Kentucky, he produced Crafting Diversity (2020), a series of inventive home accessories, from throws to baskets and even a decorative broom. Although made in partnership with the furniture company MillerKnoll, the items were not made for a consumer market, and instead seek to explore new expressions of traditional crafts such as weaving and woodworking.

This approach is a typical one for Burks: supporting, championing, and sustaining historic craft techniques—what Galilee refers to as "future-proofing" crafts—and reinterpreting them for contemporary life, harnessing design to mediate between yesterday and tomorrow. This can be seen in Woven TV, part of Shelter in Place, which blends physical craft with digital technology for the phygital generation. Responding in part to the shrinking of the television's domestic presence to a wafer-thin device, the prototype comprises a large industrial-metal mesh surround for a flat TV screen. Although the initial design was, according to Burks, "an exercise in the structural integrity of weaving a cabinet," the piece's lattice enclosure invites users to decorate it with materials of their choice to personalize the structure. 

The piece seems to respond to what Obniski outlines as the central question behind the Shelter in Place project—"How can we design our interiors to enable joyful living while empowering creativity?"—and reflects Burks's desire for people to participate in designing their surroundings. But it reveals a tension between ambition and use: a designer can certainly set an intention for how an object could or should be used, but ultimately the life of that object will be dictated by the user, who may not share those ambitions, or participate in the way the designer intended.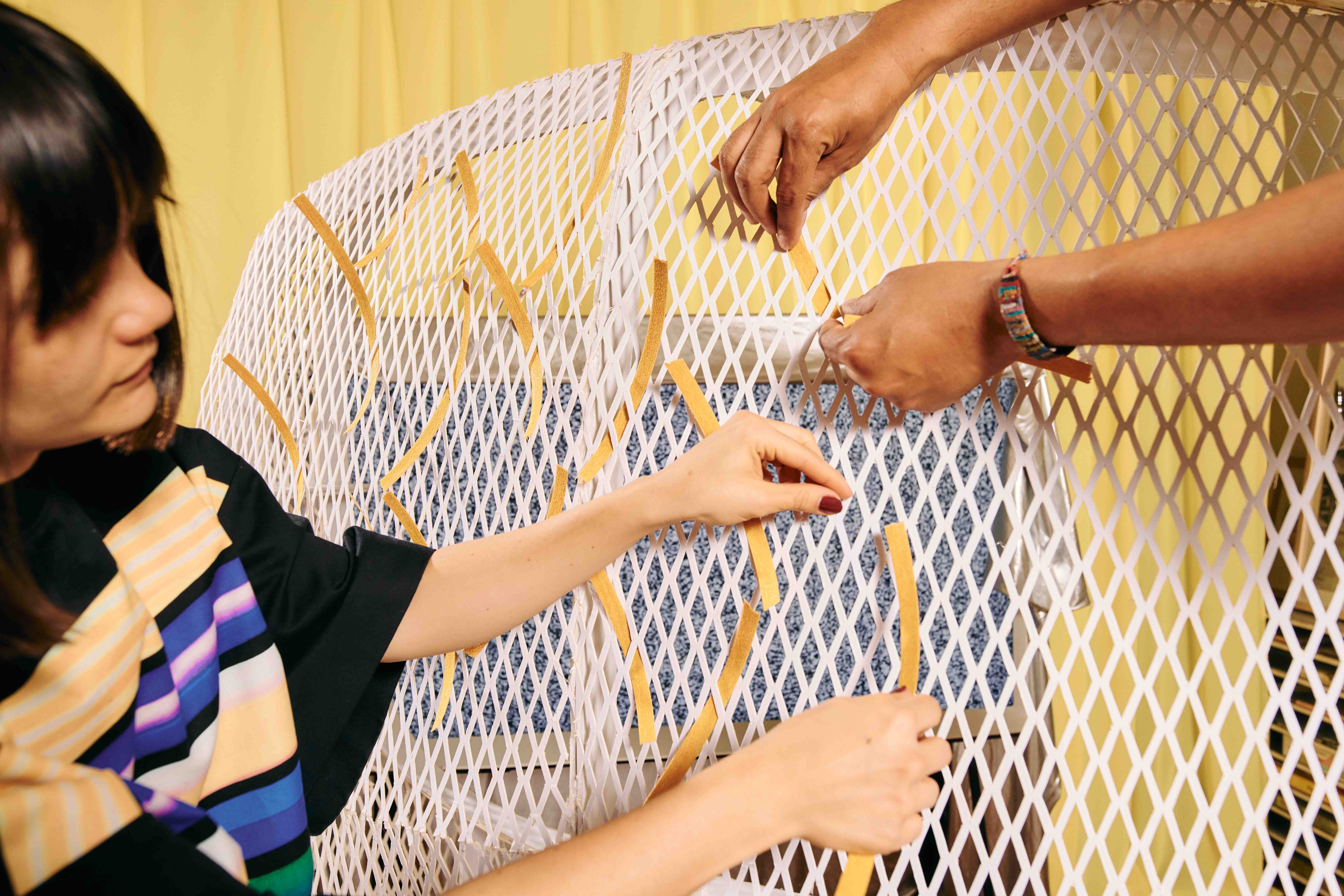 The idea of better living through design, with its origins in modernism, is a driving concern for Burks. In fact, the book positions the 20th-century design movement as underpinning his practice. One can understand why: Burks grew up in Chicago, a city shaped by modernism, and studied product design at the Illinois Institute of Technology's (IIT) Institute of Design, which was originally founded as the New Bauhaus: Chicago School of Design by Bauhaus professor László Moholy-Nagy, in 1937. Modernist architect Ludwig Mies van der Rohe, who had a significant impact on Chicago's urban landscape, designed IIT's campus. "I've always considered myself a modernist," Burks tells Wilkinson, adding that modernism is a "critical rethinking of everything we knew." He even likens the goals of modernism to those of the "recently freed people of the African diaspora" from that time—to reinvent, break free, find new expressions, and create their own roles.  

Obniski connects Burks's practice to the way the Bauhaus school sought to elide divisions between different creative disciplines, and notes conceptual similarities between the work of Burks and Bauhaus textile artist Anni Albers, who saw craftspeople, industrial designers, and artists as one and the same. Obniski also quotes part of architect Walter Gropius's 1919 Bauhaus Manifesto—"Today the arts exist in isolation, from which they can be rescued only through the conscious, cooperative effort of all craftsmen"—positing that Burks's practice internalizes this belief. 

In part, she's right. But Burks's work seems to acknowledge that these ideals of inclusivity and pluralism were not comprehensively achieved through modernism. With Wilkinson, he talks about the "conflict" of learning from modernism while at the same time challenging its European dominance. His response is his work: an approach that combines modernism's ideals with global cultural representation and references that were "not accepted or regarded as part of the modernist canon."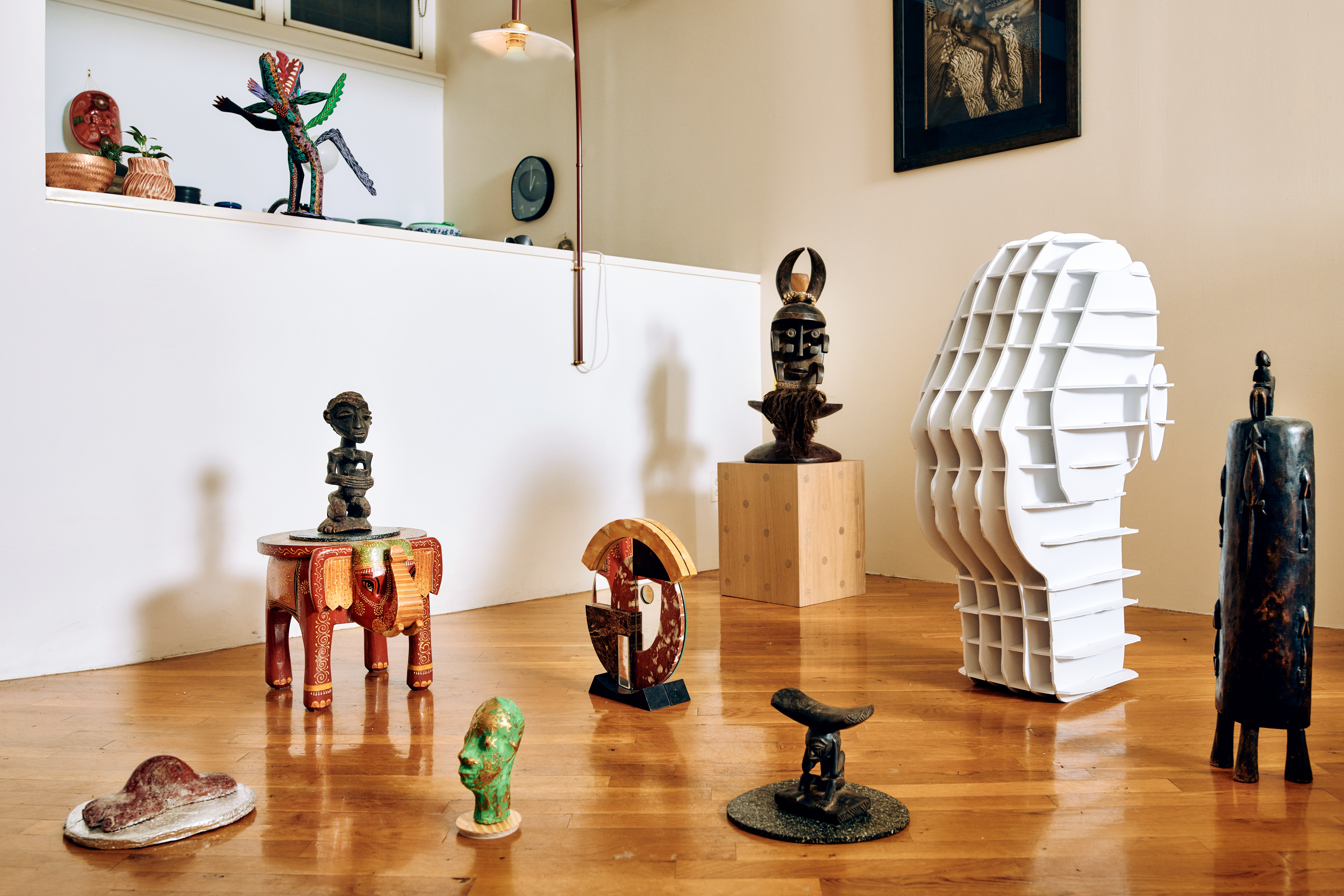 Discussions of diversifying the canon cannot be separated from the history of colonization and systemic racism, and indeed Burks's challenge to the European (and mostly white and male) dominance of design history is also bound up with his identity as an African American. Of his experience, which includes being the first, and often the only, Black designer to work with many of his European clients, Burks tells hooks, "We, as African Americans, are seen first as Black and seen second as artists or architects or designers. There's always that conversation with race that has to be overcome before people understand our work." He recounts how he has been commissioned by companies that have "literally asked me to make [the product] look African." 

Reflecting on his own career trajectory, Burks identifies a longer road, full of more obstacles, in comparison to his European peers. Change, he tells Wilkinson, relies on the acknowledgement, understanding, and interrogation of history. "As Americans, we cannot afford to leave our history behind," Burks says. "As African Americans, we must continue to rely on our collective imagination to design new ways of being in community and society with each other as well as our past, present, and future."

Above all, it is Burks's process—not the products themselves—that's truly propositional. In a world where "so few make design decisions for so many," Burks writes, one solution is to "involve everyone in the conversation." It is a noble ambition, and one that requires comprehensive change to achieve. Perhaps the biggest impact of Burks's approach, beyond the support of international artisans, will be through films, exhibitions, or publications, such as Shelter in Place. Objects can tell stories, yes, but typically only if we, as their users or viewers, are willing to do our research to understand what they're saying. It will be interesting to see what other avenues of communicating these stories Burks will embrace in future, in order to achieve his seemingly tireless ambition of ushering in a more inclusive, pluralistic future for design.

Burks positions home—the place most of his work is designed for—as the starting point for reshaping society. In the wake of the Covid-19 pandemic, this is particularly apt; during lockdown, home was, if we were lucky, one of the few places where we could make change. These days, more people see home as a key arena for expressing our values and ambitions for the future—whether that's democratic design, social equity, collaboration through craft, or unbounded creativity. The next step is to take this appetite for change beyond the domestic sphere.


The book Stephen Burks: Shelter in Place will be the focus of the February 18 meeting of the New York Architecture + Design Book Club, a quarterly event series co-organized by Untapped and the Brooklyn bookshop Head Hi. Burks, along with the artist and writer Christian Nyampeta, will lead the program's interactive discussion. Find out more and R.S.V.P. to the event on the book club's website.