How little can you get away with?
Untapped is published by the design company
Henrybuilt
.
CHRONICLES OF CULTURE
03.20.2023
Painting With Plaster, Monica Curiel Finds a Release
Restricting herself to the construction material allows the artist to honor the life and legacy of her Mexican relatives, and of her own.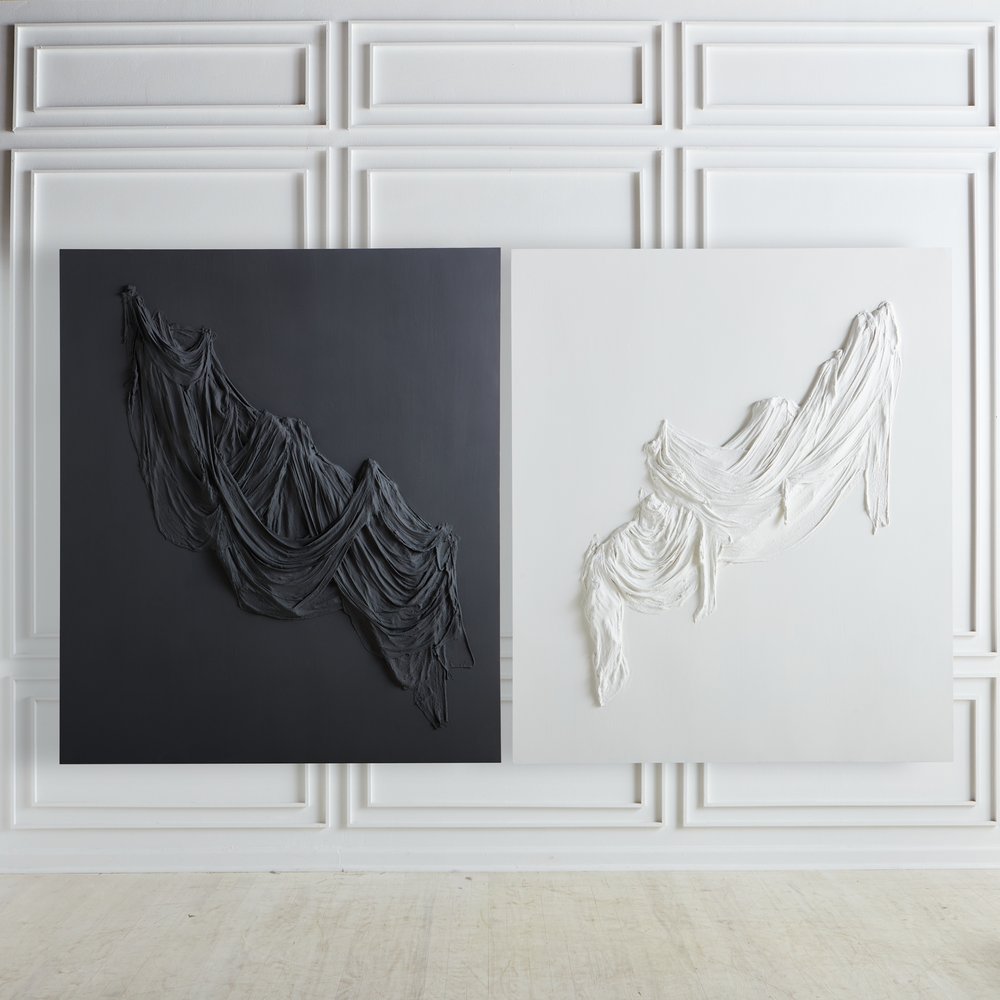 When Monica Curiel was in her senior year of college, she received the kind of critique that has been known to cause students to rethink their life choices. "I don't think painting suits you," a professor told Curiel, who was born in Texas to parents who had emigrated from rural Mexico, before offering even more advice: "If you're trying to make art that is reflective of Latin American culture, or Hispanic culture, it should really be colorful."

Narrating that episode in a video interview one recent afternoon, a couple of years removed from it, Curiel speaks with joy and a dash of wry humor. Instead of absorbing her teacher's guidance (if that is what you would call it), she did the exact opposite, and remained committed to the practice she was honing. Yes, it is true that her creations are not colorful; they are monochromatic, in rich black or white, muted gray or brown. But it is also true that her subtle, nuanced paintings and functional objects embody her harrowing life experiences while honoring generations of family members. They have won her a throng of admiring buyers, who have made her an ascendent figure in the worlds of art and design.

A classic Curiel piece is a model of extreme concision, showing how self-imposed restraints can yield unexpectedly liberating results. "Everything I make really is very, very simple," the artist says, speaking from her studio in the Denver apartment that she shares with her husband. She makes almost everything from essentially one material: plaster, in forms like powder, spackle, and sheets. After applying the pliable substance to a surface, she may manipulate it with a trowel, let it dry, carve it, or sand it, to create beguiling sculptural abstractions that suggest flowing waves, curtains, or lines in the sand or gravel of a Zen garden. They radiate serenity, a sensation that is amplified by their candor: They reveal precisely how they are made, serving as records of her smooth, confident movements.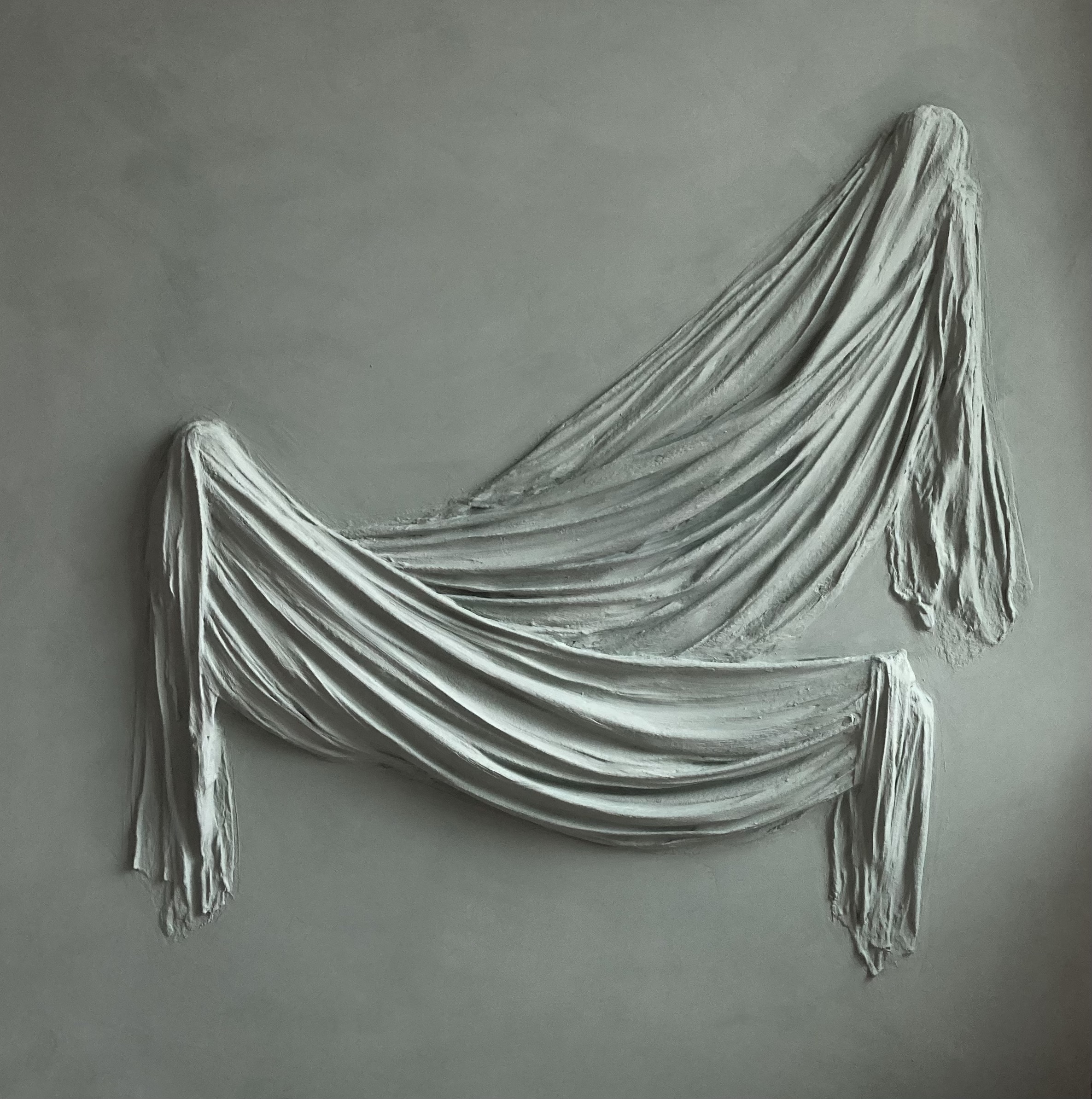 Curiel, who is 29, came to her workaday material in part out of economic necessity. "It was the pandemic," she says. "I didn't have money." Fancier mediums, such as oil or acrylic paint, were out of the question. But her unusual raw ingredients also have a deep personal resonance for her. Curiel grew up helping her father renovate and flip houses, learning skills and an understanding of construction materials that she now uses for her own ends. (Her mother, a homemaker who also cleaned houses, helped out with the building jobs, too.) With the knowledge and dexterity that she once used to carefully grout tiles or seamlessly plaster walls, she is now conjuring artworks with allusive textures. They feel somehow alive.

"I chose plaster to be my material of choice," Curiel says, "because I just think it's magical." That is a fairly unorthodox view. Plaster has conventionally served as an expendable or secondary medium in fine art—a means of creating models that can be cast in metal or affordable replicas of classical masterpieces that are housed elsewhere. In architecture, it is supposed to blend in or, at the very most, operate as decoration. Her artistic ethos reverses ideas about what is precious and what is disposable.

Curiel takes materials that are "looked down on, where she's actually turning them into something beautiful," says Alma Lopez-Moses, a co-founder and creative director at Aditions, a design studio in the Bay Area of California. During Milan Design Week last year, Lopez-Moses included one of Curiel's rough and alluring white plaster paintings and other pieces in an exhibition of multiracial, United States–based creators she co-curated that had a poignant title: "This Is America." "Laborers are [generally] invisible," Lopez-Moses says. "The fact that she brings that up to the forefront is really special in her work."


"I chose plaster to be my material of choice," Curiel says, "because I just think it's magical."

Success has come fast for Curiel, but only after periods of intense crisis. She is sincere and charismatic, and has that rare type of confidence—casual but firm—that can come from enduring a lot. At age 19, a year into school at the Fashion Institute of Design & Merchandising in Los Angeles, Curiel was diagnosed with cancer. She took time off for what ended up being brutal treatment, and beat the disease. She got back into school, at the University of Kansas, but "within about a month and a half, I got cancer again," she says. There was more treatment, severe depression, and suicide attempts, but she came out on the other side. By her 25th birthday, Curiel says, "I could confidently say I was in good mental health. I was able to accept and appreciate what had happened." At the same time, she now sees, "I didn't know how to be a young person." She spent time attending various universities, studying architecture, design, and fine art, graduating in 2021 from KU.

In hindsight, her peripatetic experiences were probably fundamental to her development as an artist. Always on the move, she learned to create a place for herself that felt like home. "If my environment is controlled and calm, I feel good," she says. She aims to have her pieces imbue the rooms in which they are placed with that same sense of stability.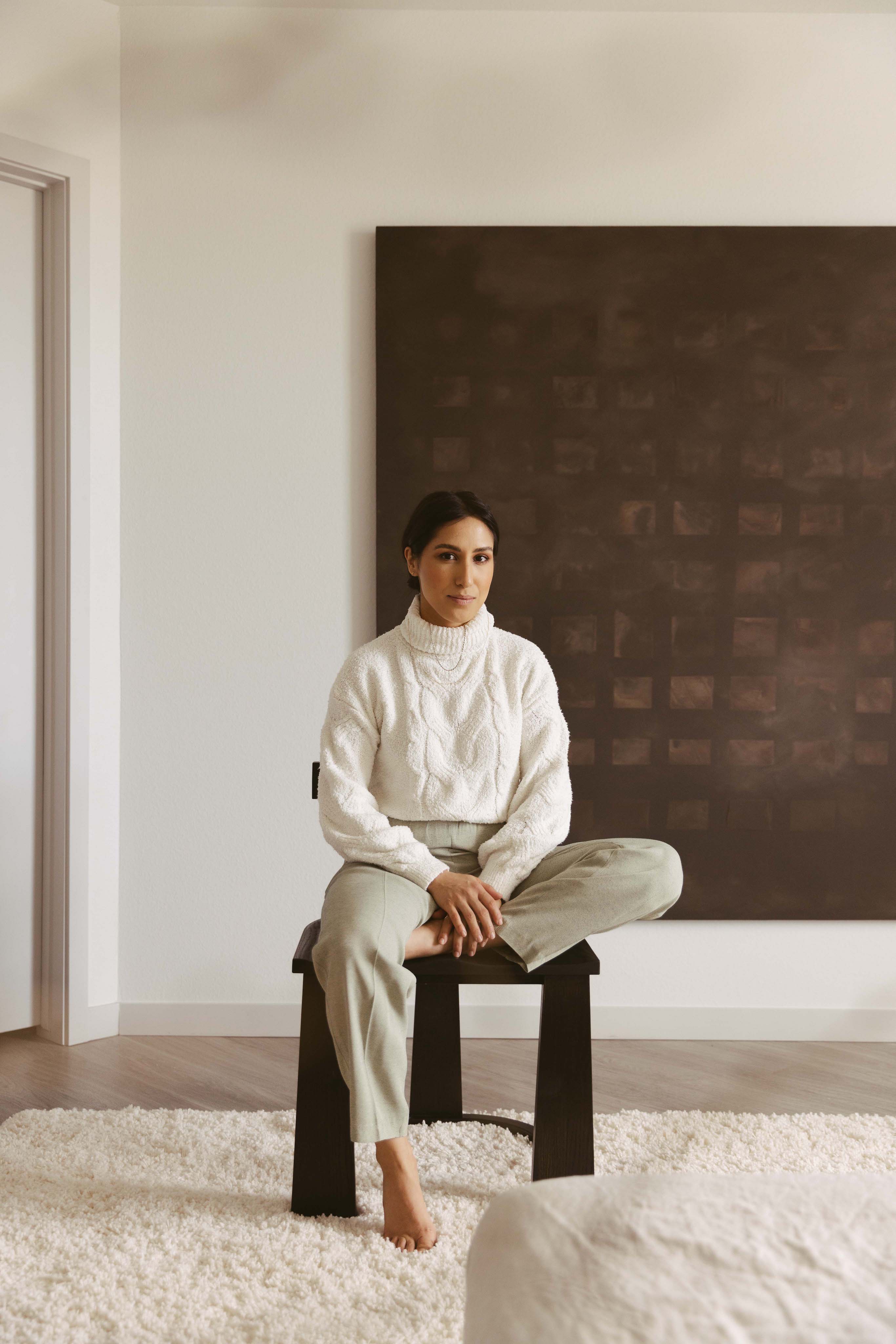 Curiel's work is "like something that you would see in a very minimalistic wabi-sabi home," says a fellow artist and friend, Pooja Pawaskar, who is based in Ottawa. Curiel makes improvisational movements to produce her paintings, which evince an openness to chance, as well as an acceptance of fate. "She's working with plaster, but she's also allowing plaster to do its own thing," Pawaskar says. Its regimented use in construction is replaced with expressive freedom, a workaday material meant to be hidden repositioned as a means of pure expression.  

The wide range of schooling that Curiel undertook has made her comfortable working across disciplines. She is restless, eager to experiment. When she and her husband moved into their Denver abode, they did not have all the furniture that she wanted, and so she set about fixing that, building everything from a mantel to a lamp. She adorns them with plaster in an array of styles, teasing out one new possibility for her material after another.

Curiel's free-ranging spirit—in which a painting, a candleholder, and a fireplace can all hold equal aesthetic value—recalls the guiding philosophies of various 20th-century avant-gardes and artists. (Squint at some of her most playful work and you may see a bit of Franz West, who was happy making both ribald sculptures and sensible chairs.) At the same time, she sees that notion as part of a long tradition in her family. "None of my family members consider themselves artists," she says. However, "my dad grew up in an adobe home from, like, the early 1900s, that his great-grandfather built. And I grew up going to that house every year in Mexico, and now as an adult, and as a maker, I'm like, Our family is so full of artisans. They made out of necessity. They made an adobe stove, or a bench, or a chair, because it needed to be made."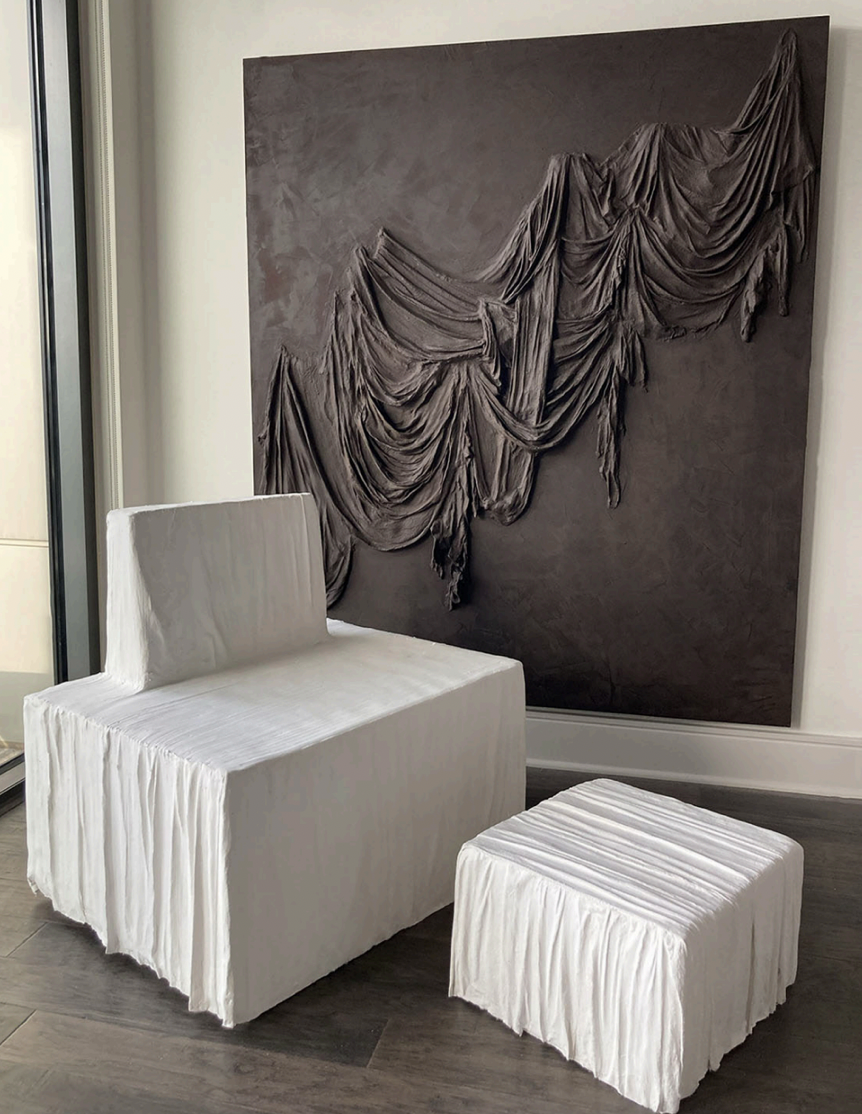 Seeing the expanse of Curiel's art, you get a sense of inevitability—that these are things that she cannot help but bring into the world. "Monica is a really genuine person," says the designer Jerri Hobdy, the founder of the design brand Meno, who gave the artist a solo show last year at one of the spaces she has in Denver. "She's more interested in the craft [than trends]. It just happens to be the right moment for her work to be sought-after."

The surfaces of some of Curiel's recent paintings are especially voluminous, bearing many sheets of plaster, gingerly layered. In "Draped in Clay ​​Marrón" (2022), for instance, these folds of material appear to billow from the panel that they are climbing. They could be pieces of clothing or linens that are being picked up by the wind. For now, they are held in place, but just barely. Any moment now, they will take flight.