How little can you get away with?
Untapped is published by the design company
Henrybuilt
.
SHOW AND TELL
02.07.2023
Finding Healing and Transformation Through Good Black Art
Many of the artists collected by Phillip Collins found the art world difficult to navigate and filled with barriers. He now helps them gain momentum.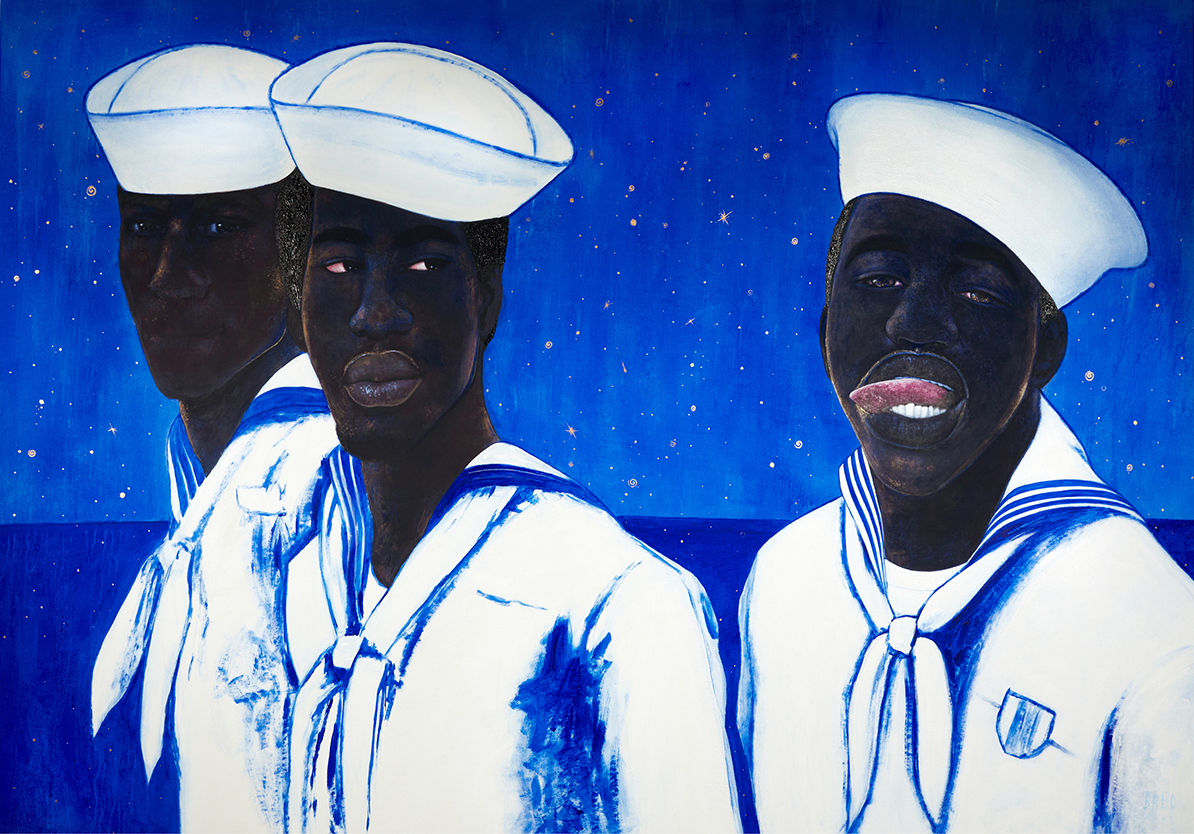 When describing the impetus for Good Black Art—a platform for buying from, discovering, and mentoring emerging Black artists—its founder, Phillip Collins, harkens back to his days growing up Black and queer in Kingsport, Tennessee. With a population of fewer than 60,000, which is 90 percent white and roughly 3.5 percent Black, Collins lived as an outsider in his hometown. He moved to North Carolina to study at Elon University's Martha & Spencer Love School of Business, and after graduating, boarded a plane for Shanghai and started what would become a near-decade-long career running communications for some of the world's biggest brands, including American Express, G.E., Ford, and Disney. "Shanghai is where my world really opened up," Collins says, who has also lived and worked in Brazil, Europe, Asia, and the Middle East. But in 2017, after nearly a decade abroad, he began to feel incomplete and stifled, and longed to be closer to his family and his culture. He decided to return to the United States. 

Collins's experience following his homecoming, marked by professional difficulties and personal triumphs, introduced him to the challenges of being Black in the predominately white work environs of corporate America. And yet, he remained determined to chart his own path. "I came to New York, and immediately everything I ran away from when I was 22 came back: the homophobia, the racism," he says. "I was very unhappy." 

During his tribulations, Collins found himself turning to art as a source of inspiration, as it gave him a sense of belonging in the world. He began collecting, often discovering and DMing with artists on Instagram, and has since amassed an ever-growing personal compendium of more than 150 works by emerging Black artists from around the globe. For Collins, collecting art was healing and transformative, and ignited a hidden passion he had to create spaces to tell Black stories, like his. 

The activity also revealed a lack of guidance for the artists he championed, who, Collins discovered, often found their industry opaque and difficult to navigate. They had long needed support—from pricing their work to getting it in front of collectors—that he was uniquely positioned to offer. So Collins channeled his energy, and the lessons he learned through collecting, into Good Black Art, which he started in the summer of 2021 to aid up-and-coming Black artists and collectors in moving through the commercial art world. 

A multifaceted resource, the platform features three pillars of engagement for users. Its global network provides direct-to-consumer sales, in-person and virtual exhibitions hosted at Collins's SoHo home and at galleries throughout New York City, and an ongoing series of articles and videos, called Good Talks, that delve into the lives of artists and their respective practices. Collectors receive a Collector's Kit, filled with the essentials to protect one's artworks: gloves, a measuring tape, a carpenter's pencil, a level. "I want to help other budding collectors on their collecting journeys avoid the same mistakes I made," Collins says. "It's important to use these items in protecting the value of the physical artworks. In doing so, and more importantly, this protects the narratives these artworks represent." 

Many of the artists mentored by Good Black Art, including PJ Harper, Mario Joyce, and Adrian Armstrong, have seen their stars rise swiftly. Such momentum will likely continue this year: "Molded," an exhibition of culturally significant mediums that blur the lines between art and design, is on view at the design studio TRNK's Tribeca showroom through February 28, and programming tied to art fairs in March, April, and May is in the works. 

Creating Good Black Art, Collins says, is how he can have the most impact. (He credits much of his feelings of responsibility toward others to watching a MasterClass episode in 2020, in which the award-winning producer, actress, and writer Issa Rae shared her views on the obligations we all share to help those around us if we have the tools to do so.) We recently asked Collins to share key pieces from his collection that led him to launch the platform. For the artworks pictured, Collins explains the significance of each object, and in doing so, reveals a source of the knowledge that informs his efforts today.