What's to gain from pain?
Untapped is published by the design company
Henrybuilt
.
THE BUILT ENVIRONMENT
07.31.2023
What Dead Malls, Office Parks, and Big-Box Stores Can Do for Housing
Architects and developers who look to building typologies beyond office towers may find spaces that are easier, faster, and cheaper to convert to residences.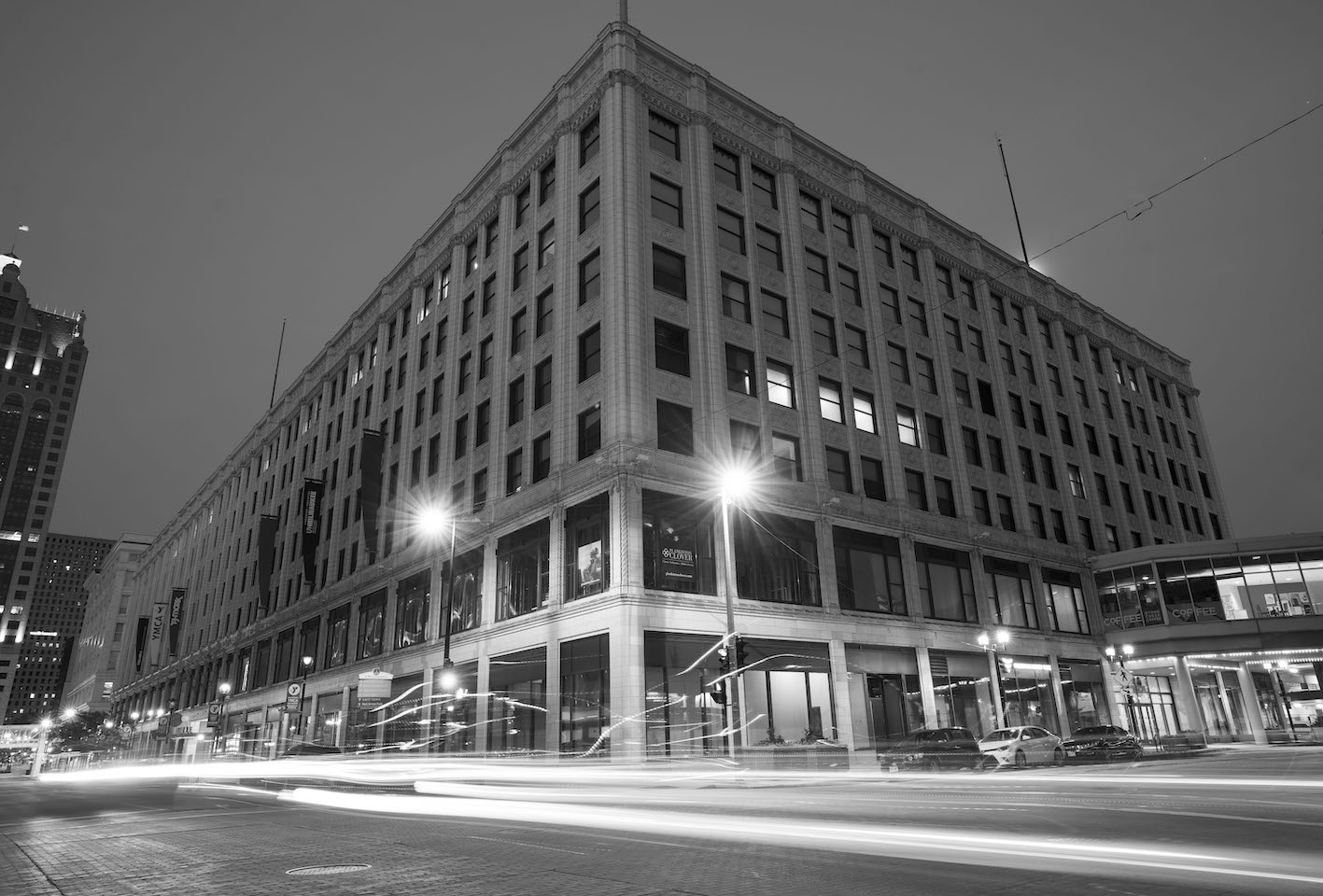 Strolling down Wall Street on a Sunday afternoon ("deserted as Petra," as he puts it), the narrator of Herman Melville's "Bartleby, the Scrivener" is astonished to find the title character, his clerk, haunting their otherwise empty law office, having apparently installed himself there as a permanent occupant. "What miserable friendlessness and loneliness," exclaims the lawyer, imagining his copyist's forlorn, un-domestic existence. "His poverty is great; but his solitude, how horrible!" Touched by his predicament, Bartleby's employer leaves him there, allowing the man to make his home in the vast, empty building.

Not quite two centuries later, the image of the place-of-business-as-dwelling-place has improved only slightly in the popular imagination. There have been more romantic accounts (the magical department-store hijinks of '80s schlock-fest Mannequin; the occasional boardroom slumber party in Mad Men), but unless the words "downtown" or "loft" are part of the equation, setting up house in a commercial space—even a former one—does not rank highly among apartment-hunting Americans. Summing up months of research into the subject, architect Stephen Cassell of the New York–based firm ARO proffers a simple explanation for the reluctance of many developers to enter the residential-conversion marketplace. "It's hard to do," he says. "If it were easy, ruthless capitalists would have figured it out by now."

The reason that Cassell and his colleagues set out to explore this vexing topic—resulting, a couple years back, in an ambitious speculative scheme to transform a drab Manhattan office high-rise into light-filled apartments—is likewise pretty straightforward. According to market-watch agency CommercialEdge, vacancies in the nation's office sector touched 17 percent last month, running as high as 23 percent in Houston, with no immediate signs of returning to earth. The dispiriting figures reflect the combined effects of the Covid shutdown, the rising popularity of the work-from-home model, and the general civil and social unrest that have followed the pandemic. Making matters worse, the downturn in the conventional urban workplace coincides with another, simultaneous crisis currently afflicting the nation's cities. Cassell puts it succinctly: "We need more housing."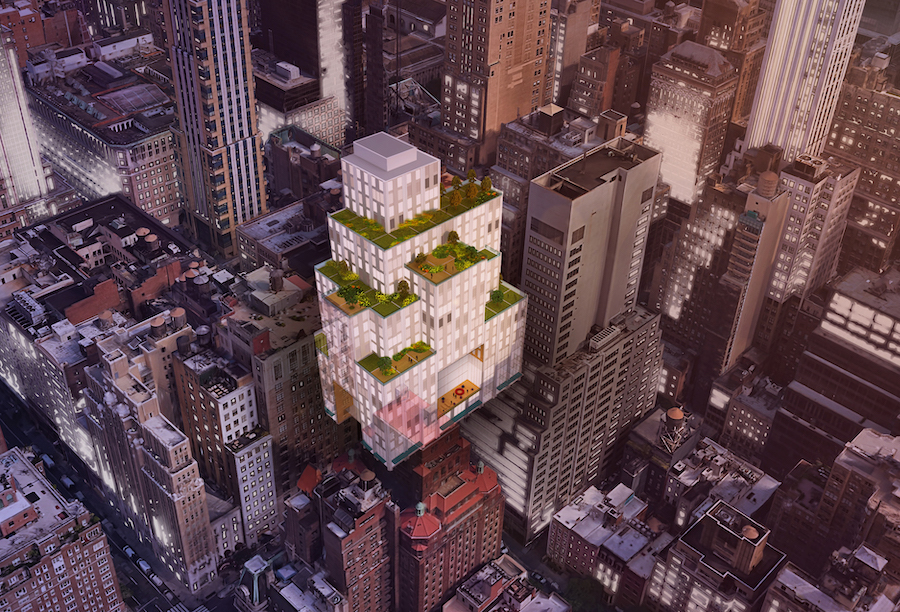 Even as thousands of square feet of commercial real estate sit idle, non-homeowners in America's cities have seen a spike in housing precariousness, with a majority of them now qualifying as "rent-burdened," paying more than 30 percent of their incomes simply to keep a roof over their heads. In that context, a proposal like Cassell and Co.'s seems like a perfect fix: Slicing into the very structure of the historic tower, the designers found a way around the one of the main stumbling blocks of office-to-residential projects, opening up the building's vast, sunless floor plates while activating the exposed slices with outdoor terraces. It's an attractive image, an elegant and audacious one-two punch for our current urban conundrum.

Unfortunately, says Cassell, "you have to think about the cost of these things." All that cutting and carving, all those sky-high green spaces: ideas like ARO's—offering inventive ways to meet locale-specific requirements for everything from operable windows, ventilation, and natural light to details such as the ratio of treads to risers on stairs—are distinctly pricey propositions to realize. And design is just one piece of the office-to-home conversion puzzle, which also involves zoning allowance, community approval, and a whole battery of political maneuvering to even approach viability. Groups like New York's Office Adaptive Reuse Task Force have argued for enhanced subsidies and incentives for such conversions, but these may be slow in coming.

While adaptations of big-city office buildings have gotten an outsize share of media attention so far, these workspaces aren't our only option. Other commercial-to-residential fixes may be nearer to hand—albeit in places old Bartleby could never have dreamed.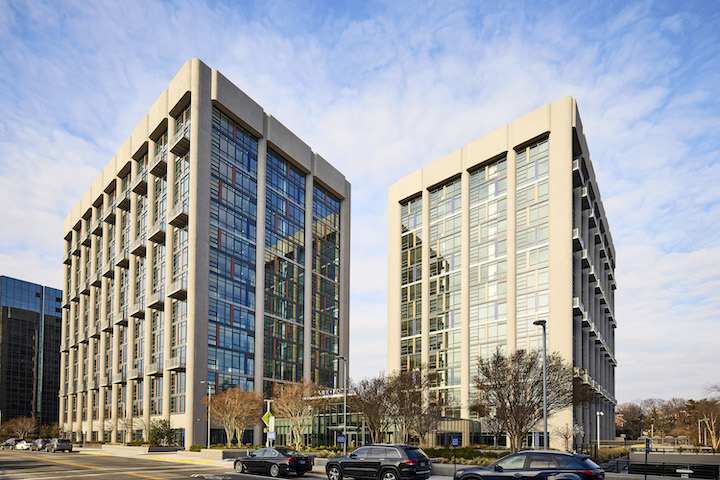 Just across the Potomac River from the nation's capital, Alexandria, Virginia, is the prototypical late-twentieth-century inner-ring suburb: a sea of single-family homes interrupted by islandlike business districts—clusters of glass-fronted towers and low-rise retail outlets—with freeways and parkways snaking between them. A far cry from the man-made canyons of Manhattan, the fast-growing Washington satellite city nonetheless faces a similar double bind: rising housing costs on the one hand, underutilized commercial zones on the other.

As managing director of Los Angeles–based development company Lowe, Mark Rivers recently helped oversee a project that helped bring the workplace-to-residence concept to Alexandria, by way of an oft-overlooked suburban typology: the corporate office park, that Dilbert-ian wasteland crouching by the side of countless interstates across the country. "Even before Covid, suburban office parks were struggling," says Rivers, making these unloved developments fertile ground for a solution like Lowe's.

Featuring 86 units spread across multiple structures, the company's Park + Ford development began leasing in 2021, and its most spacious units were "instantly gobbled up," says Rivers, as renters sought more breathing room after the pandemic lockdown. With a suite impressive of amenities—including a resident-only dog park—and a sleek glass exterior, the refurbished complex is most remarkable in view of its previous life as a drab, isolated hive for the water-cooler set; its most recent tenant, the United States Department of Agriculture, ultimately found the buildings out of date and out of style. Says Rivers, "The question we had to ask ourselves was, 'How do we take an environment that people didn't really like work in, and turn it into one they want to live in?'"

With buy-in from local officials (who supported the conversion from the outset) and a modest technical brief (the design team at the Washington firm Bonstra|Haresign were able to preserve most of the original 1980s concrete structure), Park + Ford represents a kind of best-case scenario for a residential infill project in a suburban, commercial context.

Conditions were not quite so ripe a few miles away, in Arlington, where WDG Architecture's Pentagon Centre project began with an even less appetizing bit of American landscape: the ubiquitous big-box mega-store, complete with vast parking lots on two sides of the 17-acre site. "Most of the spaces were empty half the time," says Siti Abdul-Rahman, WDG's managing principal, who helped devise a master plan that would turn the site into a mixed-use hub with hundreds of new housing units. For Arlingtonians, it was a project that couldn't come soon enough. "Amazon is building its new HQ right nearby," says Rahman of the development, which is set to bring 25,000 new jobs to Northern Virginia.

To help accommodate them, Rahman and her collaborators came up with a scheme that's not an adaptive-reuse project in the conventional sense, but that builds—quite literally—on the existing commercial infrastructure. Annexing one corner of Pentagon Centre's shedlike warren of shops (which includes a Best Buy, a Costco, and a surprisingly downtown-ish row of street-side storefronts), WDG incorporated the fabric of the adjoining facility and its northern garage entrance into The Witmer, a 25-story apartment tower of 440 units completed in 2019; this past spring, the team succeeded in performing a slightly different operation on the south side of the complex, building the 11-story, 253-unit The Milton entirely on a former asphalt car park. "Zoning was hard," says Rahman, and local officials took some persuading. But the firm's vision was compelling: Recognizing the shops, eateries, and connecting passages of the commercial hub as a form of readymade urbanism, WDG was able to graft a residential program onto it, creating an integral civic environment.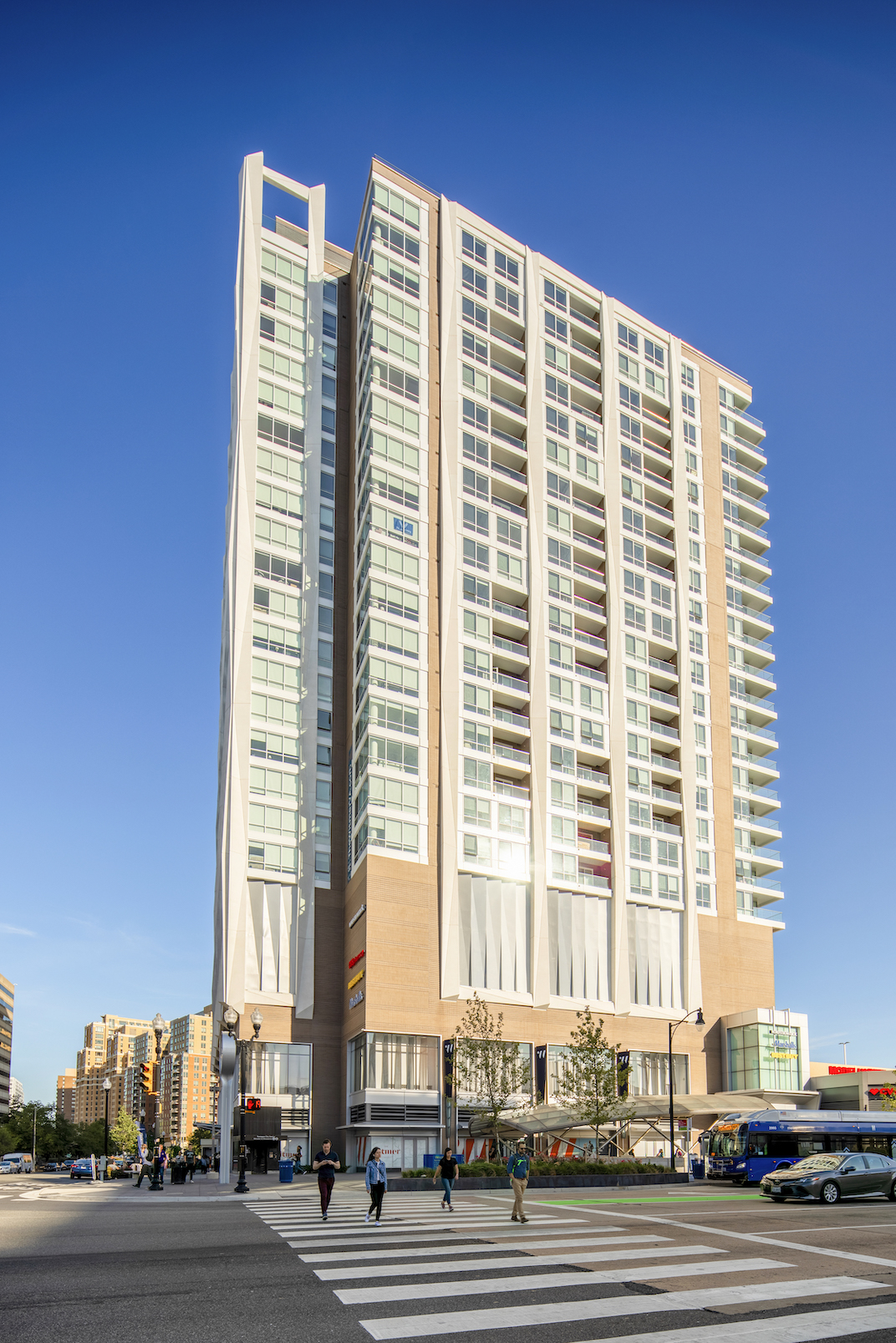 From the grass-lined corporate ghetto to the fluorescent-lit giganto-mart, the target list for new housing just keeps growing. In Milwaukee in 2019, local studio TKWA pulled back the curtain on The Avenue: originally one of the city's most prominent department stores, done over as an indoor shopping mall in the 1980s, the building is now home to a multiuse complex that includes the 54-unit Plankinton Clover, where residents can look straight down onto an indoor gallery that was once the mall's primary shopping floor—"a complex and cool urban condition," as the firm's Chris Socha describes it, right where the Orange Julius and the Sunglass Hut once beckoned.

Back in New York, designer-developers DXA Studio have taken the city's longtime love affair with industrial chic and moved it from its typical environs in SoHo or on the waterfront to a variety of factory space that seldom gets the luxury-apartment treatment—to the former Ulmer Brewery in Bushwick, Brooklyn. It's set to become 16 commodious units complemented by what DXA principal Jordan Rogove describes as a "magical" subterranean events space, situated in the defunct barrel cellar. In commercial conversions, the sky appears to be the limit, and even the basement is up for grabs.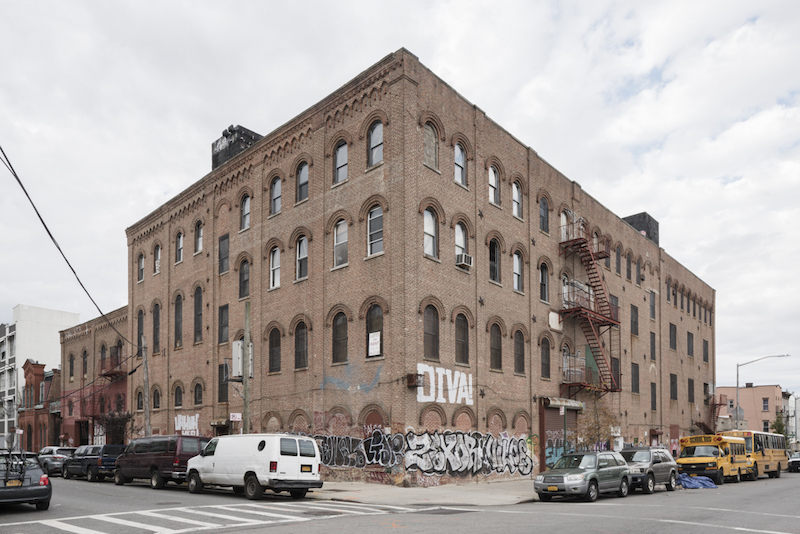 Storage facilities, office parks, superstores, dead malls: If the emerging conversion frontier isn't entirely novel (the country's oldest mall, Rhode Island's Arcade Providence, has been home to mini-apartments since 2016), it at least shows how much is possible outside the office-to-residential field. Absent the logistical as well as the political obstacles that make it so difficult to remake corporate high-rises as livable housing, the country's neglected commercial properties represent a path of far less resistance than does the urban skyscraper, with its nosy neighbors and tricky design issues. But there's yet another typology that could be ripe for the picking, one that involves still less structural fuss, and that seems, provisionally at least, to enjoy still greater political support.

"We have to look beyond the vertical," says Peter Calthorpe. After nearly five decades in his field, Calthorpe is among the sachems of American city planning, a founding member of the influential Congress for the New Urbanism and a senior principal in the Berkeley office of nationwide firm HDR. In recent months, much of his efforts have been focused on policy advocacy in California, specifically around a new piece of legislation poised to supercharge the construction of residential buildings on long-held commerce-only turf.

In the Golden State, the prevailing model for housing construction has "always been to build subdivisions," Calthorpe says. "The farther out your drive, the lower the price point." With its freeways clogged, that solution is no longer practicable in California, where the current housing deficit hovers at close to two million units, according to a recent McKinsey study. At the same time, the decades-long march into the exurban periphery has left the West Coast with endless, low-density commercial corridors—strip malls—where vacancy rates have never quite recovered from the Great Recession of 2008.

To Calthorpe's eye, the combination represents an immense opportunity. "Those retailers are literally in people's backyards," he says. If you can no longer bring suburbanites to new housing, why not bring new housing to suburbanites?

The state law that Calthorpe helped pass last year, known as SB 6, opened the door for developers to acquire land along Cali's sleepy shopping routes and turn them into round-the-clock neighborhoods, with mid-rise apartment houses replacing single-story retail locations. More than just converting buildings, Calthorpe calls for the conversion of entire stretches of roadway—remaking the streets themselves into multi-modal "grand boulevards," with landscaped medians and pedestrian crossings suitable to the new residential character of the surrounding structures.

While the hoped-for transit funding remains in legal limbo, the housing provisions of SB 6 went into effect this month, promising to sweep out the "miles of garbage," as Calthorpe calls his local East Bay strip, while providing comfortable homes to thousands of Californians who would never have thought of living next to their old gas station. With a little luck, and a lot of vision, America's future might be waiting right on the main drag—and in Calthorpe's view, the vision part only requires a little recalibration on the part of the public at large as to what a home can be, and where it can be.

"They say that the single-family house is 'the American dream,'" Calthorpe says. "But there's a lot of people in America, and they have a lot of dreams. Some people might say, 'Oh, the market shows that everybody wants a yacht.' But depending on who you are, a rowboat might be fine! The demand for multi-family is strong. We have to meet it."