How little can you get away with?
Untapped is published by the design company
Henrybuilt
.
OBJECTS AND THINGS
04.17.2023
A Historian Debunks Myths About Lacemaking, On LaceTok and IRL
Elena Kanagy-Loux's artful output showcases her knack for illuminating a long-misunderstood craft.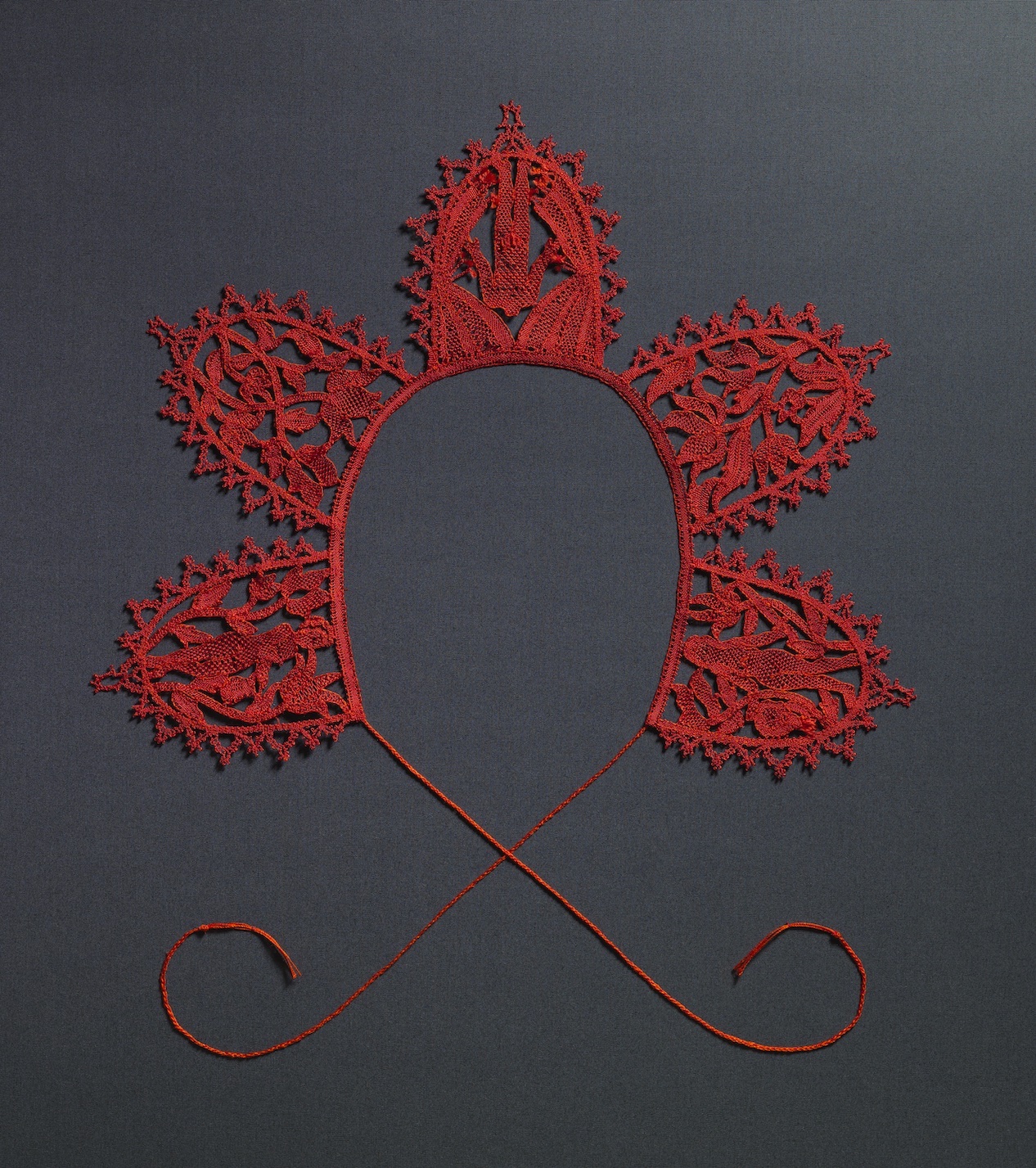 Three years ago, the textile historian and artist Elena Kanagy-Loux assumed, like many adults, that TikTok was a platform for dancing teenagers and wanted nothing to do with it.

Yet Kanagy-Loux had built a healthy following on Instagram, where she had been posting silent videos about lace and lacemaking. With the help of a friend, she shot an eight-second TikTok in which she lay under a pile of frothy lace, lifting delicate layer after layer until she revealed her features. "People think I'm obsessed with this," the voiceover says as the camera swivels to heaps of lace ribbons and carved wooden bobbins and then to Kanagy-Loux herself, wearing a floral tiara atop a head of pink, blue, and yellow hair. "But that's okay. I am obsessed with it. And I think this is an obsession that doesn't hurt anyone." 

"I woke up in the morning expecting nothing and I had one hundred thousand views," she recently recalled in a diner near the Metropolitan Museum of Art, where she works as a collections specialist at the Antonio Ratti Textile Center. "Within twenty-four hours, it was something like a million." 

Now, with more than 410,000 followers, Kanagy-Loux, 36, is using TikTok as a bully pulpit for lace. Attired in flouncy costumes, teaching bite-size history lessons about aristocratic hoarders and unsung makers, and showing off her own dexterity in whipping up intricate pieces (though the craft is agonizingly slow in real time), she makes videos that are reshaping the typical view of lace as stodgy and irrelevant.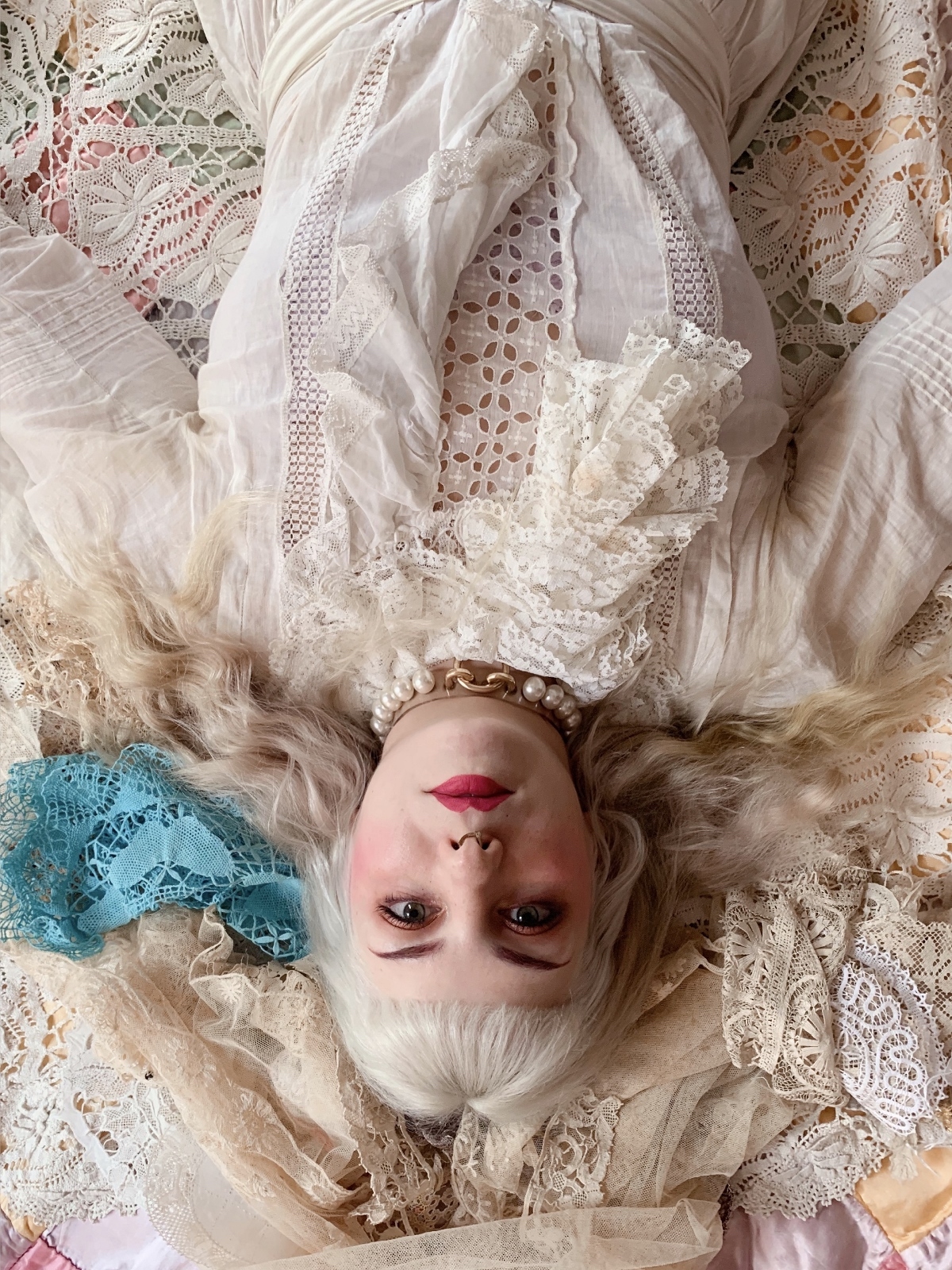 Whatever you do, do not tell Kanagy-Loux that lace is a dying craft. By her estimate, at least 200,000 people throughout the world are making lace by hand, whether they work in needle lace (a kind of embroidery without a backing); or tatting (looping and knotting thread with a shuttle); or crochet lace (doing much the same with a hook); or her own specialty, bobbin lace, in which multiple threads are woven around pins that have been stuck into a pillow. "Lace is everywhere, and it's been everywhere," she says. "It just doesn't have P.R." 

If anything can repair the reputational damage that generations of grannies and their doilies have done to lace—a cliché that Kanagy-Loux finds ageist and sexist to begin with, because what is wrong with grannies or doilies?—it is not a spin doctor, but social media. In addition to educating viewers about the evolution of the craft and the skills it requires, TikTok allows her to connect with fellow artisans working in pockets of the world where lace traditions remain alive. And it is a gateway for new recruits eager to try making lace themselves.

"People were fascinated," she says of the first responses to her videos. "They had tons of questions: 'What are you doing?' 'How can I learn?' But my favorite comments were: 'My grandmother does that in Brazil.' Or, 'I learned to do that in Puerto Rico.'" Lace as we know it cropped up 500 years ago in present-day Italy, France, and Belgium, more or less simultaneously, before sailing off to other parts of the world. Kanagy-Loux's TikTok viewers connect to its diaspora, which takes on different motifs and applications in different regions.

She is not alone in this digital universe. What she calls "LaceTok" has turned into a small niche occupied by makers she usually knows. But Kanagy-Loux's videos stand apart for their blend of whimsy and sociohistorical insights. "Happy Saint Distaff's Day!" she announces in a TikTok posted on January 7, referring to a traditional European holiday that jokingly celebrated the day women returned to their spinning wheels after taking a holiday break. A distaff, Kanagy-Loux explains, is the rodlike tool that spinners often use to keep their loose fibers from tangling. "There are even depictions of witches casting spells with distaffs," she notes, as medieval engravings and Renaissance paintings flash before our eyes, "and manuscript illustrations of wives emasculating their husbands with distaffs, highlighting the anxieties around women earning their own income through their spinning work." The video has more than 26,000 views, and dozens of enthusiastic comments. 

The success of Kanagy-Loux's personality-driven videos is no surprise to JiaJia Fei, who advises art museums and galleries on digital strategies. "The difference between TikTok and other social media forms is that you need a human in front of a camera talking to you," she says. "You can't delegate it." Whereas major fine art institutions would cringe at the idea of putting a chief curator in front of a video camera, she adds, "it's very old-school, accessible history museums and craft practitioners that really resonate with the general public."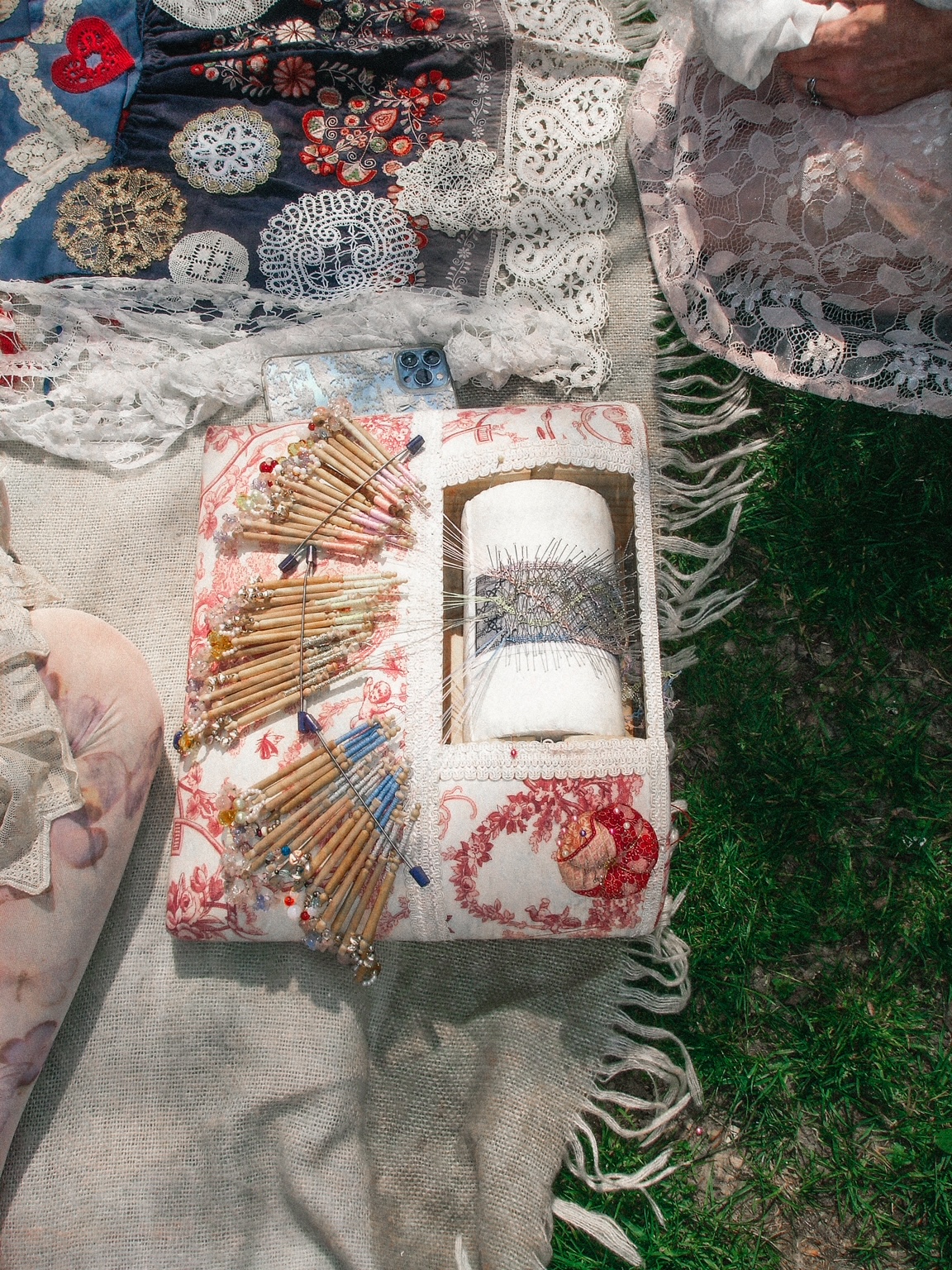 Kanagy-Loux is no less striking in person than she is on TikTok, and her influence on contemporary lacemaking extends well beyond the digital realm. I first met her last fall at the press preview of "Threads of Power," a lace exhibition at the Bard Graduate Center in New York City. It was a rare and dreamy presentation of some 150 pieces from the last half-millennium, most of them borrowed from the Textilmuseum in St. Gallen, Switzerland—mesmerizingly detailed garments that had been worn by aristocrats and church eminences. But the show opened with a recent commission: a silk lace collar designed and made by Kanagy-Loux. She was standing next to it, with blond braided pigtails and powder-pink bangs, wearing an ankle-length lace gown. 

Many things about her Bard collar were notable. For starters, it was red, not white. We think of lace as white or black, Kanagy-Loux told me later, because such specimens have endured. But in fact, lace, like Greek statues, has a forgotten multicolored history. The textile was also frequently rendered in gold and silver thread, though many of those pieces were melted down.

Then there was the Netflix-worthy Biblical story the collar told in images of Judith seducing and cutting off the head of the drunken general Holofernes. (The motif appears more frequently than one might imagine in historic lace.) Kanagy-Loux created her version in a style of bobbin lace, the delicate scallops of which recall Genoese collars from the 1600s. 

On the wall was a photograph of the designer modeling the collar, the red slash at Kanagy-Loux's throat a silken echo of a wound. The exhibition's curators had asked that the photo be taken and displayed in counterpoint to the enforced anonymity of lacemakers throughout history. "Lacemakers were really undervalued as skilled craftsmen," Kanagy-Loux says of the women who produced these treasures; she imagined how their rage at the laborious, low-paying work must have bubbled up into homicidal patterns. Even today, the textile's history is largely absent from school curriculums and ignored by labor and economic historians, though it "embodies everything: gender, wealth, capitalism, colonialism," she continues. "The lace itself is what [its makers] left behind to tell their stories. If you know how to read it, it can talk to us." She considers herself a translator, in no small part because she, too, has sat in a chair, devoting 200 or 300 hours to a small lace project. 

"Threads of Power" also included a studio in which members of an organization called the Brooklyn Lace Guild demonstrated their techniques on weekends. Among the people bent over deftly crafted pieces, answering the questions of curious visitors, was none other than Kanagy-Loux, who founded the guild with two other lacemakers in 2016.

Their presence "sealed the deal in showing that this beautiful, complex textile is very much alive today," says Emma Cormack, an associate curator at the Bard Graduate Center and one of the three curators of "Threads of Power." "Elena makes learning about lace accessible—I saw that in person at the studio—and she makes it fashionable with social media." Kangy-Loux's special gift is combining approachability with rigorous scholarship, Cormack says. "She is an expert, and an expert in sharing the history of this textile and the ways it's made and used now."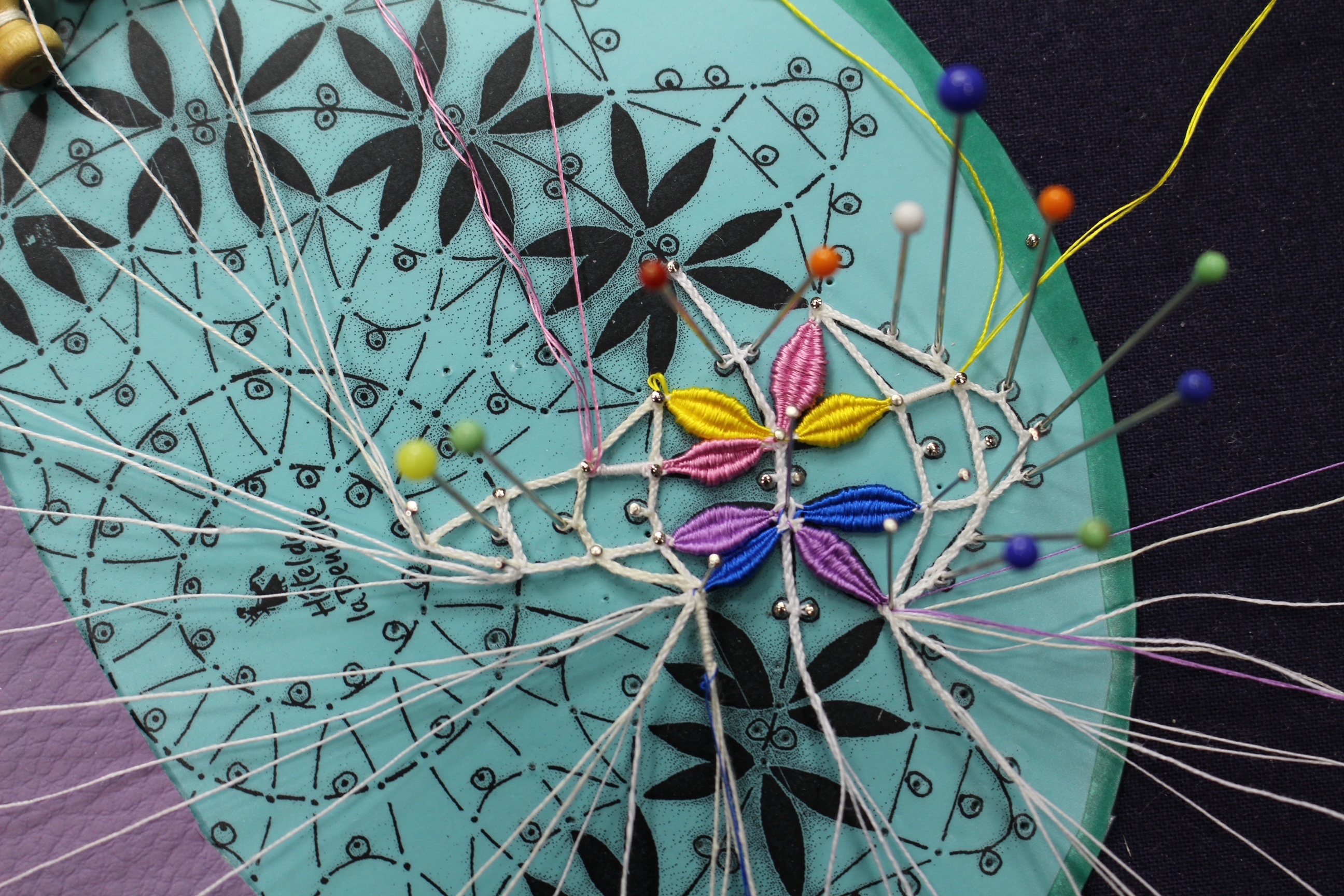 When we parted, Kanagy-Loux handed me her business card with two hands, in the Japanese manner. She was born into a Mennonite community in eastern Pennsylvania—in a "textile-focused family" whose women taught her to embroider, crochet, and sew her own clothes. But she also spent impressionable years in Tokyo. 

How she got there was a tale told at the diner. In the 1950s, her Amish missionary grandparents had relocated to Japan to assist with the ravaged country's rebuilding after World II. Her mother was raised on Hokkaido, the northernmost Japanese island, and became an academic linguist; divorced from Elena's father, she moved between teaching jobs and fellowships in the United States and Asia. Kanagy-Loux attended middle school and high school in Tokyo and hung out in Harajuku, the city's epicenter of youthful streetwear. She moved to New York in 2007 and immersed herself in fashion, designing for the grunge goddess Courtney Love and the indie clothing label Electric Feathers. (She holds a degree in apparel and textiles from the Fashion Institute of Technology and a master's degree in costume studies from New York University.) 

"I straddle these two worlds—old and newfangled—and naturally exist in the liminal space between them," Kanagy-Loux says. This position describes not just her identity but also her work with textiles, which involves, as she puts it, "taking these traditional, wonderful things with very long histories and translating them for a digital age." 

On TikTok, she has found no shortage of enthusiasts. "I think what resonates with people is that we live in a culture of such extremes," she says. "With fast fashion and one-hour deliveries from Amazon, it makes total sense to me that people would be drawn to the slowest type of slow work available."

What she couldn't predict was the degree to which the pandemic would turbocharge an interest in lace. Solitary, stationary, and anxious in lockdown, many people gravitated to all kinds of textile arts. And online lacemaking classes boomed when it became apparent that the craft could be taught with the assistance of phone cameras suspended over busy hands. Today, Kanagy-Loux says, the demand for lacemaking instruction far exceeds the supply of teachers. In this context, TikTok has become a potent educational platform. "Short-form videos are very digestible, very accessible," she says. "You can't teach everything that way, but it's a free entry point."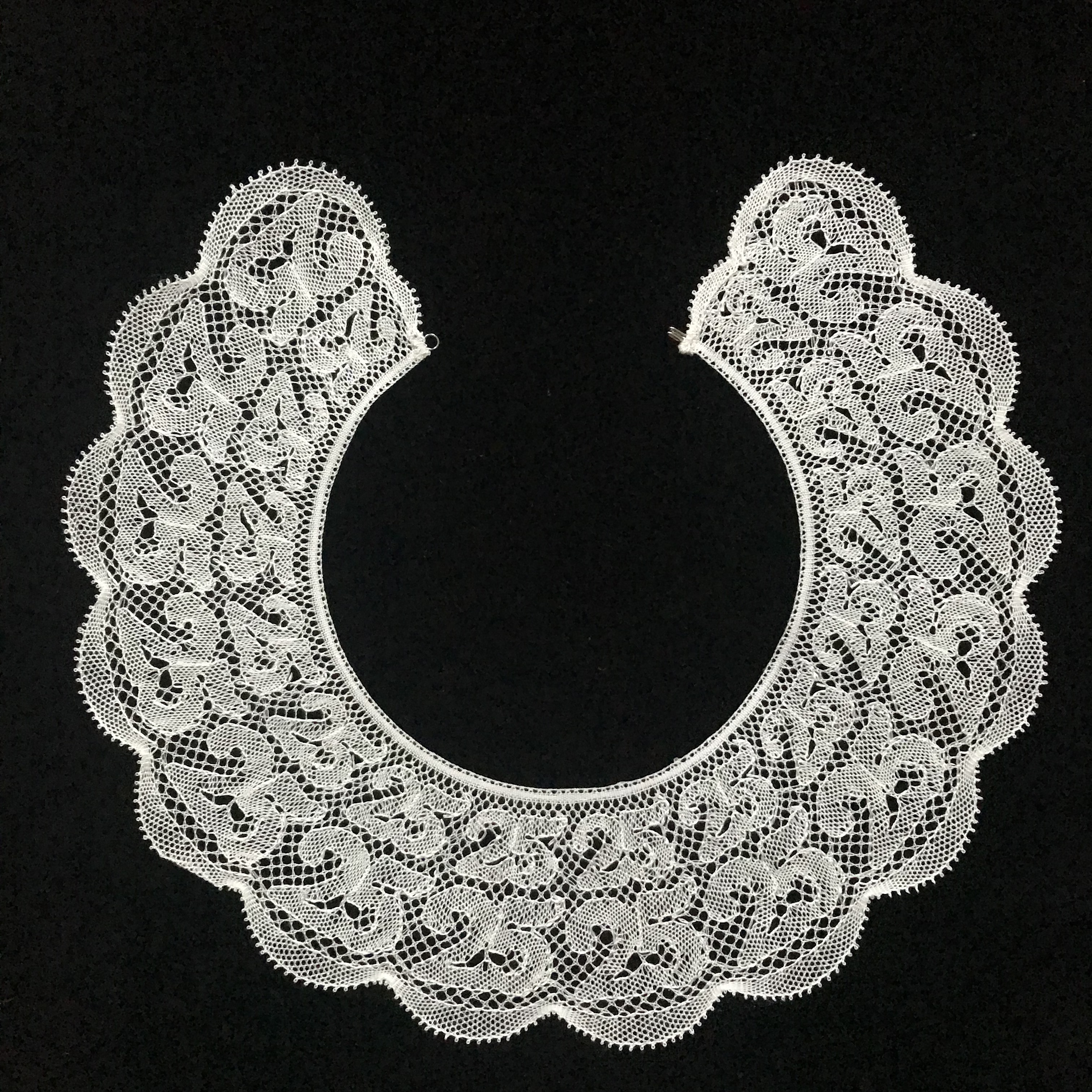 The moment Kanagy-Loux fell for lace is a little hazy. She recalls visiting Tokyo in 2010 and happening upon an antique lace show in a little gallery in the Shibuya district. Looking at the almost impossibly intricate, dimensional patterns connected by netting nearly as fine as spider thread, it occurred to her for the first time that people used to make lace by hand. 

The next year, she started a serious search for a lace teacher. It turned out to be no easy project. The last pedagogical outpost had disappeared from New York City in the 1980s, and though others remained in New Jersey and in Ithaca, New York, it was a long way to travel for weekly lessons. So she took off to a village in Slovenia for a concentrated tutorial. "It was the only place that had a website in English," she says. A prestigious scholarship from FIT allowed her to return to Europe in 2015 to study lacemaking in 14 countries.

Her travels have taught her that lace is a language through which she can communicate with Czechs, Croats, Hungarians, and Catalans even if she doesn't speak a word of their tongues. She has also learned that lace is irrelevant only to those with limited perspectives—and that technology can be a means for opening their eyes to its rich and abiding relevance. 

"We forget that the digital technology we have today comes from textiles," Kanagy-Loux says. "The first binary system is the jacquard loom and the punch cards used to create the patterns on it. And making textiles cheaper and more accessible played a major role in industrialization: Early machines could knit stockings in the 16th century. We use all this knowledge that comes from advancements in textile making. It has always been at the forefront of innovation."