What's to gain from pain?
Untapped is published by the design company
Henrybuilt
.
CHRONICLES OF CULTURE
10.30.2023
The Meaty Objects at Marta
The Los Angeles gallery is concerned with much more than commerce.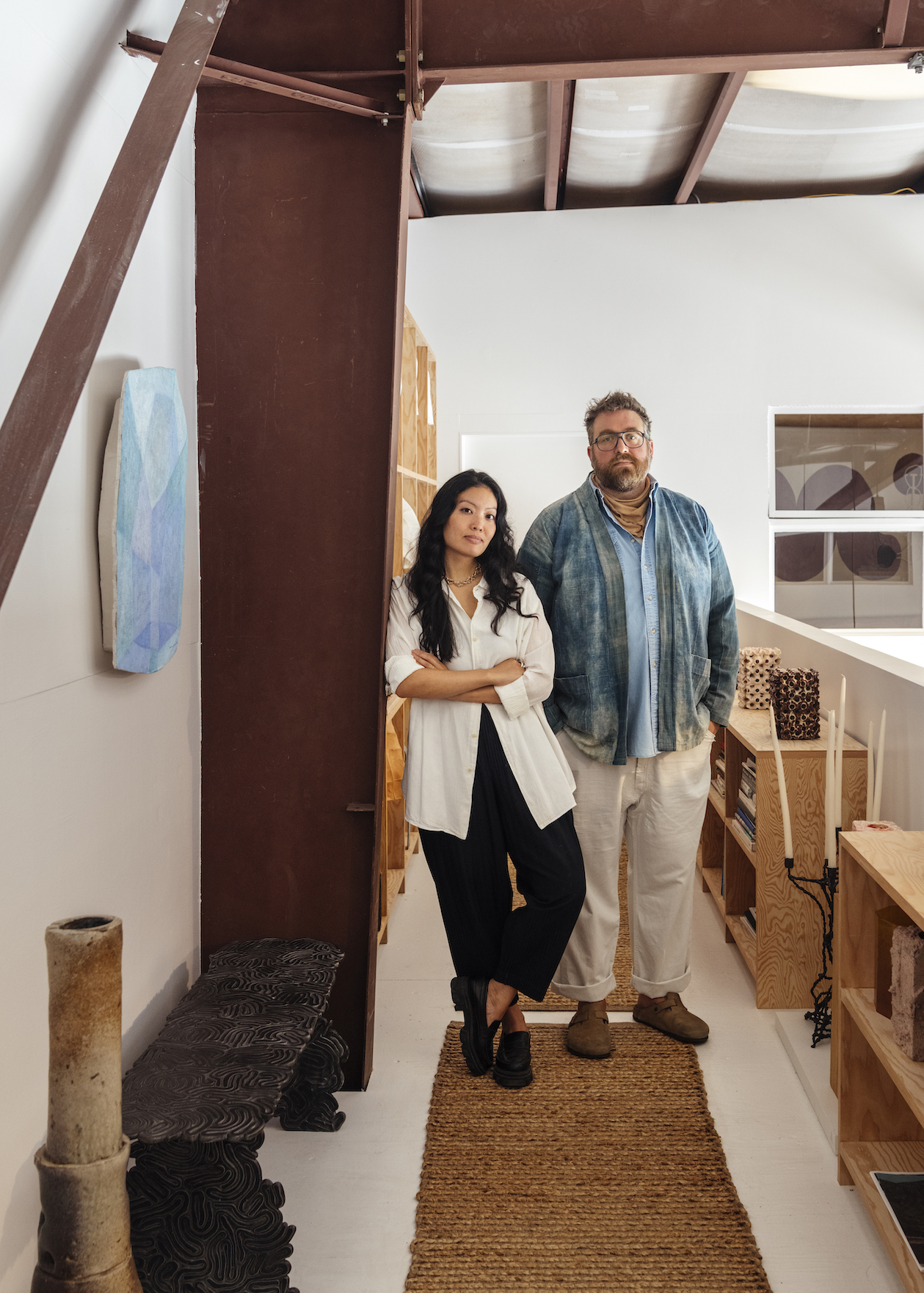 When Benjamin Critton and Heidi Korsavong mounted their first exhibition at Marta, the Los Angeles gallery they co-founded in 2019, it was with a mission statement of sorts. A model by ceramicist and designer Alex Reed proposed a utopian city for craftspeople, complete with amenities such as a communal kiln, cooperative housing, and a "Potters' Pension & Trust Tower." Reed's project, the "International Ceramics Friendship Park," announced Critton and Korsavong's commitment not just to objects, but to the multifaceted lives and processes of their makers.

Marta has since become known, both within the L.A. community and farther afield, for a program that prioritizes craft, design, and functional objects—what Critton and Korsavong sometimes call, with tongues only partly in cheek, "applied arts." The artists they tend to work with are united not by a particular aesthetic or medium, but by an approach to their work that might best be understood as conceptual. Critton and Korsavong seek out objects that are shaped by ideas which, often as not, come from their makers looking to the past: to their biographies, to tradition, to the history of art and design—then evolving their set of references into an outcome that's relevant for today.

This is why Marta mounts focused, mainly solo presentations, as opposed to the showroom-style approach of many traditional design galleries: There's a lot to unpack, to sit with. "It's important for us to do really deep dives into the work and the narrative of a specific artist at a specific time," Critton says. All art and craft, he insists, is at some level driven by ideas; it's Marta's job to create an appropriate platform for this work—to raise it up along with the concepts around it. "We hope to carve out a niche that feels programmatically unique," he says. "We feel that galleries can be spaces for gathering, communion, dialogue, safety, discourse. They function as much more than a place for commerce."

Critton and Korsavong believe that history is of paramount importance to contemporary design. "There's a feedback loop between past and present," Critton says. "What came before [...] inevitably informs how pieces are conceived and constructed today. Or we believe it ought to, anyway!"

Their approach to the history of design was particularly evident in 2021 when, with writer Erik Benjamins, they invited 32 makers to respond to aspects of the VDL House, architect Richard Neutra's onetime Silver Lake home, first built in 1932 and now a National Historic Landmark. "The artists and designers we work with have a clear grounding in historical reference," Critton says, "whether they are working in harmony with it or against it."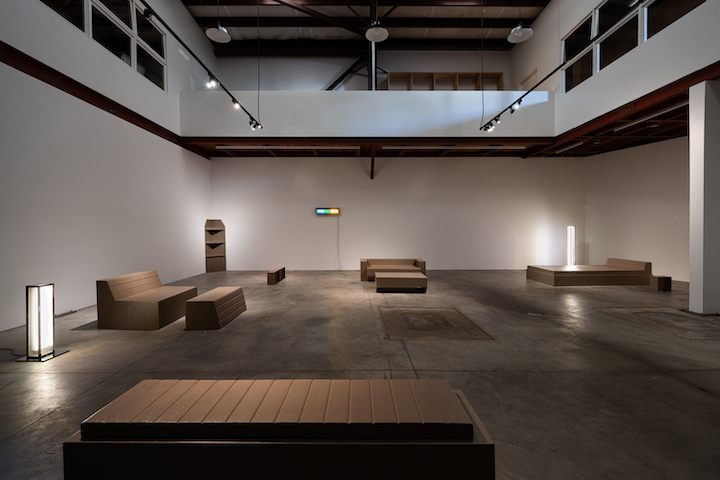 One of Marta's latest projects, opening early next year in Chicago, marks the first presentation of furniture by Michael Bennett, a Black Lives Matter activist and former Super Bowl–winning NFL player who left the sport in 2020 to pursue architecture and design. Installed in a residence that's part of artist Theaster Gates's Rebuild Foundation, a cultural and community platform in the city's  South Side, the show, provisionally titled "We Gotta Get Back to the Crib," surveys the history of objects from the African diaspora in America. Each piece is intended to spur thought and dialogue: an elegant fiberglass chair based on the white plastic Monobloc chair ubiquitous at backyard barbecues, for example, or a circular dining table, inspired by a recently discovered frieze in a Washington, D.C. church that depicts a Black Last Supper at a democratically round table.

At Marta's gallery in L.A., Kristen Wentrcek and Andrew Zebulon's exhibition "No Life" (through November 11) continues the New York–based designers' experimental manipulation of industrial materials and manufacturing processes. Inspired by a plethora of unsettling fictional and historical references—from the science-fiction of director Andrei Tarkovsky to Metabolic architecture to Soviet sanatoriums, prison cells, and psychiatric institutes—the pair's brown vinyl-coated foam monoliths, variously scaled as tables or benches or daybeds, are as austere as minimalist sculptures while also being functionally accommodating.

Critton's background is in book design, typography, and art direction; he oversees Marta's robust book and catalog publishing operation which, alongside his eloquent exhibition texts (typeset in Marta's own font), elucidates the works' all-important backstories. Zebulon says he appreciates how Marta "provides the context for why things look the way they do. Because if these pieces were in a store, people would be like, 'What's wrong with all this furniture?'"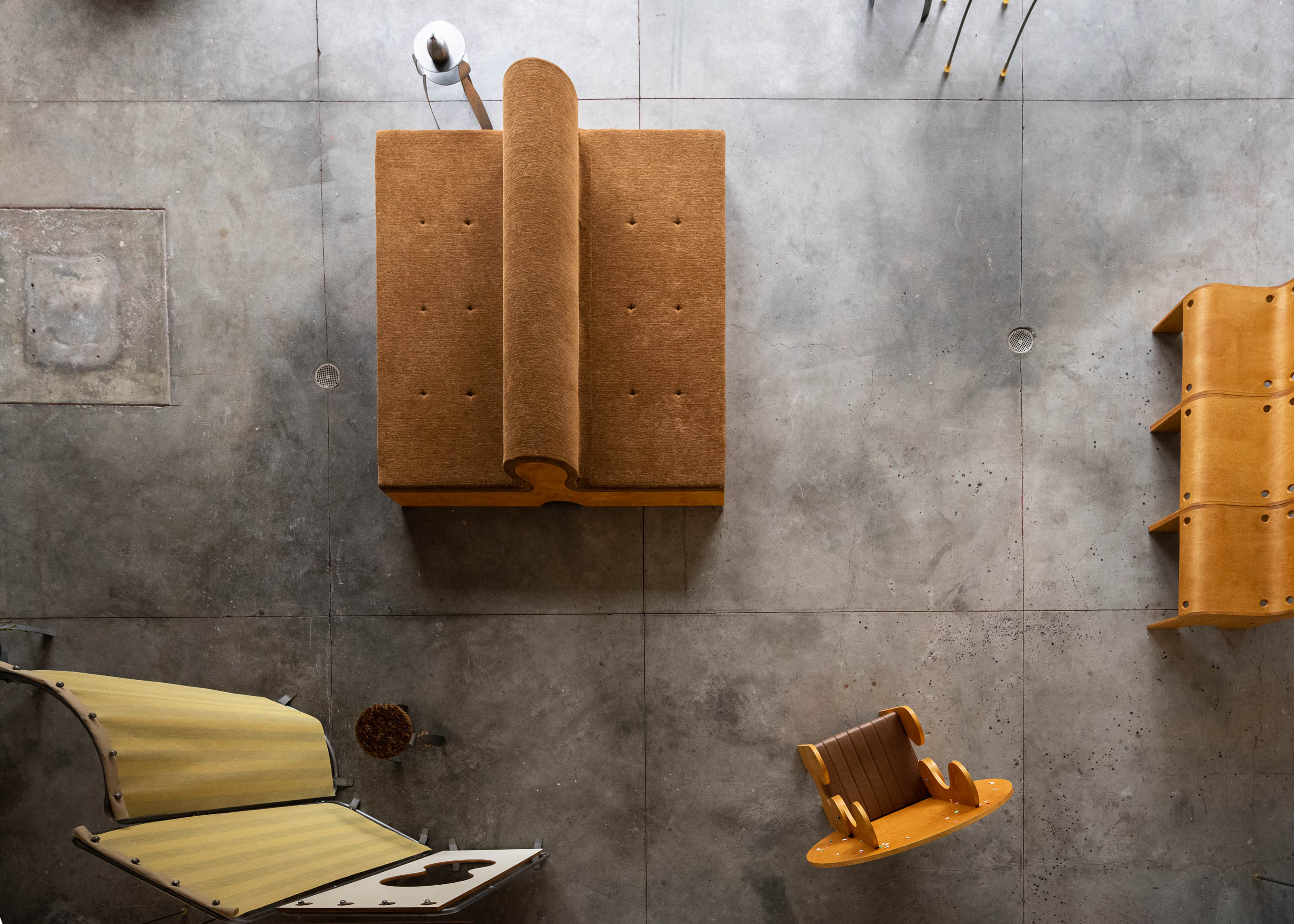 Many artists in Marta's program draw directly on their personal histories—from New York–based Sarah Burns, whose parents ran a Midwest furniture store and whose grandpa repaired tractors, to Lagos, Nigeria-based Nifemi Marcus-Bello, whose exhibition of benches at Marta was accompanied by a recording of his mother reciting his oríkì, a Yoruba praise poem specific to the bearer's name. The round impressions covering Marcus-Bello's cast-bronze seats nod toward the practice among the Surma people of Ethiopia of painting one another with repetitive fingerprints as a means of self-expression and communal bonding. Burns, meanwhile, incorporated surplus tractor mirrors for a wall-mounted vanity, and made a tilt-top chair-table, partly based on a Midwestern roadside restaurant table, with colorful, cast-plastic chewing gum speckling its underside. Each body of work is as distinctive as its maker.

Sometimes Marta combines historical pieces with contemporary objects, as with "Make–Do," a collaboration with Avi Kovacevich of auction house Catalog Sale presented during this year's NYCxDesign. The exhibition brought together 12 vernacular or improvised chairs (made from such inventive components as a stack of tires, wooden crates, a section of carpet, and part of a wheelbarrow) and 12 chairs commissioned by Marta from present-day makers, who were challenged to make a chair in three days from items lying around their studios. The exhibition showcased the vitality of unconventional, intuitive, and untrained design processes—outlining a bold spirit of experimentation that one sees throughout Marta's program.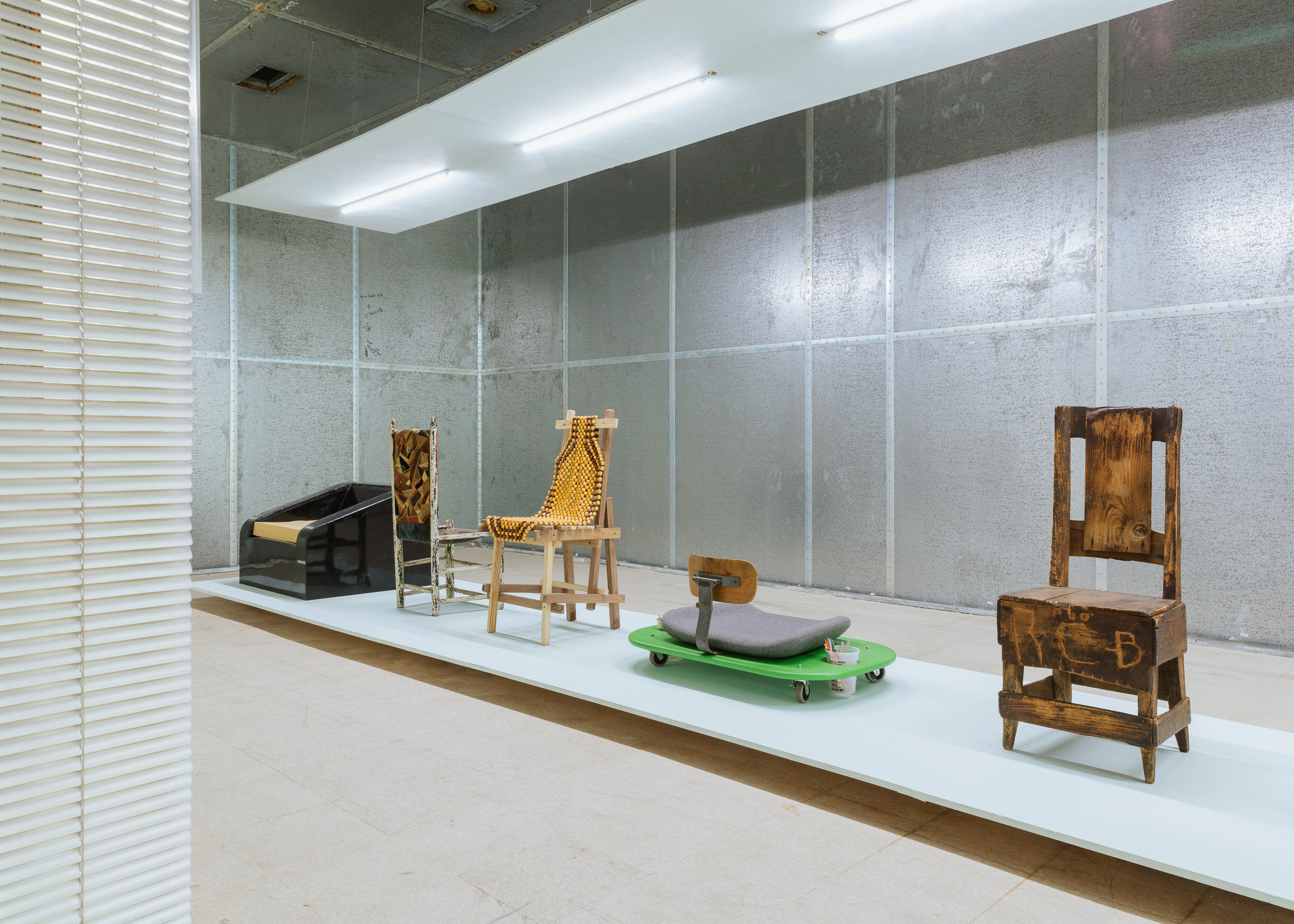 Surveying Marta's shows, you get a sense not of stuffy pretentiousness, but of wit and passion. In the dog days of September 2020, mid-pandemic, the gallery got a lot of press for an exhibition of toilet-paper holders. More than 50 pieces, from a length of bent rebar by Martino Gamper to Chen Chen and Kai Williams's loop of heavy steel chain, were presented at Marta and on its website; it mounted a second iteration the following year, with guest curator Emmanuel Olunkwa, installing bespoke domestic accouterments in fashionable restrooms across New York City and in a Chinatown storefront. At a time when life felt fraught and constricted, these exhibitions offered delightful moments of surprise and humor—just what many people felt they needed.

Critton and Korsavong were introduced in New York City by a friend who noted they were both involved in design. (Korsavong was a student of art history before she moved on to production design and high-end residential interiors.) They discovered they shared a fascination with the built environment, particularly domestic spaces, and were also fans of similar artists and designers, such as Jean Prouvé and Donald Judd. After moving to Los Angeles in 2016, they pursued their own projects in a co-working space on Sunset Boulevard in Echo Park; when they took on the building's lease, they established a gallery in the building's glass-fronted storefront. Marta began as a place for artists to make their first pieces of functional work, or for designers to make their first nonfunctional work.

This past summer, Marta expanded into spacious new premises: a former truck garage, three miles from its previous abode. A central space provides the conventional clean neutrality of a typical contemporary art gallery, while a shelving system on a mezzanine upstairs doubles as open storage for available works from previous shows—an inventory that many galleries are not keen to publicize, but that highlights the wide-ranging conversation between makers in Marta's program. Further along, a plywood-clad bedroom offers out-of-town artists a place to stay while installing their exhibitions. Filled with furniture, textiles, and lighting by artists Marta has worked with, this bolt-hole serves as an immersive model of Marta's vision.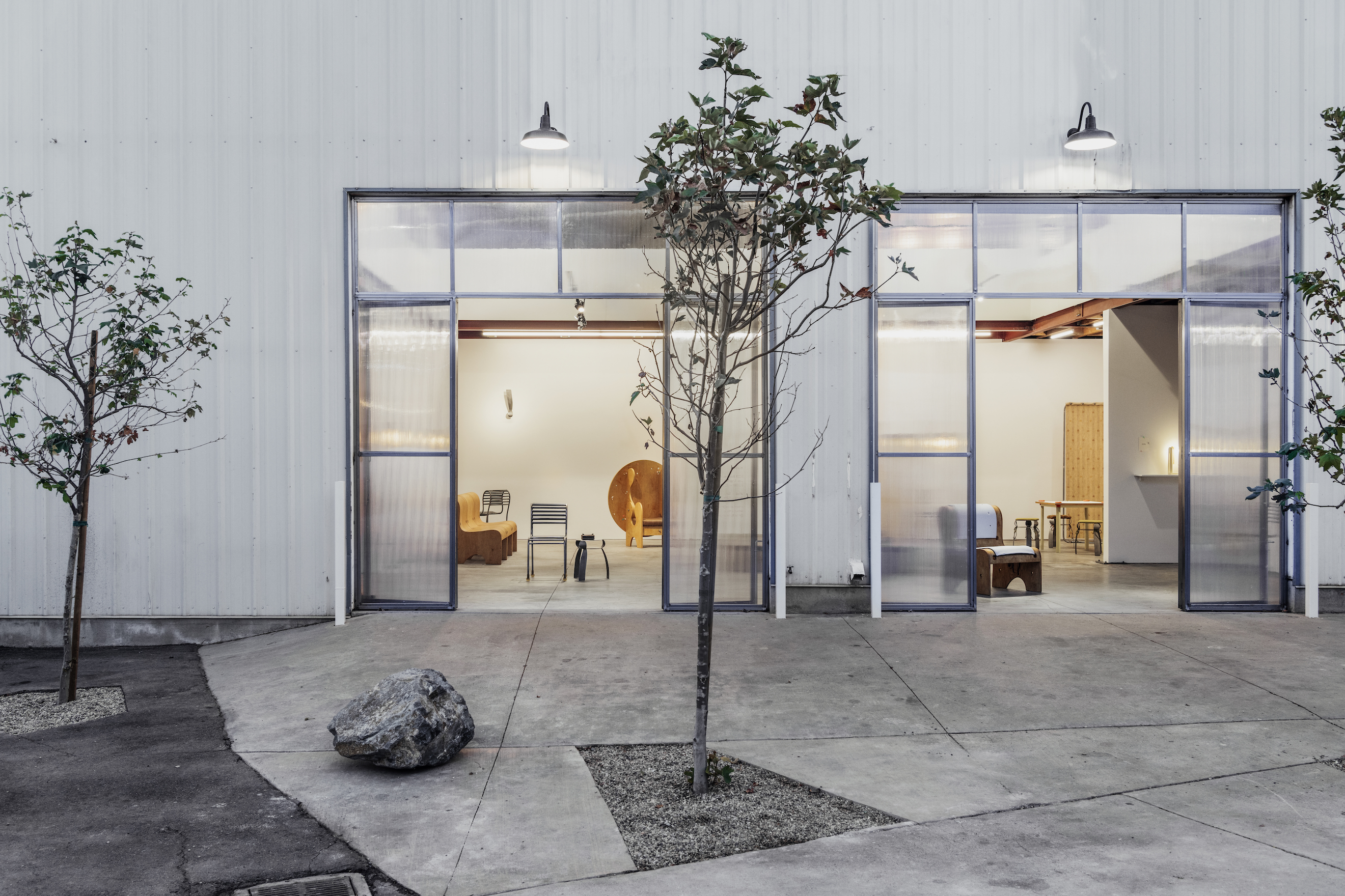 Despite their handsome new digs, Critton and Korsavong are already looking to a future in which Marta spreads its program far and wide, and mounts exhibitions in unusual venues. The pair's favorite galleries, Critton says, are often idiosyncratic house museums, "where assorted disciplines have been placed together and imposed upon one another under a single roof." His and Korsavong's "holistic" approach to collecting art and design follows a similarly inclusive ethos, he continues. "We want to invite others to join in this disciplinarily borderless way of looking and thinking and collecting."

But transgressive, idea-driven work can be challenging. Burns's gum-speckled table, or Wentrcek and Zebulon's slablike daybed, for instance, introduce into their owners' homes degrees of functional or aesthetic difficulty. Artist couple Antonia Pinter and Chase Biado work together as A History of Frogs, producing pieces such as gnarled bronze candelabras and spindly silver flatware, designed with fantastical elf or goblin users in mind; there are many other such examples in Marta's presentations that verge on awkwardness or discomfort. In fact, Critton and Korsavong are planning an exhibition for 2024, guest-curated by Krista Mileva-Frank, on the theme of the grotto, or cave. The term is derived from the Italian word grotte, which also inspired the word grotesque, a style that extends to certain Marta works. "Objects that might easily be described as 'grotesque' are compelling because they prompt us to confront the absurd and the fantastical," says Critton, "and often the bodily, which maybe in turn allows us to examine what it means to be human."

The statement underscores the rare ambition of Marta's programming. Both the contemporary commissions and the historical pieces it shows embody the loftiest aspirations of the applied arts: not just to make life more comfortable, but to make it more interesting. They capture not only existing ideas but generate new ones—sparked by their makers' lives, the places, traditions, and times they came from, the ways they might be used now or in the future. Marta shows that a stool or a chair can be every bit as enlightening as any painting or sculpture, while remaining as humble and as useful as a spot to park one's backside.