What's to gain from pain?
Untapped is published by the design company
Henrybuilt
.
PERSPECTIVE
07.24.2023
A Righteous Way to Solve "Wicked" Problems
The emerging practice of transition design seeks to untangle the knottiest crises of our time.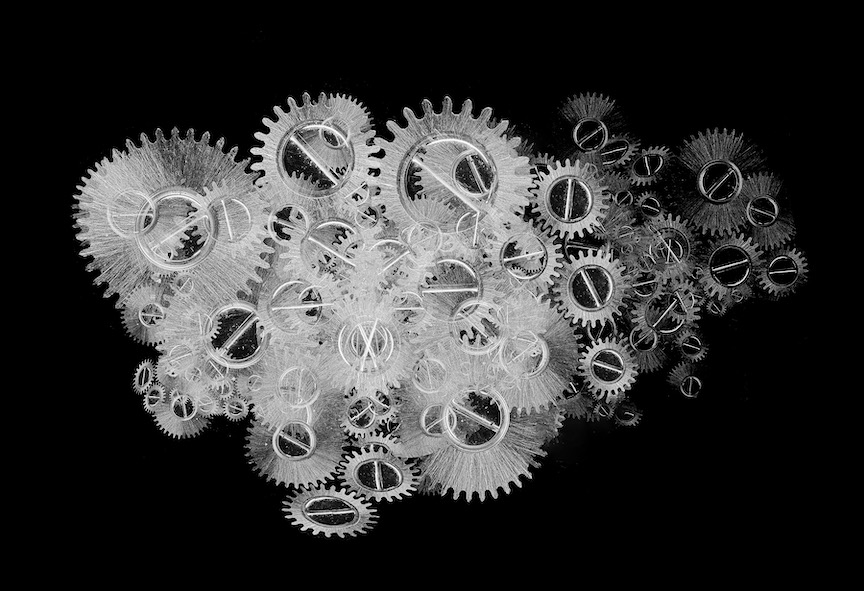 Design has never been a discrete practice. It has been part of a continuum, ever since people started tinkering with their possessions, rebuilding cities after floods and fires, redrawing maps, and changing their systems of governance. These solutions are usually bounded iterations, with beginnings, middles, and ends, and if the problem comes up again—say, when another flood occurs—it tends to be addressed from scratch, or by essentially doing the same things in the same ways.

Many of our thorniest social problems are so omnipresent that we hardly notice them. They're also connected to other thorny problems, all of which are constantly changing. Activity in any part of this tangled web produces consequences that ripple out into the entire constellation—which is good news if the activity is positive, and bad news if it's not. From the climate emergency, institutionalized racism, war, and global pandemics to myriad inequalities, there's a particular knottiness to the crises we face today. Compared to their growing mass, there are disproportionately few strategies, much less tools, to effectively address them.

Enter transition design, an emerging mode of practice that takes the implicit character of design as change and makes it explicit. Focused on remedying seemingly intractable problems, transition design recognizes the need for systems-level change if we are to have sustainable (and not crippling) futures.

Unlike some approaches, transition design doesn't substitute one solution for another, or treat symptoms at the expense of causes. Instead, it involves developing a detailed understanding of the past, present, and future of a complex and omnipresent crisis—the meticulous unpacking of which can be an illuminating exercise. (Perhaps we've never taken the time to lay out all of a problem's elements, or to articulate both how the issue existed yesterday and how we want it to look tomorrow.) Transition designers use research drawn from conversations, statistical data, historical precedents, and prototyping across multiple design forms. Their goal: to incrementally shift society back into health and balance, ultimately improving our lives.

It sounds like a monumental undertaking—and in many ways it is, and that's part of why there are so few case studies of the approach to date. Practicing transition design takes a substantial commitment. It involves weeks and months of research and workshops, and planning horizons of decades. Micro- and macro-perspectives of citizens, designers, outside experts, community advocates, and power brokers are elicited, not just on the problem at hand but also on the conditions that have shaped it and that will perpetuate it if left unexamined. Transition design untangles what might at first seem a mess of information by generating maps, documents, and models that make points of agreement visible, and by identifying the steps most likely to gain traction in building more desirable futures.

Though transition design uses familiar tools (such as the aforementioned maps and models), it is actually predicated on a very unusual assumption about design. It isn't anchored in traditional disciplines and modes. Instead, it brings a holistic perspective to designing as an active, ongoing process of transitioning. Not to the proverbial new and improved, but rather away from locked-in, entrenched methods and practices.

I've been guilty of such assumptions myself. On a recent visit to Warsaw, I was genuinely surprised to learn that the very apparent signs of gentrification around me hadn't led to spates of eviction notices. That's because the Polish government sponsored homeownership after the fall of Communism. Naïvely or not, I hadn't thought that there was a viable alternative to a crushing mortgage and the time and work it takes to get the point of affording one. It is precisely this kind of inversion of expectations that lie at the heart of transition design. It considers the wider holistic effects of design on the ways we choose to live.

As to accusations of social engineering, it's worth pointing out that design already changes behavior, largely to our benefit: houses beget cars, speed bumps slow them down, and seat belts save lives. But there is also the risk that traditional solutions like these give false—or, at the very least, merely expedient—comfort. In this instance, the solutions don't raise questions about, say, mobility more broadly; instead, they encourage a consumer mentality that limits us from thinking about things beyond their immediate use. Transition design asks practitioners and their partners to widen the lenses through which they see their concerns, and to reach for more generous responses in shaping what is now irrefutably our shared existence.

I find transition design's altruism especially attractive in a time when, to paraphrase the writer Owen Hatherley, society treats us like disembodied wallets with IDs attached. Full disclosure: As an adolescent during the ferment of the Civil Rights Movement, I thought the only reasonable ambition was social work. By my twenties, I'd put that thought aside (though without forgetting it) to pursue the equally unremunerative paths of becoming an artist and then a design writer and educator. To find, all these years later, that design had not just a conscience (which it has had, at least since the Arts and Crafts and Bauhaus reform movements) but also the capacity to sustain a commitment to the people it affects, really struck a chord. Although, I'll be the first to admit that straddling the social and the aesthetic is no small challenge. As we'll see, pattern-seeking is their common ground.


"Transition design brings a holistic perspective to designing as an active, ongoing process of transitioning. Not to the proverbial new and improved, but rather away from locked-in, entrenched methods and practices."

In the United States, transition design as a codified approach to research, practice, and education evolved from the work of designers Terry Irwin and Cameron Tonkinwise, and social ecologist Gideon Kossoff, who established it in a Ph.D. program at Carnegie Mellon University (CMU) in 2015. Though it was formalized only relatively recently, the technique is rooted in decades-old methodologies swirling through and around design culture and has been taken up by those who want to do more than furnish a fragile world. It is historically indebted to the Civil Rights Movements of the 1960s that inspired me as a student, as well as to contemporaneous developments in cybernetics and the science of systems.

Notably, it was during that decade, in 1969, that design theorist Horst Rittel and urban planner Melvin Webber formulated the idea of the "wicked problem"—one that is so complex that it can't be solved but only repeatedly re-solved. Global warming is a prime example: Among other things, it triggers such seemingly unrelated reactions as climate-driven migration and the rise of right-wing nationalism. (That an urban planner would be among the first to recognize this type of problem makes perfect sense. I often liken transition design to city planning, which is less concerned with particular buildings, parks, and roads than it is with the behaviors they either reinforce or change.)

Here's how it works: Transition designers search for the root causes of a problem, taking into account the contexts in which it is situated. Anyone who has ever examined living root systems knows that they both branch from their individual stems and are dynamically codependent on their larger environmental conditions. This relational perspective has its design roots, as it were, in architect Christopher Alexander's influential theory of pattern language. Alexander saw the everyday trajectories of people (cutting across lawns, gathering in kitchens) as branching behaviors that, if properly analyzed, could lead to better housing and stronger neighborhoods—better and more sustainable than developments designed from the top down.

Transition design flows from that legacy, but instead of producing blueprints, it's concerned with systems. These systems become less abstract through a process of questioning—specifically asking: How is the problem present and whom does it affect? How did it arise? What's its history? How can we design a decades-long transition toward the desired future? Substitute aging, policing, homelessness, or mental health for "the problem," and you get the picture.

Design theorists and practitioners have wrestled with entanglements with varying degrees of concentration ever since the radicalized counterculture movements rejected the complacency of postwar prosperity. This heightened attention to the webs that bind us—and bind us up—has spawned a host of practices, from systems design (which often entails mapping bird's-eye views of sociopolitical environmental problems) to practices such as design for social innovation (focusing on particular voices and specific conditions). Transition design draws on these theories and others in its methods, but wicked problems are its raison d'être.

This is especially true of Carnegie Mellon's Transition Design Institute (TDI), now run by Irwin and Kossoff, who normally work with fairly large and influential stakeholders. In 2021, with funding from J.P. Morgan, the NASDAQ Entrepreneurial Center commissioned TDI to conduct six months of workshops for an initiative called the Venture Equity Project. The mission drew on conversations among, and findings from, 70 individuals working in four affinity groups: Black entrepreneurs, capital allocators, researchers, and community organizers. This data enabled the team to map—to define, write out, and determine relationships among—the myriad factors that gave rise to the wicked problem of the gap between Black entrepreneurs and funding opportunities in the U.S. and United Kingdom.

Of course, the word map leaps over the messy bits. Because, like all maps, these are compressions of soft and hard data, stories and evidence about such injustices as the dearth of access to information about finances, an unequal education system, inconsistent equal opportunity practices, historical factors from enslavement to segregation, and misconceptions flowing from unwritten codes of interaction between funders and recipients. The volume of factors to be taken into account and the number of interlaced ecologies identified would break most people's brains. It almost broke mine. (I suspect it's why the visual presentations produced by the TDI are counterintuitively minimal.)

It took extraordinary discipline and patience to represent the investigation's findings both cogently and fairly, and, at the same time, to communicate that they are in flux, not finished. This is why all the maps are all available online—not just as records but also as jumping-off points for discussion and debate and as tools for future reassessment.

As do all TDI's endeavors, the NASDAQ project requires a commitment of time that exceeds the capacity of a traditional design endeavor. Its aspiration is not merely to fix entrepreneurship but to enable a larger movement of equity, of which finance is just one part. Clearly, healthy conditions for Black entrepreneurship will diversify the marketplace, its offerings, and its employees, but even more importantly, will provide examples of success to young people, not just case studies for mature business school students.

Since wicked problems aren't hypothetical, but rather impinge on daily life, it's not surprising that TDI is one of a number of institutions developing transition frameworks. The survival instinct—the endurance of healthy societies and the sharing of resources with fellow species—seems to have finally kicked in. Among the many like-minded initiatives are those of the French government (which boasts no fewer than two Transition Ministers with a "sobriety plan"), the Dutch Research Institute for Transitions, and growing numbers of design research programs in universities across the globe.

In Australia, Tonkinwise (one of the co-founders of CMU's transition design program) currently directs the Design Innovation Research Centre at the University of Technology Sydney. In contrast to the scale of CMU's work, Tonkinwise takes on relatively discrete projects with the goal of opening them up to reveal transition pathways. Otherwise conventional design propositions—maps, products, services, and interactions—are redeployed to solve for now and for transition.

Case in point: A project on no-interest bank loans to help women escape domestic abuse began with the following question: How do banks know if their customers are at risk in the first place? The answer lay in the consequences of the transition to online banking through apps such as Venmo, Chime, and Plaid. When women received funds electronically from their abusers, bank workers started noticing threatening, often life-threatening, notes attached to them. One response came in the form of bank notifications to an abuser informing them that their notes were seen and kept on record.

Tonkinwise theorizes that opportunities for further transition lie in the fact that banks–given the voluminous data they have on our purchases and other financial behavior–are capable of recognizing problems such as substance abuse and gambling before we do. Although monitoring their customers' well-being is outside the bank's remit, the very fact of the awareness of such data suggests otherwise. That knowledge hints at possibilities for a transition in the policies of Corporate Social Responsibility held by most corporations.

The same digital technologies used in online banking could be easily adapted to intervene with alerts, pauses in service, or other warnings. This would involve not just another level of care for customers but also for bank workers, who would need an expanded scope of training. Failing that, it would require hiring employees with instruction in psychology. Collectively, such changes (already being seeded in Australia) could shift the role of banking from being a clinically transactional business to a mutually beneficial enterprise.

If all this sounds utopian, it actually isn't. It can't be, since transition design accommodates change. In this sense, it's closer to the "eutopian" ambition" advocated by the late architect and critic Michael Sorkin. (The Greek prefix "eu" means "better," in contrast to the "best" that the "u" in utopia denotes.) Utopias take a my-way-or-the-highway approach to achieving the ideal condition, whereas eutopias produce multiple routes heading toward the same destination. Transition design looks at those routes to see where the crossroads are, in order to discover where the momentum for change is gathering.

All of this would, however, be lost to the ether of good intentions, were it not for a design process that combines material and immaterial factors and realizes them in four-dimensions: mapping, artifacts, systems, and time—ideally long horizons of time. Transition design supplies the evidence to catalyze transitions. Controlling them would be utopian. Ignoring them would be dystopian. It would be settling for a hopeless mess. Instead of being numbed by that messiness to the point of paralysis, transition design makes sense of it.

To my mind there is a special place in our divine comedy for those who willingly enter into the purgatory of truly dysfunctional conditions, who are willing to develop the capacity for dissecting, reassembling, and reconfiguring the seemingly immutable. Transition design takes it as an article of faith that the world's most pressing problems aren't simply tired tropes or abstractions. They look at them up close—give them flesh. They remove the option of looking away and replace it with the work of making informed adjustments, which, because the process is gradual and phased, makes it a whole lot less scary.